One stop Fall shopping at Etsy.com
Having trouble finding some of those must-have pieces for Fall?  Me too.  I have been searching for a good chunky sweater and a cape coat, which I know I can find at stores like H&M, but I want something more unique and special.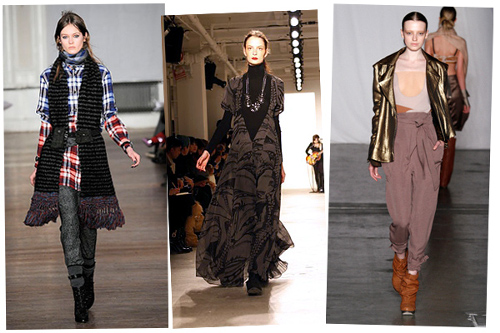 Rag & Bone, Vena Cava, VPL – Fall 2010
I found myself searching on Etsy.com, a site that I have a love/hate relationship with.  I love it because you can find pretty much anything you're searching for, sellers can personalize their stores (so it seems like you're visiting their personal website) and there will be no bidding wars, like on eBay.  And the only reason why I might dislike Etsy, is the amount of time I spend on the site (I tend to get sucked-in and forget what I was searching for in the first place)!  With all that said, Etsy is a goldmine for finding vintage pieces that channel current Fall 2010 runway looks.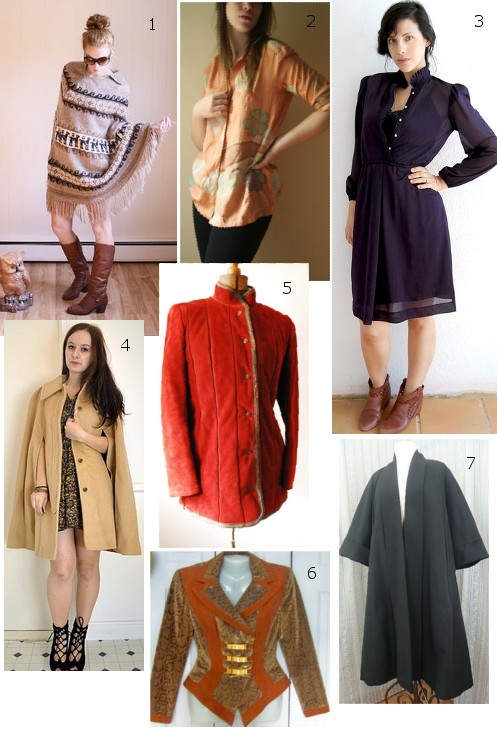 1. Southwestern poncho – Vim and Vigor
2. Silk kimono style blouse – Something About Me

3. 1970's secretary dress – Vintage Marmalade

4. Camel cape – More to Adore Vintage
5. Military – Mother Midnight Vintage
6. Baroque and Roll – Mary's Menagerie
7. Minimalism – Vanity
If you're missing a few key pieces for Fall, search Etsy by using keywords like; faux fur coats, military style jackets, silk blouses and camel color coats.  If you find yourself getting too overwhelmed or maybe a little lost, contact me ([email protected]) and I'll help you find what you're looking for!
This entry was posted by Style Bust on October 13, 2010 at 10:42 pm, and is filed under New Styles in Fashion. Follow any responses to this post through RSS 2.0.Both comments and pings are currently closed.