Express Your Inner You with Your Perfect Tank Top Colors
It's hard to say when the tank top became an actual single item to wear as a wardrobe choice. Maybe it was part of the beachwear explosion or influenced by the Madonna era. But slowly, the tank top is the choice of almost everyone and represents summer fun and excitement.
The tank has become an essential commodity. With its incredible flexibility of wearing alone or in layers, it has evolved from the lowly top into a complete wardrobe must have. Tanks today are in so many colors and styles that they are compared to the evolution of the t-shirt.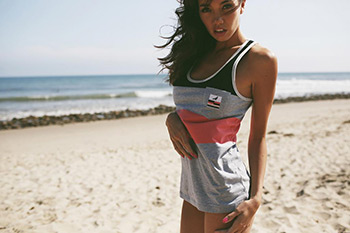 The shades and tones that are the hottest for this year start out with the pastels and girly-girl looks. These are fantastic as stand alone wear or can be worn with your favorite bikini. But the story doesn't stop there, the tank has been elevated into a total look with the newest hot colors. Summer brings greens, pale yellows, apricots, persimmon, blues and purples. Color combinations of reds and cinnamon are for the adventurous, but there is also a natural girl look that includes neutral tones and the desert colors of khaki, tan, brown, off-white and champagne.

The colors aren't the only differences for today's tanks. The cut and style are available in tuxedo, cut outs, fringed, layered, iconic patterns and motifs. Tanks are a mainstay for uptown, downtown and country girl and are seen in silk, satin, voile, iridescent, leather and metallic. The boho girl has tank choices in cottons and sheer (delightful) blends. They are embroidered and festooned with everything from nature and work so well with Native American jewelry accents.
Designers and stylists have been emphasizing that the blue shades are the ones that will probably be carrying into the next year. The combination of blues blended with purples and lavenders have been in all of the print styles of the runways. The summer blues in a wash of ocean blue and turquoise are a delight to the eyes, as it invokes the beach, vacation and stressless times.
Tanks can be changed and rearranged to make the moment and the mood. You can wear a tank in the daytime and for evening put a delicious silk jacket and long skirt. The tank can be your anchor piece for your wardrobe, in an hot poppy red or simply be the accent when paired with black leather pants. The answer to every wardrobe worry is that you can never have too many tank tops.
There are, however, some do's and don'ts on the topic of tanks. If you are going to keep your tank as a demure piece, make sure you recognize your body size and don't wear everything too tight. Do make sure that your cut and style of your tank as a center focus remains that way. And always use tank layering in the best way possible: don't over do or underdo.
Whether you are uptown chic, boho or a beach bum, tank tops are a girl's best friend in the fashion world of today.