Gallery of Jewels Kicks Off Summer With 10 Day Bridal Engagement
Gallery of Jewels, San Francisco's most respected destination for independent designers, is holding their first ever ten-day Summer of Love Bridal Engagement beginning June 21st, 2012 through June 30th, 2012 to help couples kick off the wedding season in style with access to over fifteen designers' complete bridal collections.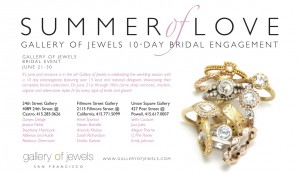 "We've been partnering with independent designers for over two decades, way before it was cool to do so," said Bill Hoover, owner of Gallery of Jewels. "Now as more couples are moving towards modern, alternative jewelry styles for their weddings, we are happy to provide our designers a special event to show their beautiful designs to these customers."
The ten-day extravaganza will feature romantic, modern, organic and alternative styles from designers specializing in unique settings, unusual textures and uncommon stones. Shoppers headed down the aisle can buy off the shelf or custom build their ideal ring with one of Gallery of Jewels talented designers.
The vast selection will include: engagement rings, wedding bands (his and hers and stand alone), white gold, rose gold, yellow gold, platinum, silver, damascus steel, mokume gane, hand hammered or carved bands for men and women and colored sapphires and diamonds in all types of cuts, available for purchase loose and in settings.
The designer bridal collections will be spread across each of Gallery of Jewels three locations, allowing shoppers to tour the city in search of their perfect tokens of admiration.
In the Noe Valley shop (4089 24th Street), designers Jennifer Dawes, Jessica Fields, Stephany Hitchcock, Alberian and Aulde and Rebecca Overmann will be featured. Downtown in Union Square (427 Post Street), designers Sethi Couture, Just Jules, Megan Thorne, G.Phil Poirier and Emily Johnson will be showcasing their collections and over in the Fillmore (2115 Fillmore Street), shoppers can find bridal designs by Anne Sportun, Steven Battelle, Ananda Khalsa, Sarah Richardson and Dahlia Kanner.
The fun starts with an opening reception in each gallery Thursday June 21st from 5-8 p.m. with champagne and refreshments being served. The first fifty guests will also receive a gift bag filled with treasures.
For more information on Gallery of Jewels, please visit their website at www.galleryofjewels.com