Posts tagged
shopping
Gallery of Jewels, San Francisco's most respected destination for independent designers, is holding their first ever ten-day Summer of Love Bridal Engagement beginning June 21st, 2012 through June 30th, 2012 to help couples kick off the wedding season in style with access to over fifteen designers' complete bridal collections.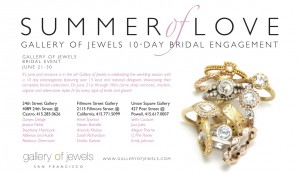 "We've been partnering with independent designers for over two decades, way before it was cool to do so," said Bill Hoover, owner of Gallery of Jewels. "Now as more couples are moving towards modern, alternative jewelry styles for their weddings, we are happy to provide our designers a special event to show their beautiful designs to these customers."
The ten-day extravaganza will feature romantic, modern, organic and alternative styles from designers specializing in unique settings, unusual textures and uncommon stones. Shoppers headed down the aisle can buy off the shelf or custom build their ideal ring with one of Gallery of Jewels talented designers.
The vast selection will include: engagement rings, wedding bands (his and hers and stand alone), white gold, rose gold, yellow gold, platinum, silver, damascus steel, mokume gane, hand hammered or carved bands for men and women and colored sapphires and diamonds in all types of cuts, available for purchase loose and in settings.
The designer bridal collections will be spread across each of Gallery of Jewels three locations, allowing shoppers to tour the city in search of their perfect tokens of admiration.
In the Noe Valley shop (4089 24th Street), designers Jennifer Dawes, Jessica Fields, Stephany Hitchcock, Alberian and Aulde and Rebecca Overmann will be featured. Downtown in Union Square (427 Post Street), designers Sethi Couture, Just Jules, Megan Thorne, G.Phil Poirier and Emily Johnson will be showcasing their collections and over in the Fillmore (2115 Fillmore Street), shoppers can find bridal designs by Anne Sportun, Steven Battelle, Ananda Khalsa, Sarah Richardson and Dahlia Kanner.
The fun starts with an opening reception in each gallery Thursday June 21st from 5-8 p.m. with champagne and refreshments being served. The first fifty guests will also receive a gift bag filled with treasures.
For more information on Gallery of Jewels, please visit their website at www.galleryofjewels.com
This post was edited by guest blogger: Sarah Simpson
Online shopping gives people an opportunity to find out what's for sale, as well as an opportunity to show off your budgeting skills.
By mastering the art of online shopping, you're going to go far in the world and so are the dollars you own. Online shopping has become the premier place to be a savvy shopper. Here's why.
Selection
Online shoppers have an advantage over their offline counterparts. Internet users can
explore a list of products that never even make it to the shelves of stores. There are products and
brands to choose from that you've never seen in a store before, and this gives you the ability to find
lower prices on the items you need.
Coupons
You can't walk into a store and receive a list of thousands of coupons. The Internet lets you find this
list of coupons and it lets you search for what you need. The search function is a powerful tool for
saving money online. When you search for product coupons, you're going to find results that are
mind-boggling.
Privacy
There's no need to be interrupted while you're shopping. You can shop at all hours of the day or
night without facing a crowd of people that break your shopping concentration. Shopping is fun but
it also requires the shopper to think and debate possible purchases. Without the noise of a shopping
crowd, it's easier for a shopper to consider their options and make wise decisions.
Compare
Comparison shopping is one of the major advantages of online shopping. It's possible to search for
millions of products and receive pricing from thousands of different online stores. This is a luxury
that was unheard of even 10 short years ago but now it's a miracle that's commonplace. It's the kind
of advantage that an online shopper should always use when shopping on the Internet.
Don't Forget
Browse through collection after collection. Make sure you've seen all the merchandise.
Never forget the coupons. There is a coupon for almost everything you shop for.
Comparison shopping is essential. Always do a comparison search before buying.
When you shop in this way, you'll find that your online shopping choices will save you thousands of
dollars over time. You'll find that you have much more money to spend during the month and you'll
find that you can make more fun purchases when you save money on the things you need.
Shopping is sometimes about necessity but a good deal of it is meant to be fun. There are so
many products and services out there that can bring excitement and improvement to your life. By
shopping online, you save money while you find those products and services.
Sarah Simpson loves shopping! But she also likes to make sure that she's truly picking up a bargain!
She currently operates Offer UK, which lists a range of fashion discounts and coupon codes,
including Miss Selfridge discount codes and those offered by other leading clothing retailers.