What Business Casual Styles Flatter Broad Shoulders?
Style Bust recently received a shopping and clothing inquiry for a particular body type.  The question is as follows:
I'm shopping for business casual shirts, I am wondering if you can give me some tips for tops. My shoulders are a bit wide (a bit wider than my waist), so a lot of business casual clothes look awkward. Any advice?
Well, us ladies have it pretty good when it comes to dressing for the work place (especially the business casual workplace).  Business casual can mean many different things, so when shopping, it can get a bit confusing. Business casual covers everything from trousers and a blouse, a skirt with a cardigan and sometimes even denim with a sweater (this look is especially appropriate for causal Fridays).   You should use co-workers and other professionals around your age to judge how business casual your environment is.   The rule of thumb is to let professionalism and comfort guide you when dressing for business casual environments.
Here are some silhouettes that work well for downplaying broad shoulders.  All of these tops, if outfitted appropriately (layering) will work perfectly for business casual environments.   This selection is great because it shows you that you don't have to sacrifice style in order to look professional and disguise certain body parts!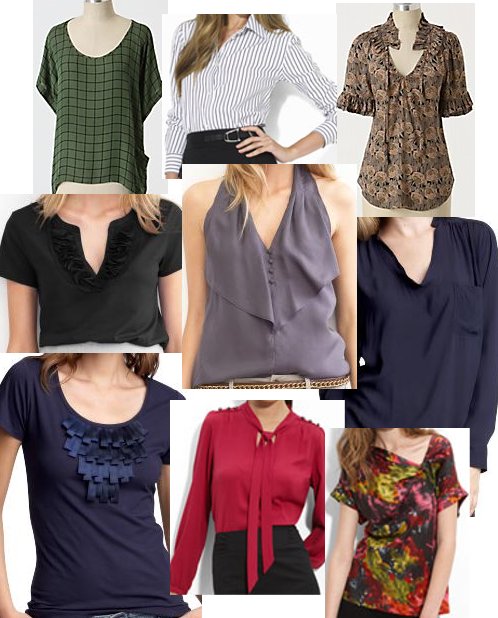 A few pointers and tips on what to wear if you have broad shoulders:
1. You don't have to hide your shoulders, instead you want them to look proportional to the rest of your body.  A halter top is a perfect way to create a proportioned look – especially if you've been hitting the gym and have toned arms!  You'll need to pair a halter with a nice blazer or cardigan to pull this look off in the office.  Bonus, halters serve dual purpose: a halter top on its own is the perfect night out top.
2. Plunging necklines are another great option, they draw the eye downward, showing length rather than width.  Longer necklaces and silk scarves also do the trick by creating length.
3. Asymmetrical or interesting (non-traditional) necklines will also draw attention away from the shoulders and to your neck.  Stay away from boat necklines and off the shoulder tops, these necklines bring attention to your shoulders.
4. When buying blazers, cardigans and jackets…keep in mind that they should be waist-length or longer.  Anything shorter will make you appear very boxy, which will make your shoulders look even bigger.
5. Try a
dolman
or kimono style top.  The wide armholes will balance out your proportions.  Stay away from tops with shoulder pads, lots of shoulder detail and puffy sleeves.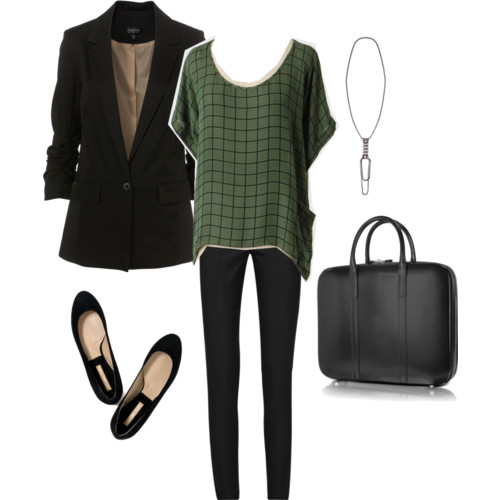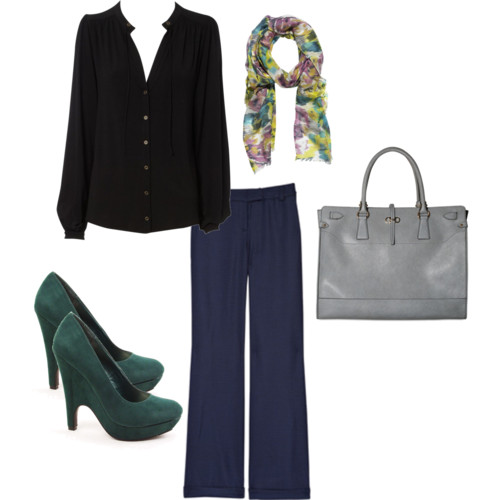 This entry was posted by Style Bust on September 18, 2010 at 9:00 am, and is filed under New Styles in Fashion. Follow any responses to this post through RSS 2.0.Both comments and pings are currently closed.