Interview with Justyna Wilson of Moda Epidemic
I met Justyna back in May at a San Francisco Fashion and Merchants Alliance event, and we've stayed in close contact ever since. She's been writing a great blog, called Moda Epidemic all by herself for several months now, and the work she's put into it is quite impressive. I asked Justyna to take a couple of minutes out of her busy schedule to answer some questions for Style Bust, here goes.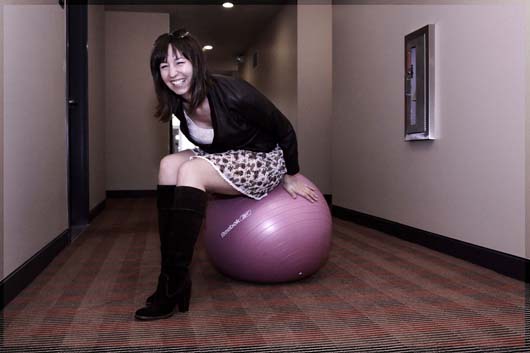 Style Bust: How would you describe your style?
I would describe my style as contemporary with a little bit of edge. I like comfortable, wearable clothes but I like them to look effortless. I wear a lot of dresses and tunics and I actually rarely wear jeans. I don't find jeans to be comfortable and I refuse to wear stiff, thick jeans with no stretch. If I wear a simple, classic dress I like to spice it up with a leather jacket or tougher looking platform shoes or boots but comfort is always the key, I walk a lot.
Style Bust: I might need to follow your lead and stop wearing denim. Right now I wear denim almost daily, and it's becoming a little blue-collar for me. If you know what I mean.
Style Bust: How did you decide to get started in fashion blogging?
I always loved fashion and I wanted to find a way to express myself and talk about it. At first I just wanted to do it for fun, almost just for myself as a hobby. I read a lot of blogs on different topics: fashion, marketing, technology, travel and I wanted to become a part of blogging community. I wanted to write about something that I was absolutely passionate about so I could stay true to myself. I also love technology, the power of social media, virtual communities. It fascinates me how companies shift their brand marketing efforts to the web and how bloggers play a huge role in that process. Sadly print is dying and I wanted to play a role in what's happening online.
Style Bust: How do you come up with ideas for posts?
I try to find inspiration around me, from fashion magazines, from other bloggers and from fashions walking down the street. I also appreciate beautiful surroundings, the city, architecture, photography.
Style Bust: Aside from your own blog, what other fashion blogs do you recommend?
Style Bust is of course one of them. If you are looking for more personal style you should have a look at Nickie Noel's blog, Karla's Closet is a really popular one but it's just so good! I love her style. Cocorosa, Eclectic a la Mode…I probably look at 50 different blogs everyday It's so hard to pick. I also love reading PR Couture and Sense of Fashion for blogging, web, pr information. There's always plenty to learn from those blogs.
Style Bust: Does the blogging community influence your personal style?
Yes, it definitely does. I like to stay unique and true to myself but I do get lots of ideas from other blogs. They're very inspirational.
Style Bust: What's the item in your closet you can't live without?
That is a tough one but I think it's leggings. I wear them all the time. They look great with almost anything, dresses, tunics, boots, flats. San Francisco is rather cool and we don't really get hot summers here so I find it hard to wear a tunic with bare legs and I'm not a big fan of wearing tights in July or August so leggings are a perfect solution. Warm and trendy all the time.
Style Bust: What fashion tip are you giving your friends for Fall?
Definitely get some lace up boots. They are sexy and they are so hot right now. I even featured some on Moda Epidemic not too long ago. They are just a great, versatile addition to your wardrobe. Also, big chunky sweaters. I am in search for one for myself now. I want to replace my winter coat with a thick, cozy sweater.
Style Bust: What item do you wish more people were wearing?
Ladies, wear more dresses please!
Style Bust: What item do you wish people would stop wearing?
I want girls stop wearing pinstriped Banana Republic trouser pants to work. There are just so many other chic and professional looking options out there. Sometimes It feels like every working girl has the same outfit on. It's just boring.
Style Bust: Agreed. And for the record, when I don't feel inspired int the morning, or I'm running late to work, I am one of those boring Banana Republic wearing girls. It sucks, but it's the reality I live with.
Style Bust: What is your favorite local boutique? Online Boutique?
I have to say 90% of my shopping is done online. I have very little time to actually go shopping unless I run to Zara on my lunch break. I shop a lot on ebay but also I always check out Nasty Gal, 80's Purple, Urban Outfitters. Again, it's hard to pick a favorite one but online shopping really works for me.
Style Bust: How can people get in touch with you?
On my blog, Moda Epidemic and @ModaEpidemic on twitter!
This entry was posted by Style Bust on September 9, 2010 at 9:00 am, and is filed under New Styles in Fashion. Follow any responses to this post through RSS 2.0.Both comments and pings are currently closed.