Philosophy: Hope in a Jar
One of the best preventive weapons we have against premature aging and fine lines is moisturize the skin, as well as protect it from the sun. For the last couple of weeks I've been using a great moisturizer that comes in a plain looking package, but there is nothing plain about the product. It's called Hope in a Jar by Philosophy with the motto
philosophy: where there is hope there can be faith, where there is faith, miracles can occur.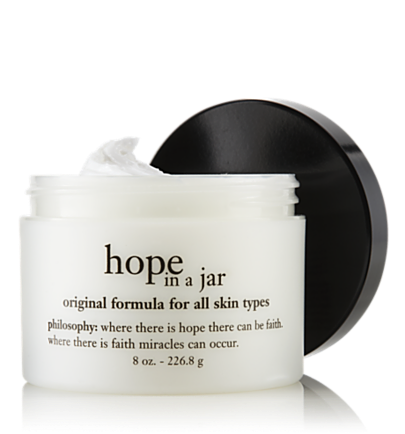 The moisturizer is very light weight that provides antioxidant protection, helps improve skin texture and tone, you barely feel it on your skin but at the same time the skin feels great. I am using the original formula for all skin types, but if you go to the Philosophy website, you can take skin care quiz which will suggest which products are best for you depending on your skin concerns.
And I really can't stress enough how important it is to moisturize with quality products, even if you spend less money on cosmetics. I'm closer to 40 than to 30 and I'm very proud on how my skin still looks youthful. I know I won't be confused with a 20 year old, but looking at the pictures from my late 20's and early 30's, I still look the same without the use of Botox or chemicals. Not that I'm against it, when the time comes, I'll be getting my injections for sure, but I can wait several years for that. But I digress.
Philosophy has created its own cult following with products such as Amazing Grace a perfurmed hot salt scrub, perfumed hand & body lotions, fragrances, shower gels and so much more. Makes pampering yourself an experience. Each product contains a different motto, like in the hot salt scrub which says:
philosophy: if you only had one day to live, how would you spend it? would you smile or frown? watch the sunrise or watch t.v.? take a walk or take a nap? say i love you or show you don't care? consider this…you aren't guaranteed tomorrow, so treasure this day as of it's not your last but the best day you will ever own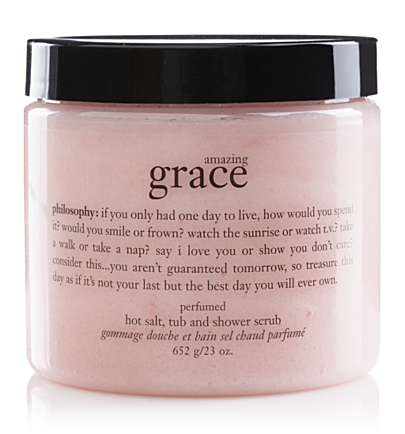 You can find Philosophy products at Sephora or directly at the Philosophy website. Hope in a Jar retails from $15.00 to $105.00 depending on size, a true investment in your skin.
This entry was posted by Style Bust on September 9, 2010 at 11:08 pm, and is filed under Latest Beauty Products. Follow any responses to this post through RSS 2.0.Both comments and pings are currently closed.