Interview with Pamela Sukeforth of Fashionistette.com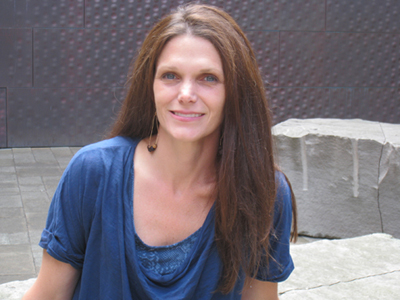 I learned about Fashionistette months ago through the powers of Twitter (Twitter recommended I follow @fashionistettes, so I did, and lucky for me, Pamela followed @FashionBust back!). What is Fashionistette.com you ask? Well, the short answer is it's one of the strongest online women's boutiques based in the Bay Area. The site featured a range of sought after, yet difficult to find fashion labels.
I met Pamela Sukeforth (pictured to the left), founder of the eCommerce site a couple of weeks ago through Justyna of Moda Epidemic. Not knowing too much more than I've already told your about Fashionistette or Fashion in eCommerce, I set out with a list of questions to ask Pamela to learn more about what she's up to. Here are Pamela's answers!
Style Bust: What was the first item you purchased online?
I bought Zooey Tee from ShopLAStyle.com about 5 years ago.
Style Bust: What were you doing before you started Fashionistette?
My career has been in Corporate Retail Planning and Buying for big companies like Macy's and Guess? Jeans. I have always wanted to start and run my on business and decided to go for it two years ago.
Style Bust: Can you describe the circumstances and your thinking that led to the decision of creating an eCommerce site?
I am new to eCommerce and really enjoy the creativity to building and maintaining an online business. I decided to go online because retail has been soft in SF and wanted to reach more customers.
Style Bust: Describe the work behind creating the site.
I wanted to build the website myself but didn't know HTML so I had to learn and develop at the same time. The process has been rewarding and challenging.
Style Bust: Wow, that's very impressive!
Style Bust: What separates Fashionisette from its competitors?
I offer current merchandise from contemporary fashion brands. Customers like the special discounts, pop-up sales and giveaways I do with partner blogs. They have said they like the merchandise, product photography on a model and my blog.
Style Bust: What type of brands do you sell?
I sell women's contemporary brands like Black Halo, Twelfth Street, Nation Ltd and Genetic Denim (the images below give you a taste of what I sell).
Style Bust: I'm a huge fan of the white shorts by Black Halo. They look absolutely perfect!
Style Bust: How do you go about selecting and buying items for the site?
I go to LA Fashion Market quarterly and buy existing brands selecting the best pieces to ship each month. Also, I look at new brands to add to the assortment different price points.
Style Bust: Does your personal style play into your buying role a lot?
Yes Fashionistette is a reflection of my personal style, which is casual chic and easy to wear day to evening.
Style Bust: If you could pass along one piece of advice to someone considering creating an eCommerce site, what would it be?
SEO is very important for web traffic.
Style Bust: Final question. Is there anything else you'd like our readers to know?
yes, I will be a vendor at the Sassy City Chicks shopping event at Fort Mason on September 16th, 2010. This will give shoppers a chance to see and try on merchandise up to 80% off retail. Flyer: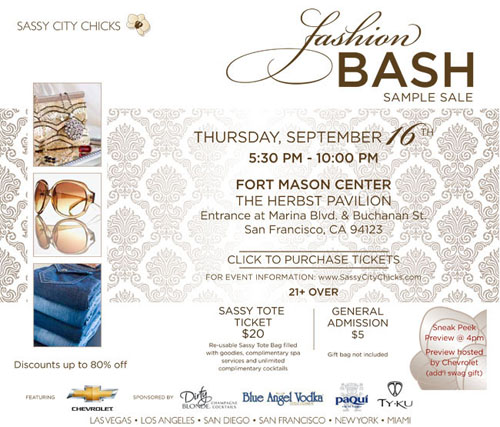 This entry was posted by Style Bust on September 2, 2010 at 9:00 am, and is filed under New Styles in Fashion. Follow any responses to this post through RSS 2.0.Both comments and pings are currently closed.