Interview with Sacramento Based Fashion Designer Tiana Vega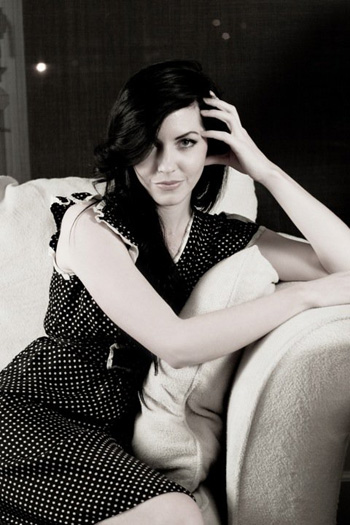 Tiana Vega is my favorite thing about Sacramento, California. She is upbeat and a ton of fun to be around. Her personality comes through in her unique self titled clothing line Tiana Vega. I'm looking froward to working with her for the upcoming Give Back Gala fashion show.
Here's a couple of questions and answers with Tiana.
Style Bust: How did you get into fashion design?
I have always had an eye for fashion. My infatuation in the fashion industry stems from my the early years of my childhood so I knew exactly what I wanted to do when I grew up. After high school I attended FIDM where I got my degree and have been working freelance ever since!
Style Bust: What did you think about the fashion school experience?
I attended FIDM in Los Angeles to obtain my degree in fashion design, my experience there was nothing short of amazing! I met a lot of great people who I still keep in contact with! It's always fun to see what everyone else is doing with their experiences they've gained after school!
Style Bust: Are you working on your fashion line full-time?
Yes I am. This is my job…I eat, breath and live for designing! I couldn't see be happier doing anything else.
Style Bust: How long have you been designing fashion as an independent designer?
I have been designing fashion as an independent designer for about 2 years now.
Style Bust: Describe the collection you'll be showing at the Give Back Gala.
The collection has a 1940's flair with intricate beading and beautiful style and cuts in each piece.
Style Bust: What inspired this collection?
This collection is actually inspired by my grandmother who passed away in November, I was close with her and so losing her was pretty hard on me and my family…but I decided to use her sense of elegant and graceful style to inspire me to create a beautiful collection dedicated to her and the beautiful woman she was.
Style Bust: What inspired this collection?
Well this collection has a fresh new take on the following seasons coming up, so if you're a fashionista and you are always looking for new and exciting fashion forward pieces, than coming out to the fashion is a must!
Style Bust: What have been some of your biggest accomplishments as a designer?
One of my biggest accomplishments was when I teamed up with a nonprofit know as Sweet Dreams Foundation and produced one of the largest fashion shows in Sacramento, raising a good amount of not only publicity for our charity but the money they needed to help a local child get the remodeled room she had always wanted.
Style Bust: Where can people find out more about your collection?
To learn more about me and my designs you can go to my website at www.tianavega.com.
This entry was posted by Style Bust on March 12, 2011 at 7:26 am, and is filed under New Styles in Fashion. Follow any responses to this post through RSS 2.0.Both comments and pings are currently closed.