Posts tagged
interview
Inspirare is a local brand that helps expose new fashion designers to shoppers through an exclusive eCommerce shopping experience. *Bonus, designers who sell their goods on Inspirare get fully funded by Inspirare. The site was founded last month, by Sean Peng. I sat down with Sean to get more insight on this innovative concept. Inspirare team members Kate Blank and Anne McEnroe also chimed in to answer a few questions below.
Where did the idea of Inspirare come from?
Over the last few years I noticed many flash sale sites growing rapidly, I wondered how we can use social platform to promote creativity and maintain the value of the product, rather than just bringing consumers discounted merchandise. The last 12 months I've been fine tuning this idea of connecting creativity and consumers. This is how the Inspirare model was born. I wanted to build a solid platform for talented, emerging designers to connect with their customer directly. Providing an umbrella company assures both consumers and designers consistent branding, quality and a consistent experience.
How does it work?
Inspirare's Discover page provides an online network that allows fashion designers to share their designs and reach a worldwide audience at no cost. This community gives members the opportunity to vote and give feedback on work, allowing talented designers and their creative designs to get discovered. The Inspirare team then takes on all the tasks of getting the designs made here in San Francisco, selling online to consumers who seek original designs and support creativity.
What makes Inspirare different from other eCommerce sites?
Inspirare is really unique; it's different from other fashion eCommerce sites in that it does not limit creativity. Within women's wear, designers can upload just about any type of design, design submission is free. Also, it's not limited to predetermined options. For example select 1) A shape, and 2) A color and you have your 'designed' end product. Our products are genuinely designed from start to finish, by our Designer members. Designers simply upload their sketch or sample, and we work with them to make it into production.
Also, Inspirare is building a solid launchpad for emerging talents by providing 100% production funding and by managing everything from manufacturing, photo shoots, quality control, consumer fulfillment and support. Both the consumer and designer will have a consistent, high quality experience, ensuring longevity of the designer and satisfaction of the customer.
In your opinion, why should fashion designers work with Inspirare?
We feel we've really addressed many of the major obstacles limiting the emergence of new designers. One of the major risks is of course financial. It can be difficult for new talents to find the capital that is required to fund the production, promotion and sale of a collection before any money has come back into their label. By working with Inspirare, Designers get the production of their design 100% funded, so they take no risk but still receive a royalty on all of their sales.
Secondly, the royalty payments are, as mentioned above, generous. A designer can earn from 10% to 20% of the gross sales of each garment sold as well as one off Effort Bonuses.
Third, Inspirare takes care of all of the production, logistics and customer support, which can often be difficult to master in those early stages of label's development when there are so many areas you need to juggle. Designers can really focus on fine tuning their craft and staying creatively focused, rather than spending 70% of their time tending to administrative, financial and operational details.
How did you pick San Francisco as your manufacturing base?
San Francisco was once one of the major apparel manufacturing cities in the US. As more and more people turned to mass produced clothing and outsourced to Asia, the apparel factories here sharply declined. Currently there is a hint of a reemergence in the area and it's something that we want to be a part of and support the regrowth of jobs in this specialty industry in San Francisco.
Local production also gives us an opportunity to make smaller runs of unique products. We can closely monitor the quality of our goods and ensure fast turnaround times, getting the most popular designs in store and to the consumer quickly. Developing an efficient online model ensures that we can absorb the higher, local production costs.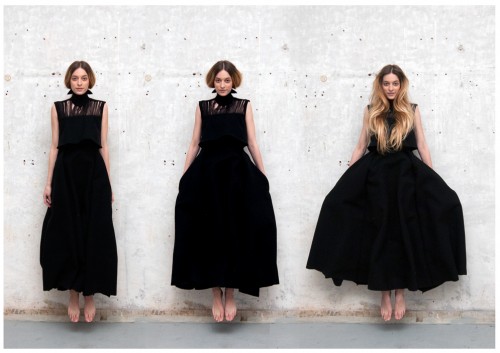 Are there any special tips & tricks for designer submissions?
Kate Blank (Director of Fashion Design at Inspirare): Presentation and an individualistic style that runs throughout. I really love when I go to the designer behind a submission, take a look through their profile, and find a clear and concise representation of what they are all about. It's all about the details.
What can consumers do to help Inspirare succeed?
Anne McEnroe (Part of the Fashion Design team at Inspirare): The success of any business depends on getting the word out there. Telling others about us, becoming a member of the Inspirare community though our website and shopping at our online store are several ways consumers can help us grow. Inspirare is not just about manufacturing and selling clothes. It's about supporting emerging designers, keeping manufacturing local, and creating a quality marketplace for San Francisco fashion. We believe that our success is everyone's success, and that's worth sharing!
Tell us about the Inspirare Design Competition.
Kate Blank (Director of Fashion Design at Inspirare): It's a really exciting opportunity for designers to win some amazing prizes but more importantly, receive some incredible media exposure and get their name out there. We are on the hunt for a stand out women's wear design to be the first listed for sale on the Inspirare online shop. We are going to make their design into a product, sell it, promote it and as always, share the profit with the designer. The garment and the talent behind it will benefit from the huge advertising and marketing push that will be in place during our Shop Launch phase. It's a really great opportunity for someone just starting out. On top of that, there are also some amazing prizes for both the 1st place winner and 29 runners up.
Who can apply for the Design Competition?
Kate Blank (Director of Fashion Design at Inspirare): Anyone who is creative and designs women's wear. It is aimed at non-professional, emerging design talents so we have left it quite open as far as who can enter. We aren't accepting garments that have been produced and sold, because we really want to see something new and fresh. The idea of Inspirare is to give a leg up to new designers. We really want to discover someone amazing and feel that this competition will help them on their road to success.