Mrs. Libeskind Shops At Babette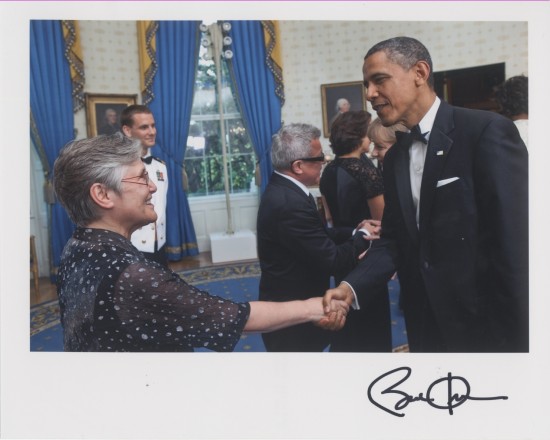 Mrs. Nina Libeskind, pictured above with President Barack Obama is the co-founder of
Studio Daniel Libeskind
, and wife of Daniel Libeskind, a New York based architect that worked on projects at Ground Zero, the Jewish Museum in Berlin, The Art Institute in Chicago, and the Centre Pompidou in Paris to name a few. Nina and her husband maintain a high-profile lifestyle in New York City, and constantly need the wardrobe to go along with the lifestyle.
Recently, while Nina and Daniel were vacationing in Santa Fé, when they visited
Babette
. Nina was looking for an outfit to wear in the White House. Eva Koehler, the manager of the Santa Fé store helped Mrs. Libeskind. Eva reported that Mrs. Libeskind was kind, sweet, and she and her husband were very affectionate.  Mrs. Libeskind purchased a three-piece outfit that Eva recommended as a great outfit for the White House event.  The pieces were from Babette's Summer 2011 collection, and included a grass tank top underneath a 3/4 sleeve skull top and bouquet skirt (see image of Mrs. Libeskind above wearing the top).
Here are the items as shown within Babette's Summer 2011 Collection lookbook.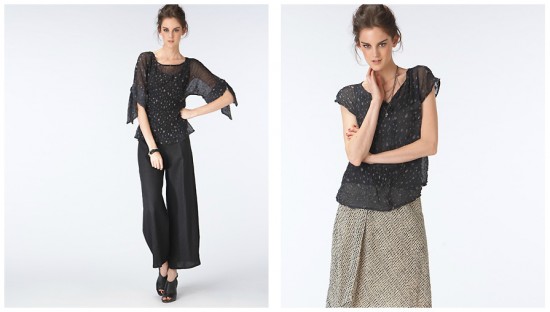 About Babette:
Oakland, CA based Babette launched its first signature clothing line in 1968. Since Babette's inception, the design house rooted in mid-20th century modernist architecture, industrial and graphic design. Designer Babette Pinsky continues to thrive with new ideas and designs. In recent years, co-designer Josephine Tchang has helped expand to companies offerings into sportswear collections.