Posts tagged
fashion designer
Social networking site, Inspirare.com, launched in April with the goal to help emerging designers get exposure and launch their design careers.
How it works: Fashion designers create an online portfolio on Inspirare.com where they upload fashion sketches and images of the finished designs. Inspirare users browse through portfolios and vote on their favorite designs. The most popular designs that are approved by the Inspirare team will be produced and sold exclusively on Inspirare.com. Inspirare provides 100% funding and share generous royalty with designers.
Fashion designers are encouraged to continuously add new designs to their portfolios as Inspirare will produce the best items from portfolios regularly and sell them at the Inspirare Shop (scheduled to launch in September).
The site launched with a fashion design competition, which closed in May. There were over 150 submissions from 23 countries for the competition.
After intense deliberation, the Inspirare team and their judging panel (which I was part of!!) agreed on the winning design. Fashion designer Alejandra de Coss of Puebla, Mexico won the competition for her design, Miss Marble. Inspirare.com will produce the dress and sell it exclusively on their eCommerce store. Designer Alejandra de Coss will receive 20% royalty on the sales.
Inspirare's fashion director, Kate Blank, has this to say about the Miss Marble dress,
You can see this dress is a nod to several trends such as peplums, cutouts and sheer paneling; but it's exploring them in a unique way. The dress offers both an interesting print and a two tone colorway allowing us to see it's versatility and well placed design lines. I also really love the presentation of her fashion illustration. All the images in this design submission are visually interesting and serve a purpose. I think the Miss Marble dress will be a piece that many different women will lust after as it's a perfect party or event dress.
I fell in love with Texas based Crowned Bird's Pipit Pencil Shirt. I think the Pipit Pencil Skirt print is so original, yet so commercial. The cut will be flattering for many body types and the length is just right. As soon as this skirt is worn on the streets it's going to be a quick hit!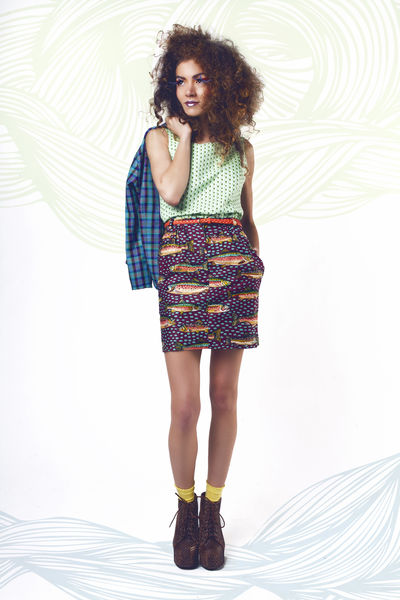 Pipit Pencil Skirt by Crowned Bird scored high enough by the judges that it may be considered for production by Inspirare.com. I really hope it gets produced because I'm totally going to buy it!
Inspirare Judge, Lorraine Sander's, of SF Indie Fashion, Digital Style Digest, and San Francisco Chronicle column Style Btyes favored Anca Miron's design RDVB. Lorraine says,
The multi-wear possibilities of this design immediately got my attention. While it's an urbane look that would most likely appeal to a customer who already loves to take risks with fashion, there's a great deal of versatility in the cut and shape of the garments. They could fit in as easily on the streets of Stockholm as they could in New York or Tokyo. The creativity in the construction, versatility and global appeal made this look stand out.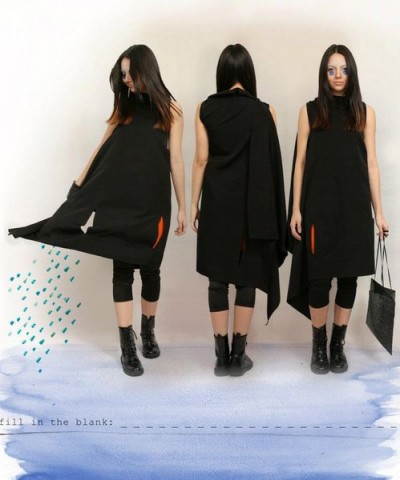 RDVB by Anca Miron scored high enough by the judges that it may be considered for production by Inspirare.com.
Academy of Art University Style Coordinator and Inspirare Judge, Flore Morton, is a fan of Denis Predescu's Pink Architecture dress. Flore says,
The dress is urban but sophisticated. The construction is very architectural, and is perfectly executed. The choice of fabrics and colors is modern, and gives a new spin on color blocking. The garment proposes a true personal vision from the designer. The photo shoot communicates a good taste level and a simplicity that balances well the dressy garment. I regret that the 2D drawing is not as strong as the dress itself.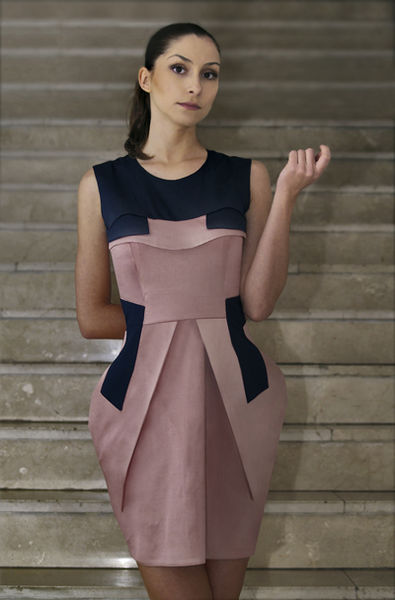 Pink Architecture by Denis Predescu scored high enough by the judges that it may be considered for production by Inspirare.com.
All designs submitted to Inspirare.com can be viewed within the Discover section of the site.