My Current Obsession: Meiko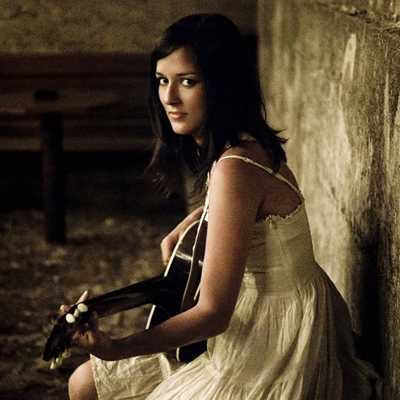 Oh how do I express my love for Meiko?  The editor of Paste magazine, Josh Jackson, saw her perform at Sundance Film Festival in 2007 and declared her a big success story waiting to happen.  She first came across my radar when a few of her songs made appearances on some TV shows I watch.  Actually by now her music has probably unknowingly made its way to your ears with as many shows she has been featured on in the last couple years.  Her name has been floating around the industry for awhile but I wasn't familiar with her outside of knowing her name until recently.  After seeing her perform a couple weeks ago at House of Blues in Chicago, I haven't been able to get her out of my head.
It has taken me a couple weeks to let Meiko settle into my musical brain in order to write this blog without sounding like a blabbering fool (which is bound to happen anyway).  I am really excited about her, and I just can't help it.  So I will take a deep breath, and start from the beginning.   I saw Meiko perform twice in Chicago, opening up for Hanson, per usual – as you already know many of my new favorite artists come from Hanson tours.  She has already done some tour stints with Brett Dennen (whom I love dearly), Mat Kearney, Joe Purdy, Jewel, Joshua Radin and she was featured on the Hotel Café tour.  Upon moving to LA, Meiko began waitressing and performing at Hotel Café.  She was able to drop the waitress gig after her song "Reasons To Love You" made its national TV debut on Grey's Anatomy.  She still performs at Hotel Café regularly, so if you're in the LA area I recommend checking the calendar out.
I think there's something to be said about a female that writes her own material.  And I guess not only writes music but makes songs that are genuine, true to herself, and about something real.  I am constantly inquiring the people I meet about what bands or artists they listen to, specifically in the realm of females.  I'm always searching for a female musician that makes me feel something.  It just doesn't interest or captivate me to be constantly bombarded with the over-sexualized female pop artists singing about absolutely nothing relevant to the world I live in.  I can understand how it can be entertaining to people but where is Stevie Nicks when you need her?   I'm not saying that female talent doesn't exist, rather it's just not easily discoverable.  Music fans want to feel connected, and authentic female artists has been hard to come by.  I think that's why Adele has become so beloved in our industry.   I have to believe that with Adele having so much mainstream success it will only help the female singer/songwriter sector grow commercially.
Meiko has a unique, soft, and soulful voice.  Her talent stands alone in her music but seeing her live changed everything for me.  I definitely think the more she tours and the more people she connects with, the more success she will have.  She walks out on stage with minimal make up on, modest clothing, and you instantly feel connected to her normalcy.  She is adorable, sweet, and funny.  Meiko has a story to tell, she speaks openly about her heartbreaks and triumphs.  Her music makes me feel empowered, inspired, and proud to be a woman.  She stole my heart and she will win yours over too, guaranteed.
Check her out here singing "Good Looking Loser" live:
This entry was posted by Style Bust on October 16, 2011 at 6:03 pm, and is filed under Trending Music. Follow any responses to this post through RSS 2.0.Both comments and pings are currently closed.