Posts tagged
Hanson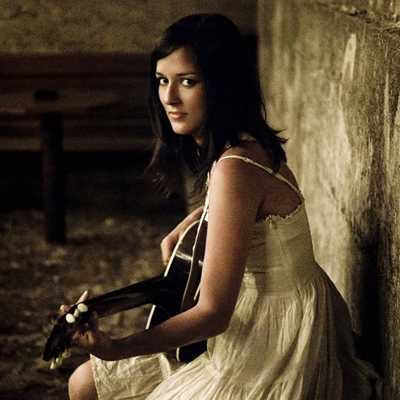 Oh how do I express my love for Meiko?  The editor of Paste magazine, Josh Jackson, saw her perform at Sundance Film Festival in 2007 and declared her a big success story waiting to happen.  She first came across my radar when a few of her songs made appearances on some TV shows I watch.  Actually by now her music has probably unknowingly made its way to your ears with as many shows she has been featured on in the last couple years.  Her name has been floating around the industry for awhile but I wasn't familiar with her outside of knowing her name until recently.  After seeing her perform a couple weeks ago at House of Blues in Chicago, I haven't been able to get her out of my head.
It has taken me a couple weeks to let Meiko settle into my musical brain in order to write this blog without sounding like a blabbering fool (which is bound to happen anyway).  I am really excited about her, and I just can't help it.  So I will take a deep breath, and start from the beginning.   I saw Meiko perform twice in Chicago, opening up for Hanson, per usual – as you already know many of my new favorite artists come from Hanson tours.  She has already done some tour stints with Brett Dennen (whom I love dearly), Mat Kearney, Joe Purdy, Jewel, Joshua Radin and she was featured on the Hotel Café tour.  Upon moving to LA, Meiko began waitressing and performing at Hotel Café.  She was able to drop the waitress gig after her song "Reasons To Love You" made its national TV debut on Grey's Anatomy.  She still performs at Hotel Café regularly, so if you're in the LA area I recommend checking the calendar out.
I think there's something to be said about a female that writes her own material.  And I guess not only writes music but makes songs that are genuine, true to herself, and about something real.  I am constantly inquiring the people I meet about what bands or artists they listen to, specifically in the realm of females.  I'm always searching for a female musician that makes me feel something.  It just doesn't interest or captivate me to be constantly bombarded with the over-sexualized female pop artists singing about absolutely nothing relevant to the world I live in.  I can understand how it can be entertaining to people but where is Stevie Nicks when you need her?   I'm not saying that female talent doesn't exist, rather it's just not easily discoverable.  Music fans want to feel connected, and authentic female artists has been hard to come by.  I think that's why Adele has become so beloved in our industry.   I have to believe that with Adele having so much mainstream success it will only help the female singer/songwriter sector grow commercially.
Meiko has a unique, soft, and soulful voice.  Her talent stands alone in her music but seeing her live changed everything for me.  I definitely think the more she tours and the more people she connects with, the more success she will have.  She walks out on stage with minimal make up on, modest clothing, and you instantly feel connected to her normalcy.  She is adorable, sweet, and funny.  Meiko has a story to tell, she speaks openly about her heartbreaks and triumphs.  Her music makes me feel empowered, inspired, and proud to be a woman.  She stole my heart and she will win yours over too, guaranteed.
Check her out here singing "Good Looking Loser" live:
I think it's necessary to take the liberty to talk a little bit about opening bands on this blog. I'm sure it's blatantly obvious how much I appreciate what I call the 'little guys'. Which by my definition is a talented band with a ridiculous amount of passion and enthusiasm for just making music. Usually they have a small audience but one that is dedicated to the bands movement. These are the bands that I always appreciate. These are the bands that I recommend to my friends who always seem to wonder, "where'd you find these guys?" I am always so proud of my discoveries and very often after I share these gems with my friends, shortly after everyone is talking about them. If the music business today was anything like it was in the late 80's and 90's, I know that I would have started my career at a label and been the best A&R person, swimming in my millions of dollars. But as I've talked about before, the music biz really isn't anything like it used to be. Nevertheless it's kinda cool to be in the know with the undiscovered bands. Today I'm willing to tell everyone my secret on where I find a lot of the talent.
Let's think about show nights. You and your friends decide to do dinner, and get drinks. Before you know it's around the time that the doors are opening to the venue. You are of course having a good time catching up and hanging out with your buddies, and hey you've never even heard of the first band playing. Not too mention you find it obnoxious to have to listen to 3 bands that you might not like before you get to see the act that you came there for. I get it, I get this feeling plenty of times too, and I'm completely guilty of this during Lollapalooza. I don't like to take the chance of missing a band that I could potentially fall in love with. I would say that for the majority of tours, the headliner chooses their supporting acts. Now this isn't always the case, when I was at Live Nation there were often times that we had to gather supporting acts for particular shows. But even so, the opening acts are generally handpicked to cater to the particular audience. Chances are if you go into a show with an open mind you're going to discover a band that you truly like.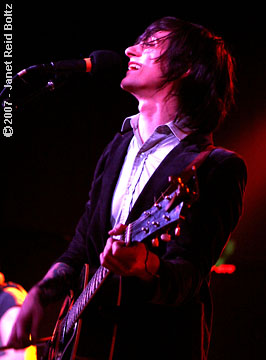 I'm dying to share with everyone my obsession this week. I have not seen him in concert, yet. However, he is now going to be on Hanson's third leg of their Shout It Out tour. Naturally this sparked my curiosity. Then I saw a tweet from TWLOHA saying he was going to perform at one of their events. For those of you unfamiliar with TWLOHA – it's a non-profit movement dedicated to presenting hope and finding help for people struggling with depression, addiction, self-injury and suicide. I will actually write my entire next blog about that movement. In my world, Hanson and TWLOHA, I don't know if I could find any better sources for music. Jarrod Gorbel is the lead vocalist for an indie rock band, The Honorary Title from… you guessed it, Brooklyn, NY. He released a solo EP in 2009 and now there's buzz that the band is no longer together, I know that Jarrod Gorbel has officially played his last show with the band.. I don't have that full story, but this video is so major I have to share it.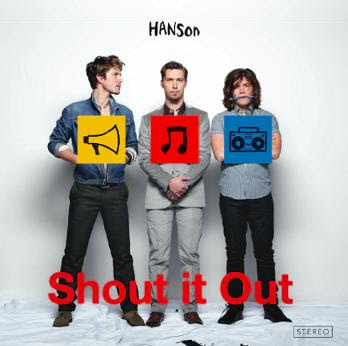 Shout It Out, sounds like the commercial for laundry detergent. But the sold out crowd this weekend at House of Blues Chicago were very clear that this had nothing to do with the cleanliness of their clothes. Rather, the overall message for the past couple years of the Hanson fanbase has been about starting a movement and spreading the word.
Familiar with Toms Shoes? Toms Shoes started the One for One movement, where you buy a pair of shoes and another pair gets given to a child in need. I can personally tell you that these shoes are the most comfortable shoes you will ever own. I already have 4 pairs and you can wear them with just about anything.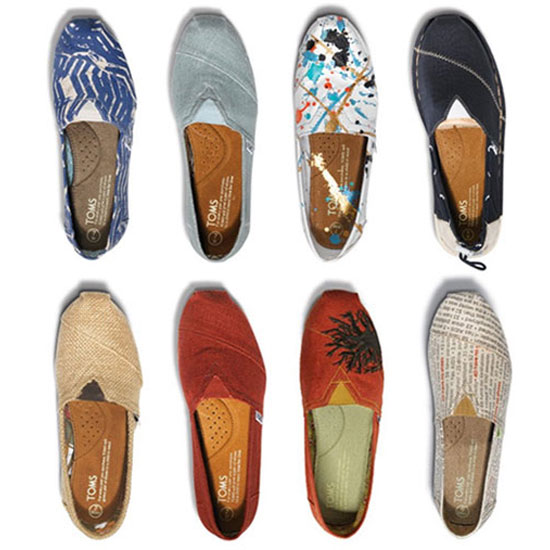 Back in October of 2007 Hanson went to Africa on a shoe drop with Toms. After the inspirational trip, Hanson began doing one-mile barefoot walks before each of their shows on tour. For each person that registers and does the one-mile walk with them, 1 dollar will be donated on their behalf from Hanson. And you can choose the cause your dollar will be donated towards, whether its building clean water wells, helping with education or providing HIV treatment for pregnant women. This weekend I took my 7th charity walk with Hanson. I find what they are doing to be extremely admirable. Taking the walk is about taking action. After I did it once I was hooked. Taking a barefoot walk is such a tangible thing for me to do and feel like I am truly making a difference. Apparently I wasn't the only one who feels this way because 500 people showed up to take the walk in Chicago on Saturday. For more information and to find out how you can get involved check out www.takethewalk.net.
On to the concert review, I prefer not to share the number of Hanson concerts I've been to throughout the past 13 years. But it's been quite a few so it's hard for me to write a concert review that can be appreciated by the general population because I will always compare them to so many of the other shows that I have seen. But nevertheless, let's start with the openers. I love going to Hanson concerts because their supporting acts seem to always be bands that I truly appreciate. So many of my favorite bands were introduced to me on Hanson's stage and for that I will be forever grateful. Rooney (pictured below) has been supporting Hanson on their first leg and soon A Rocket to the Moon will be on the dates. I could do without ever seeing Rooney again. Don't get me wrong; I think they have some good things going for them. It's very guitar based and driven. But the lead singer just needs to be let go; he comes off so arrogant and annoying on stage. I really couldn't take my eyes off his ridiculousness.
Hanson put together an opening band contest for this tour as well. Each show features a different local band. I love this because it can give so much exposure to the little guys. Friday night was Wes Kirkpatrick. Decent, but it's one of those bands that would be better off sticking to little coffee houses, because that's more of their element. Saturday was HappyGoLovely with a Justin Bieber esque but more of a badass with piercings guitar player. Overall the band had a great sound. Fans of The Rocket Summer or NeverShoutNever! will certainly appreciate this band. Afterwards I found out they are from Cedar Rapids, IA. Not too far from my little hometown, I will be cheering this group on and wish them the best of success.
Hanson's show was amazing as usual. With a catalog of hundreds of songs I'm always eager to hear the set list. Most of the songs they played were from their 5th and newest studio album, "Shout It Out." (click here to buy it on amazon!) They also played quite a few numbers from 1997 era. And for those of you wondering, yes of course they played Mmmbop. Personally I think the song choices for these two shows could have been better, but performance wise this was one of the best shows I've seen in a while from them. If you take anything out of reading my writing on this blog please please pleaseeee check out Hanson. I am confident that you will be pleasantly surprised. Here's the remainder of their tour dates….
August
19 Cleveland, OH House of Blues
20 Pittsburgh, PA Carnegie Music Hall
21 Columbus, OH Newport Music Hall
23 Cincinnati, OH Moonlight Gardens
24 Indianapolis, IN Egyptian Room
25 Tulsa, OK Cain's Ballroom

Leg 2:
September
14 Mesa, AZ Piper Theater
16 Anaheim, CA House of Blues
17 Los Angeles, CA House of Blues
18 San Diego, CA House of Blues
20 San Francisco, CA Great American Music Hall
21 San Francisco, CA Great American Music Hall
22 Portland, OR Wonder Ballroom
23 Seattle, WA The Moore
25 Vancouver, BC Commodore Ballroom
27 Spokane, WA Knitting Factory
28 Boise, ID Knitting Factory
30 Salt Lake City, UT The Depot

October
1 Boulder, CO Fox Theatre