On the Market for a Wedding Dress
I'm getting married sometime next Summer-Fall and have begun my hunt for the perfect dress. I find myself in an unusual situation; I have a tattoo on my bicep that I'm interested in covering with a 'sleeved' wedding dress. From the research I've done within the last week, I'm finding that hardly any designers design dresses with sleeves. I don't blame the designers, I assume not that many dresses with sleeves actually sell.
I find Jenny Packham and Temperly London sell some remarkable dresses, however, they don't sell many designs in the Bay Area. And I don't really feel like that girl who needs to fly around the country looking for a dress, that just seems impractical.
These are the styles I'm looking for.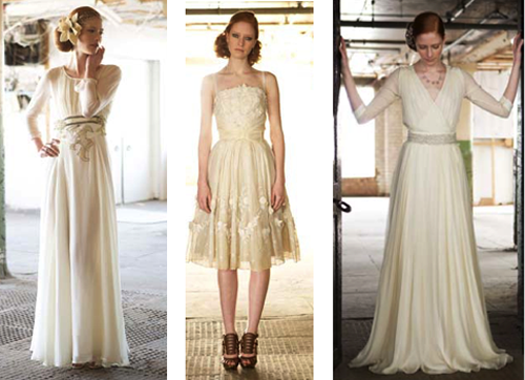 I'm absolutely in love with the dress on the left, it's the flowy sophistication that I'm looking for. The dress to the right isn't bad, with the ballerina wrap shawl over it, however this look isn't my favorite.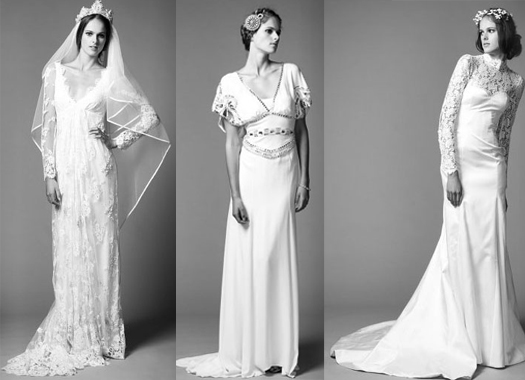 Pictured above are Temperly London dresses, I love all three of these styles. I think the one pictured left is most like what I'm looking for.
If anyone knows of local Bay Area wedding dress designers, please let me know. I'm interested in making a custom version of one of these styles.
This entry was posted by Style Bust on November 22, 2010 at 9:00 am, and is filed under New Styles in Fashion. Follow any responses to this post through RSS 2.0.Both comments and pings are currently closed.