OPI: I Love DKMS
I had another post ready for this week, but I just read an article on Vogue and wanted to shared it with our Style Bust readers. An article called "The Fighter" on the August 2011 edition of Vogue.
From the article I learned that Katharina Harf's mother was diagnosed with acute leukemia when Katharina was thirteen. The family got working and within a year recruited 68,000 people who got swabbed looking for a donor match. Even though Harf's mother passed away, she still continues the efforts by being the co-founder and executive vice-president of DKMS Americas. DKMS is the German acronym for German Marrow Donor Center, which is the largest bone marrow donor center in the world.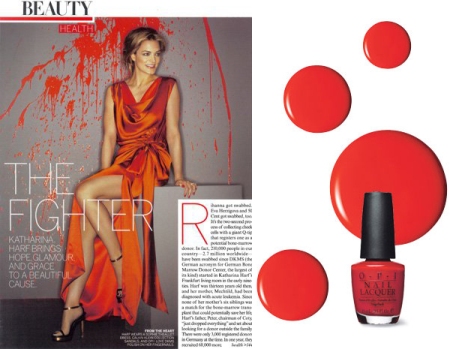 The way to become a donor is by visiting DKMS Americas site, you register and get do-it-yourself cheek swab kit. You will collect your own sample and send it for the lab for tissue typing. It is very difficult to match donors, maybe you will be called to donate, maybe you won't but by registering and getting swabbed you may be potentially saving a life.
To honor and further the cause, OPI has come out with I Love DKMS, a limited edition nail polish duo in cherry red and shimmery, sheer white at $8.50. Proceeds will benefit DKMS's efforts to register new donors. This polish is available in select Ulta locations, but I wasn't able to find the color online or through the OPI website, so if you find a location drop us a comment!
This entry was posted by Style Bust on August 11, 2011 at 2:18 am, and is filed under Latest Beauty Products. Follow any responses to this post through RSS 2.0.Both comments and pings are currently closed.