Not Your Grandmother's Crochet
Seductive, crochet cocktail dresses.  Intricately textured wedding gowns.  Face framing shrugs and shawls, pleated and laced.
If you want a statement couture dress, you want Violetta Vieux.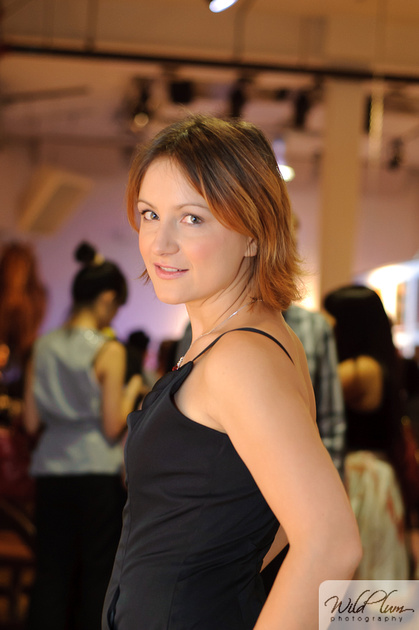 The Fabulous Ms. Vieux. Photo: Wild Plum Photography
We sat down for a chat over lattes, just days before her debut in the Couture runway show of the all new San Francisco Fashion Week. Serious Excitement!!
I first met Violetta at FIDM:  me as a lowly fashion design student, she as the new draping instructor from Moldova by way of Paris, where she earned her Masters in Couture and Creative Patternmaking from ESMOD International Fashion University.  Frankly, I was intimidated.  I knew she spoke 5 languages, had stacks of awards, worked in couture houses, and probably dreamed up more amazing designs in her sleep than I could in a year.   She also turned out to be one of the nicest people alive.  I consider it serious good fortune that I got to be under her tutelage.  ( She was also amazingly patient with my borderline seamstress skills.)
Fast forward to a sunny morning in downtown SF, where I got the lowdown on her company VioGemini and the upcoming shows.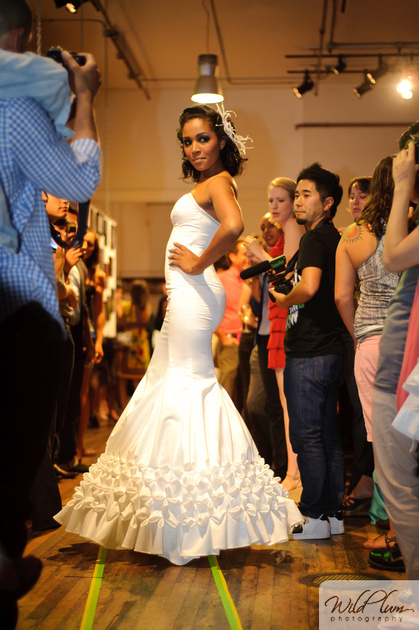 Textured mermaid gown in satin from VioGemini.  Photo: Wild Plum Photography
Violetta is flush with triumph at finding the music for the show just that morning- an ethereal, haunting piece that perfectly evokes the themes of the new bridal collection: winter, ice, the intricacy of snowflakes and clouds.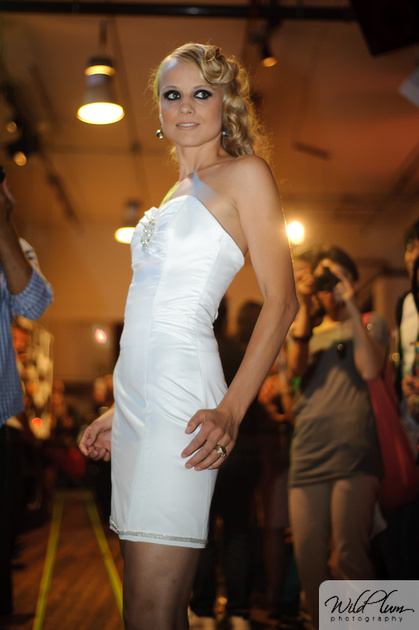 Embellished satin gown from VioGemini. Photo: Wild Plum Photography.
" I wanted to present something fresh and original for every bride, as well as continue to explore singular textures" she says – a hallmark of her previous award-winning crochet work.  She has a wonderful approach that any modern bride can appreciate; a "design-it-yourself" concept that is realized through several functional pieces that can either be worn together or separately, depending on the occasion. Adding to the customizable nature of the collection, each piece is offered in a variety of colors( yow color!), fabrics, silhouettes, and lengths, with several options for detailing. Rounding out the collection is a full complement of accessories including shrugs, boleros, ring pillows, veils, corsage flowers, shoe-clips, hairpins,and garters—made with matching fabrics and rhinestones.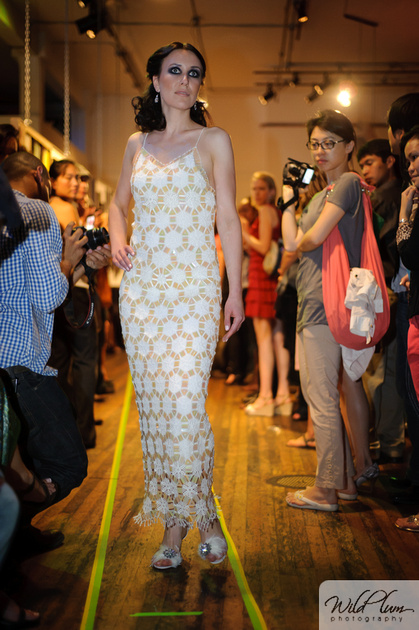 Crochet wedding gown from VioGemini. Photo: Wild Plum Photography.
I say, "Brides- to- be, get on this like white on rice!"   Don't miss the full collection being shown during San Francisco Fashion Week: Runway #3, Couture/Avant Garde.
Having already been down the aisle, I think I'll go for the cocktail version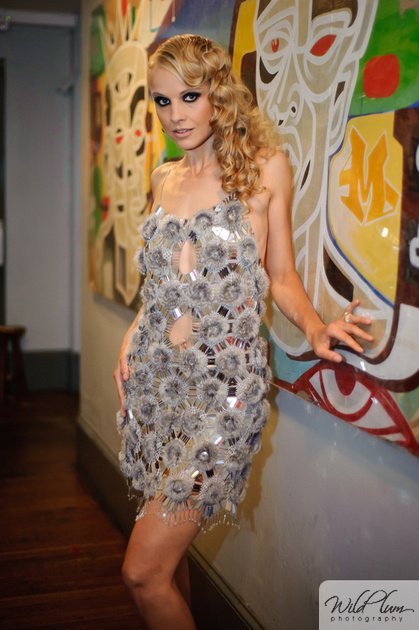 Crochet, fur and metal cocktail dress by VioGemini.  Photo: Wild Plum Photography
No wall flowers in LBD's here!  The craftsmanship and creativity continue to amaze.   This, my lovelies, is fashion.
For more on Violetta, check out her interview in San Francisco's 7X7
Need a fresh look at fashion?  Come say hello at Downright Red!