Project Ethos in San Francisco
Project Ethos Successfully Launched in San Francisco
Local Industry and Consumers experience Fashion, Music and Art under one roof
San Francisco, CA – Ruby Skye played host to over 600 bay-city attendees on hand to witness the largest display of local fashion, music and art on record Thursday night, April 14th.
Project Ethos filled the multi-story venue with a dynamic array of talent. Entering the venue revealed that this was no average night with a 50 foot long white runway and large projector screen displaying custom graphics, a live band set up, nine local artists on display, a brightly lit red carpet and press banner, Carlton Hair booth with free goodie bags, vitaminwater zero™ bar, photo station and a Meet and Greet with the participants sponsored by Absolut vodka with cupcakes by That Takes the Cake.
Carlton Hair Experience Winner Elena Dvorochkin hit the red carpet with three lucky friends looking glamorous from receiving VIP treatment at a local Carlton Hair Salon. After being escorted past the red carpet for photos, Elena, her newly made-over straightened locks and the whole group were treated to bottle service compliments of Absolut, a sponsor of Project Ethos. Prior to the event Elena exclaimed, "As a working artists myself, the juxtaposition of the influence between the genres is an interesting thing to witness. So, needless to say, I'm thrilled to get this awesome opportunity!" The melodic tones of the indie rock band Geographer swept through the venue before the fashion show as they played popular songs from their buzz worthy record "Animal Shapes."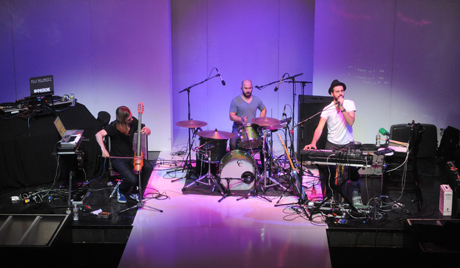 Excitement grew as the fashion show commenced where garments presented as part of the "vitaminwater zero™ Flavor Fashionista Challenge" were presented as the last look by the five local emerging designers. The text-in votes resulted in the award going to custom swimsuit designer team Lucy Bea and Ashley Hayes (Lucy Bea Swimwear). Brand Manager Hayes stated, "Our flavor was vitaminwater zero™ Rhythm. We were inspired by the vibrant green color. We wanted to capture that summer color and incoroporate movement to translate the upbeat feel of our pieces which is why the ruffles on the bikini were the centerpiece." When asked what it meant to Lucy Bea Swimwear to win a $3,000 prize of their choice she replied with great enthusiasm, "It's so exciting! We're still new and we were competing against designers who were more established so we weren't expecting it but it inspires us to keep moving towards our goal." After the fashion show the crowd was ready to party to a DJ set by the Limousines.
Many local members of the industry attended the lively event including buyers from stores such as Cranberry Boutique and Fiat Lux and curators from local Gallery Hijinks and Modern Eden.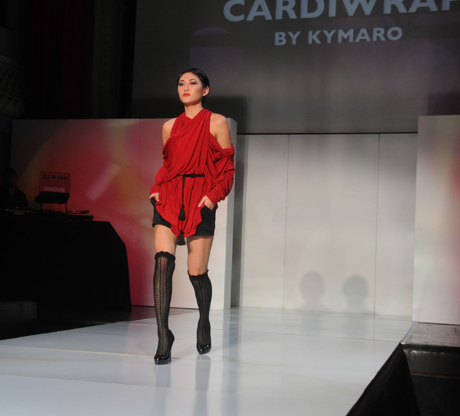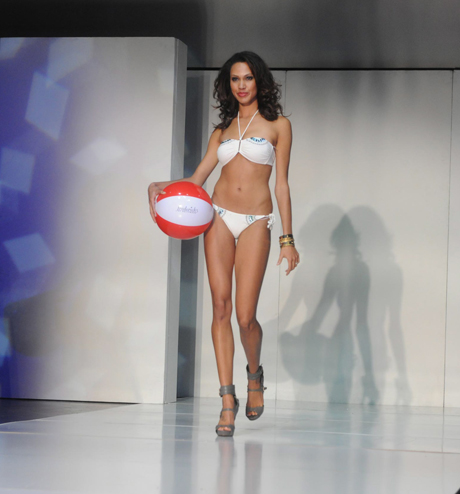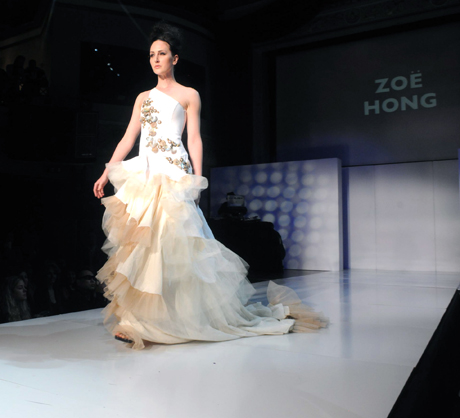 Project ETHOS produces red carpet events showcasing all emerging Millennial Generation forms of creativity in one house, on one night. By merging fashion, music, and art concurrently, Project Ethos brings into existence a unique avenue for artists. The goal is to give opportunity for featured participants, as well as arrange a truly invigorating experience for an attendee.
*Images by Kevin Sam. Story by Brianne Bear.