Rewards For The Financially Responsible
Saving is hard. Every time I catch up with friends over a $30 brunch or $10 glass of wine, we complain about our troubles saving money. For starters, we could eat & drink at cheaper establishments, but that wouldn't be very glamorous. So we continue to splurge on the finer things in life and struggle to get our savings rate where we want it.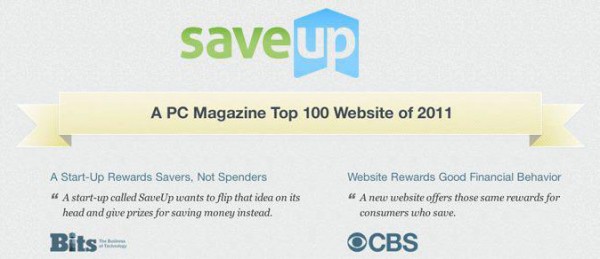 There is a new site called
SaveUp
that aims to help people who want to save money and paying down debt. After you register on SaveUp and connect  your financial accounts to the site (exactly like you do on mint.com) you get rewarded for paying off debt and saving money. Yes, that's right, you get rewarded. No gimmicks.
How it works:
for every dollar you save, or dollar in debt you pay off you receive a credit to use on SaveUp. These credits can be used towards giveaways like:
Virgin America Domestic Roundtrip Flights for Two
$5,000 Banana Republic Shopping Spree
$5,000 Trip to NYC for Two
$25,000 Paris Getaway for Two
$50,000 Personal Makeover
Or the SaveUp Super Jackpot worth $2,000,000!
I joined SaveUp back in December. I haven't won any prizes yet, but it has been nice to login regularly and see how my consolidated finances are doing. The added benefit of getting to play for prizes simply because I've saved some money is really cool. I enjoy getting rewarded to do the thing that all responsible adults are supposed to do, Save! Go to SaveUp.com to learn more about registration (it's really easy to do), and check out the great prizes they offer. Bonus: Style Bust readers who register will get 200 SaveUp credits for free.
Interested in staying on top of financial news? The SaveUp Blog features weekly roundups of the best articles about finances in the news.