RowNine enters Flash Sales space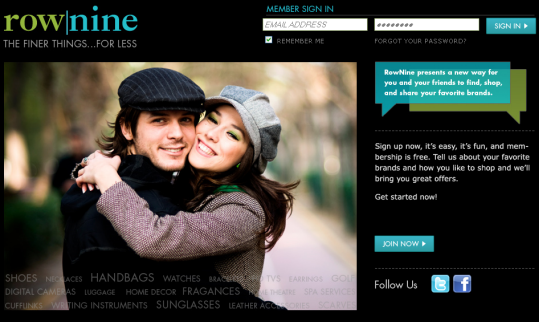 There are many flash sales sites on the web, Gilt Groupe, Rue La La, HauteLook and Ideeli. These site offer their members 50%-70% off retail goods. Newbie RowNine is hoping to differentiate itself by offering a more personalized platform that allows users to customize the types of clothing, handbags and accessories that are delivered to them.
On RowNine, users will now be prompted to specify what types of clothing, brands, bags, and more items they are interested in purchasing. Customers can indicate their preferences when perusing offers and merchandise on the RowNine Website by giving a "thumbs up or down" to build their preference profile.
RowNine will then source and recommend customized products to the users. RowNine's recommendation engine will integrate a shopper's clickstream and purchase history as well as group matching with customers with similar interests to deliver targeted recommendations. Customers will also have the ability to publish products and purchases they like via their Facebook and Twitter accounts.
While the space is competitive, the model is certainly ambitious and could prove to be attractive to shoppers who want more customized offerings from online sample sales. One of the biggest challenges for RowNine will be to attract users; the site only has a hundred thousand members as compared to the millions competitors have. But the online sample sale space is still growing, and clearly there's room for a number of strong players.
This entry was posted by Style Bust on May 5, 2010 at 2:42 pm, and is filed under Branding & Ads. Follow any responses to this post through RSS 2.0.Both comments and pings are currently closed.