Posts tagged
sample sales
Last Thursday, on a cold San Francisco day, all the ladies at Sassy City Chicks Fashion Bash were feeling pretty hot. Music was going, complimentary Dirty Blonde Cocktails were flowing as well as complimentary massages and hair styling curiosity of the San Francisco Institute of Esthetics and Cosmetology.  But the biggest draw for me was the unique selection of clothing and accessories at steep discounts. There were about sixty designers exhibiting, and the booths were well surrounded by women trying to take advantage of great deals before they were all gone. There was no need to rush but I felt like I had to think fast and move fast because I wanted to see everything.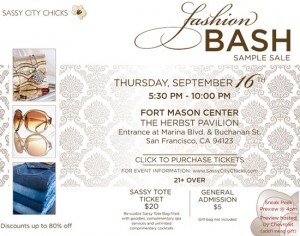 Items included dresses, tops, sportswear, handbags, jewelry, and designer denim like that from Pamela Sukeforth's Fashionistette booth where there was no reason to question a denim buy at a great price. Mid length cotton tees and cropped tanks stood out as a trend as well as stripes and extra loose cardigans. Jewelry ranged from independent designers like Pretty Fun Design to Stella & Dot who actually host private home parties (which is a great idea for anyone planning a bridal shower).
Now lets talk about the ticket price.  The Tote (goodie bag) ticket entry price at $20.00 was a great deal. There were over a dozen items, composed of all the perfect ingredients for staying out all night and still looking put together the next morning…that's pretty Sassy if you ask me! I know the contents of my goodie bag got put to good use this last weekend.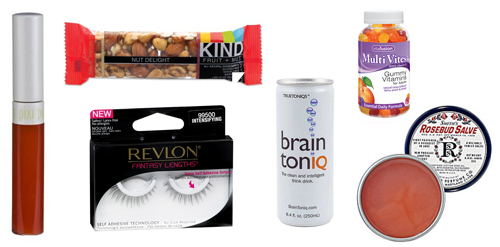 The bag included great practical products. Some stands out items were, Pixi by Petra's Vitamin Lipsilk, Revlon Fantasy length lashes, and sexy underwear from Fredrick's of Hollywood. I had my first taste of Brain Toniq, an organic designed to give you mental clarity and a wiser choice than Redbull. There was a full-sized sample of a Kind health bar, and after trying this bar for the first time ever, I know (100%) I will be buying them in the future. I was expecting a chewy, sugary bar but it was the right amount of sweet and tasted pretty fresh. I'm also always happy to have a reusable bag for taking my lunch to work or for what I call my "Mr. Rogers switch" which carries my work shoes to comfy shoes.
Sassy City Chick's Fashion Bash events take place in San Francisco as well as other cities including Los Angeles, San Diego, New York and Miami. With the Holiday's coming up, it is definitely a good place to grab gifts for your friends and family. Check out Sassy City Chick's for upcoming events.