Summer is for Shorts; the Shorter the Better
Is there anything better than cut off shorts? They are a statement, a feeling, playful and fun. Cut off shorts take denim into the world of the sensual, while giving us an easy way to enjoy. Of course you have to take your body shape into consideration when choosing the right cut-offs, and sometimes, even the celebrities get it wrong.
Fashion designers have taken the topic of cut off shorts to a whole new level of intrigue. The simple cut offs have been changed, dyed, altered, embellished and shredded. You can wear them very short with pocket exposure or sans the pockets for a cleaner shorter look. Sometimes cut off shorts should be simply left alone with a nice top. The feeling that we just have to keep adding to a look (and adding…and adding) can create a flat out disaster. But when you do it the right way, you are the city chic uptown girl.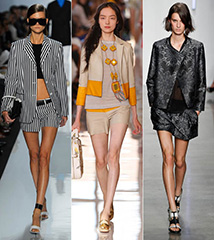 For the next two years, anticipate seeing cut off shorts as the highlight of both spring and summer. Denim is being shown in pastels, scalloped faux leather, lace, silk, tie dyes and studs. Whatever mood you are in, there is a pair of shorts that will be a perfect fit. The most popular seems to be the beach look . Based on a concept of simplicity, the cut off shorts, paired with a summer tank top and a hat is probably as sexy as it gets.
The latest trend for this year seems to be the candy colored shorts, in sizzling colors like bubblegum and daisy yellow, paired with a wide belt. This is a great combination and even a boho top looks fab with the bright colors.

Sometimes, there is a clash of seasons. For reasons that confound, cut off shorts are combined with knit hats (normally fall and winter wear) with boots. At what point did the confusion occur when making this decision? Each item, on its own and with something else, could have been a good choice. But absolutely not together.
Another look that is appearing on runways is changing the world of shorts and blending it into a bit of glamour. The simple cut-offs as well as standard shorts are acting as anchor pieces for the wardrobe and the addition of a sizzling color top is turning the world of shorts on end (so to speak). A classic glam top can bring a splash of color in the most popular blues and purples, with metallic, silk, iridescent and even faux leather.
The boho look is probably one of the easiest to accomplish in color and style for summer. A crumpled shirt or off shoulder cotton with embroidery can be a very natural look. The addition of earthy jewelry is a statement of Mother Nature, especially in neutrals, greens, ocean blues and Native American motifs. The best thing about boho is that it is fresh, clean and has a very natural sensuality.
Sources: http://www.fashionpatterns.com/download/Predictive_Spring_2013.pdf
http://www.glamour.com/fashion/2012/09/spring-2013-most-wearable-fashion-trends#slide=1
This entry was posted by Style Bust on May 23, 2013 at 2:38 pm, and is filed under New Styles in Fashion. Follow any responses to this post through RSS 2.0.Both comments and pings are currently closed.