New Time, New Era, New Colors
We are in the middle of a technology explosion that is supposed to have made our lives easier. While we hurry to read and text, respond to emails and keep up with our bff's, there seems to be a lot of confusion about identity. Fashion and colors are a perfect example of this confusion as we add new colors to our wardrobe palette that combine the tech with a desire to return to nature.
Our world is becoming very ecology savvy and this brings a new attitude in what and how we wear fashion. The infusion of khaki, greens and neutral tones bring a level of sanity to our existence, while we are inspired by the bursts of rich blues and purples that entice the senses. The wildly bold take a leap into the crimson, cinnamon and tomato tones and we don't even realize that these are all colors of the natural world. We are being driven by technology but our inner selves are demanding natural beauty which means new colors.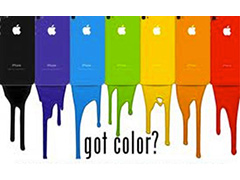 The shades of blue are being seen more and more, as we adapt to the calming influence of that tone. Pastels, sea blue, turquoise, dark regal blue: all are appearing in outfits and on the runways. Easy to wear denim in all of its forms are being taken to another level with variations on a more natural and carefree look. Some wear it well in its simplest form, but others seem to express their confusion with just a bit too much. Alas, the beauty of denim is lost in the maze of color and mess.

We are expressing out tech side in fashion choices with geometrics, overlays and rich textures. While the other side of our personalities are adding a touch of exotic and tribal. An almost return to the simplicity of our origins. This attitude is accented by the fact that we are becoming a much more global society, so the influences of other countries are blending and fusing as designers bring colors and fashions in from other cultures.
In our mad dash to embrace technology, our inner self is crying out to slow down, take a step back and walk on the beach. The demand for our time is higher than ever and it isn't surprising that we are becoming a society of sleep deprived people. Colors are often an example of our social feelings and there is a slight lean toward selections of neutrals and earth tones. This is an absolute message that we want to love and take care of ourselves without giving up the tech world we have become accustomed to.
This season, the look of the sixties has returned to the runways. While the sixties represent an explosion of color and excitement, it also brought the world of hippies, boho, communes and an exit from the fast life into the natural. An odd combination, you might say, with a society so evolved and involved in computerization. But no, it's just a sign of the times with our own subliminal message.
This entry was posted by Style Bust on May 30, 2013 at 10:17 am, and is filed under New Styles in Fashion. Follow any responses to this post through RSS 2.0.Both comments and pings are currently closed.