Posts tagged
sandals
We all know that women come in all shapes and sizes – and so do our feet (something not many of us think about when shopping for shoes).  I mean, we wear clothing that flatters our figures – so why not wear a sandal this summer that flatters our perfectly polished piggies?
As the days get warmer, we're seeing some of this seasons best sandals.  But just because the sandal is cute – it doesn't mean that they will look good on every foot.  Here's a little guide to help you find the perfect summer sandal that will draw some attention (the good kind) to your feet.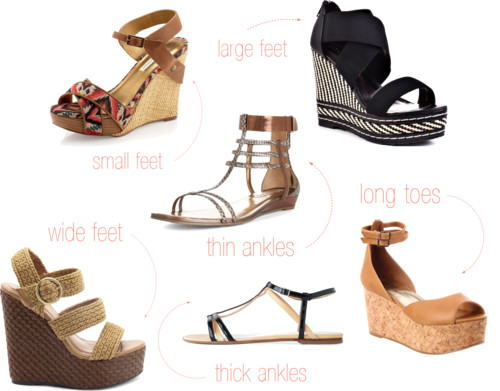 Large feet (above size 10): Black and other dark colors have the same effect below the ankles as above.  Find a sandal with maximum coverage (i.e. thick straps), your feet will appear daintier.
Thick ankles: Avoid sandals that draw attention to the ankle – they will make your legs appear very short.  Instead, opt for a pair of sling backs or a sandal that shows off the arch of your foot.
Wide feet: Try a sandal with thick straps that fit comfortably across the foot.  A wedge sandal is perfect for "elongating" the foot.
Small ankles: Show off those thin ankles with Grecian style sandals.  Look for a sandal with multiple ankle straps in metallics or bold hues.
Long toes: Stay away from "thong" type sandals – long toes will usually end up hanging over the edge.  Instead, try a peep toe sandal or a sandal with multiple straps near the toe area.
Small feet (size 6 or smaller): Draw some attention to those tiny feet.  Opt for gemstone encrusted sandals or a sandal with a graphic print.  Loud shoes are made for you.
Check out websites like Zappos or DSW for a huge selection of sandals – you can search by width or size to narrow down your search.
That's right, we're talking about shoes!
Juil is a new shoe company that is making the world a better place. Who would have thought that footwear could make anything better?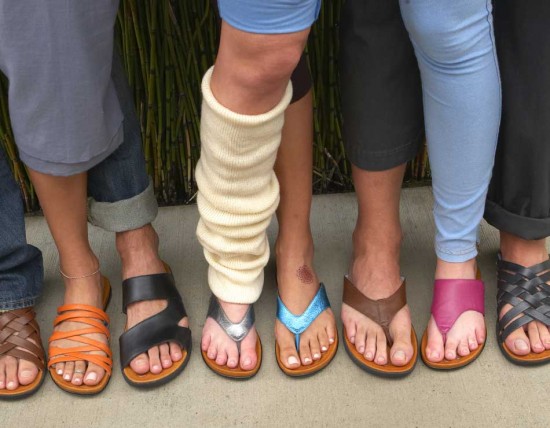 Juil sandals and footwear really can make the world a better place. They restore our natural balance of energy by connecting us to the Earth's energy, helping us achieve a greater sense of health and well-being. Our bodies are alive with natural energies. However, our bodies have a hard time sustaining our positive energy levels, in part due to the toxins and free radicals we are exposed to on a daily basis.
Ordinary shoes prevent the Earth's vital energy from flowing into our bodies. Juil footwear features exclusive Energy Flow Technology™, which uses copper conductors inset into the soles of the shoes to channel the Earth's innate energy into our bodies. These copper conductors help ground ourselves to the Earth, which allow the Earth's rejuvenating energy to flow freely into and throughout our bodies as if we were barefoot.
Juliu Horvath inspired us to create a shoe that is the next best thing to being barefoot. Horvath's shoes look great and feel great while allowing for the free flow of positive energy between the Earth and our bodies, said Stefan Hartung, Juil's design director.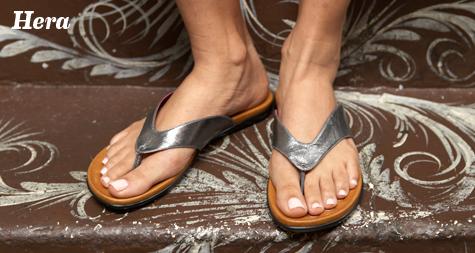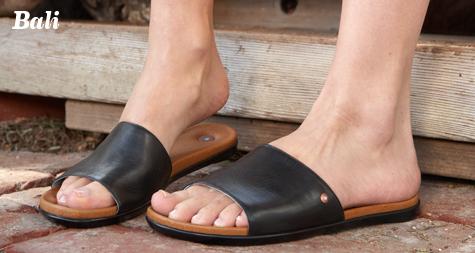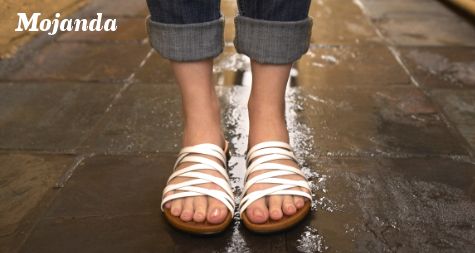 Juil footwear is available in five styles for women and three styles for men. The supple insoles and uppers are made from the world's finest leathers and the Energy Flow Technology incorporates quality copper insets. Shoes range in price from $125 – $145 and are available exclusively at www.juil.com.
I got a pair of Hera Juil sandals and wore them for them a few times time last week. Not only are they great looking, they are extremely comfortable. I can definitely say I was in positive spirits while wearing my sandals, and I believe the shoes played a big role in my good energies while wearing the sandals.
As the summer of 2010 comes to a beautiful close, I reflect on all of the successful fashion trends that were embraced. Jumpsuits made a glorious come back while harem pants made a splash that no one saw coming! I was recently looking at some other style blogs and I came across someone's list of the worst trends this summer. I was blown away because everything the blogger listed, I loved! Printed pants? All for them! Ripped jeans? That should be the trademark of my generation! I admit there was one that I had never even heard of (rabbit ears!?), but other than that I found myself saying to myself "but I like that!". There was only one I had to agree with… the boot sandal. Although I haven't seen them in action very often, the few times I have has made me do a double take.
Are they this years crocs? I don't know if I would go that far. They don't have the same cult following and they aren't THAT ugly. But I would say, in my humble opinion, that the boot sandal is the worst summer 2010 trend. With that being said… they really aren't all that terrible.. so that just goes to show that fashion trends had a good summer this year!