The Best Summer 2010 Trend: Jumpsuits and Rompers
The hot, sticky summer air usually calls for short shorts and tank tops to beat the heat. Wearing fewer clothes during this time is completely acceptable because being cool and comfortable is key. Some people (like myself) say that summer can be the least stylish season of the year because there are fewer opportunities to fashionably express oneself. One can only say so much in a sundress with sunglasses. But there has been a trend that has slowly come back from the golden days of disco and that is the jumpsuit.
Also known as the romper, the jumpsuit is usually a hit or miss piece. Some seasons, it is laughable, others it is cutting edge. Luckily this season the fashion big wigs are making the forecast that jumpsuits will be hot, which is great because they are not only cool looking but incredibly comfortable and convenient!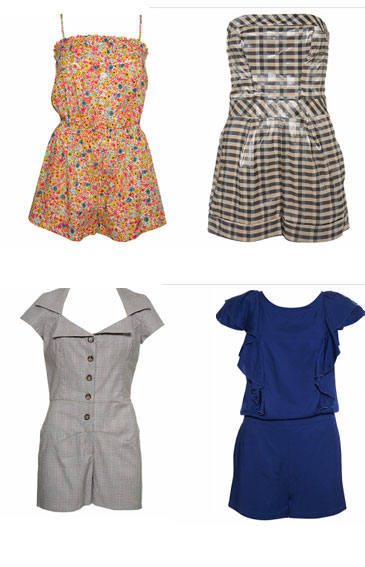 Unlike a dress, which can also help beat the heat, there is no risk of a quick burst of wind causing your under regions to be expose.  It is a great piece to have when going on your summer travels because they're light weight and in one piece. That'll leave more room in the suitcase for other necessities like shoes and goodies you gather on during your travels.
A jumpsuit can be dressed up or down. It can be left alone or kept company with of interesting accessories. It's the jumpsuits versatility that makes it so desirable to have this summer.
This entry was posted by Style Bust on May 31, 2010 at 7:15 pm, and is filed under New Styles in Fashion. Follow any responses to this post through RSS 2.0.Both comments and pings are currently closed.