The Queen of all Chowders
Every true San Franciscan foodie will agree that come the middle of November we temporarily forget about our longing for roasted turkey and gravy hidden mashed potatoes to come our way in the near future. We instead strive to do nothing more than desperately attack the local sea food restaurants for a messy chow down with a hideously oversized bib and local Dungeness crab,  that is freshly caught at sea and brought back to the city on that cold and misty morning for one purpose only. However as many of us are aware, this city wide celebration was put on a two week halt when price disagreements between commercial fishermen and buyers, resulted in a strike that seemed to drag on forever. Sunday evening hoping to finally crack into one of the little beasts, I walked up the street to my favorite neighborhood raw live seafood eatery, Bar Crudo at 655 Divisadero Street. As I typically do, I sat at the bar and looked to the place where our exceptionally fresh crustacean friends usually reside, but not to my surprise found the spot vacant with slow melting ice. Even as a supporter of the fisherman cause and deep appreciation for the local seafood market, as a desperate mid November San Franciscan I could not help but feel disappointment. I got to thinking that like many strikes these days, it was certainly influenced by all of this current political occupy upheaval. I could not help but have a hilarious image come to me of my fellow city foodies and I running down to "occupy the sea", and beg for a final consensus. With my solemn need for comfort food, I dove into what I thought might be the next best thing for me; Bar Crudo's seafood chowder, and BOY WAS IT GOOD! This small cup of hearty yet creamy heaven is not like any chowder I have ever encountered. I could not believe the variety of sea food critters; halibut, mussels, squid, clams, and jumbo shrimp coming together in such a harmonious and delectable manner. The seafood cooked to perfection, swims around big chunks of red potatoes, apple wood smoked bacon and a decent sprinkle of white pepper to add a kick of spice. While experiencing this perfectly crafted cup of pungent perfection, I forgot all about the lack of crab in the city, Bar Crudo making my visit worthwhile as always. I highly recommend washing this heart attack in a cup down with a crisp cold glass of one of their well selected glasses of Ugni Blanc. Brace yourself for this chowder readers!  One little cup goes a long way; there is a reason they don't offer a bowl of it on their menu!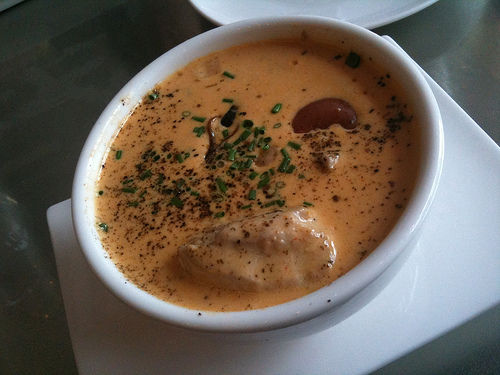 Bar Crudo's Happy Hour: Tuesday- Sunday 5:00 PM-6:30
Where you can dive into this exceptional experience for only $5!!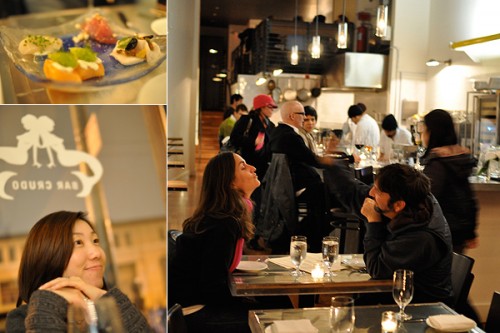 *Image source: Travel + Leisure.