Nails, Inc. Top Coats
Thanks to the new Magnetic Nail Polish, the company Nails, Inc. grabbed my attention and it has held it since! I've tried two additional items from the Nails, Inc. product line: a regular top coat and a glitter top coat. Here's what I thought of them:
Special Effects Electric Lane Holographic Glitter Top Coat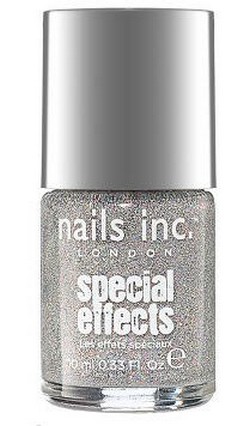 This nail polish is very unique, each brush stroke adds very fine glitter, without looking tacky or like it belongs on a tween. I noticed it tended to matte vibrant colors; but it looks just right on very light or dark polish.
Add it to your bare nails and they will look amazing, it gives a very clean look, subtle but also gets them noticed. One or two coats are just right, but a third coat brings out the holographic effect a lot more. Even though this polish is a top coat I don't like the glitter's rough feel, so I add a clear top coat to smooth it out.
This is a perfect polish for the Holiday Season. Right now I'm using it on top of a snowflake design and it looks amazing, very professional.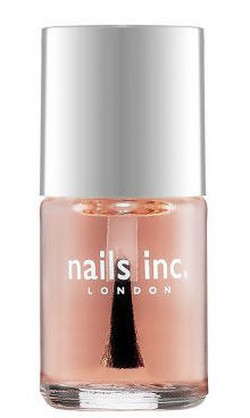 There are several reasons why this is my new favorite top coat. The main one is their claim that the polish dries in 45 seconds, I used a timer to check for myself and I found it's completely true. In some cases it completely dries out in 30 seconds, I haven't used my polish fast-drying spray in weeks!
Another reason I prefer this top coat is that I noticed it helps me "set" my nail art, making the design smoother, as well as very glossy and chip resistant. Using quality nail polish will make your nails look like they're professionally "done" even if you did it yourself in your pajamas while watching TV.
This entry was posted by Style Bust on December 2, 2011 at 1:00 am, and is filed under Latest Beauty Products. Follow any responses to this post through RSS 2.0.Both comments and pings are currently closed.