American Idol: Top 7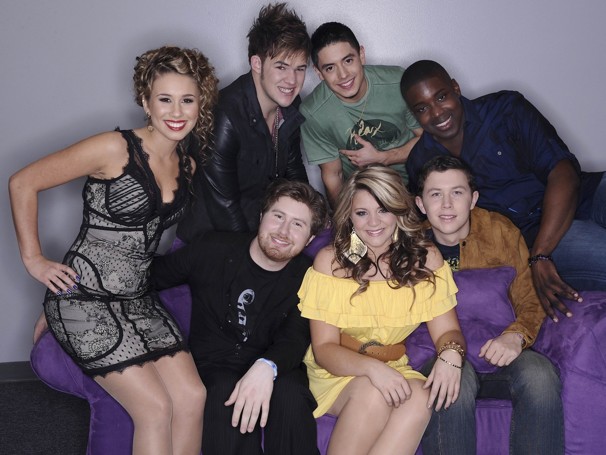 The night started out with the eliminated contestants singing Pink's "So What."  Which at first I thought was a pathetic song choice.  I mean I understood that they were trying to convey the message of not caring about elimination but most of them can't honestly be saying 'so what' to their departure.  At times I find myself to be some what of a harsh critic so I watched it back this morning and I ended up actually finding it to be sort of cute and charming.  The girls kicked butt on the song but Paul just seemed awkward on the stage singing that song with a group of girls.  Anyway back to whats important… the performances.
The judges were in the mood to critique last night.  They started off being a little harsh on Scotty.  Just a couple weeks ago Randy proclaimed that he "wasn't just a one trick pony."  Clearly country is his lane and to think that he is capable of succeeding in any other genre is just stupid.  I don't always understand the judges comments when it comes to him, they are always all about him.  I was really surprised to see their response to him last night because I kind of liked it.  Either way Scotty is going to just fine when he gets eliminated.  His voice is so smooth and perfect for country.  While the performance last night of Leann Rimes, "Swingin" could have been slightly corny, I thought it was cute.  I was smiling and I ultimately decided that I probably would go see a Scotty McCreery concert.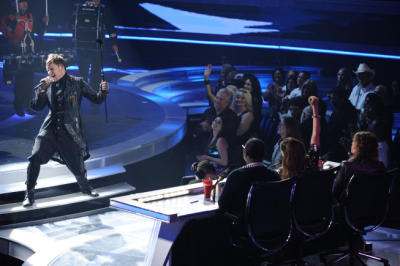 Gosh, and James.  Sometimes I just don't know what to say about him because I just don't get it.  And if someone wants to enlighten me on the attraction to him I'm truly interested.  Usually I blame my problem with him on my general taste of music.  But I love Muse & I love that song… but coming from James, I just wasn't buying it.  He has talent, I'm not denying that whatsoever.  Maybe his run on American Idol is too soon following Adam Lambert.   I'm waiting for him to grow on me, but time is running out.
Casey received another standing ovation, another thing I don't understand.  It's not that I thought his performance was bad, but I have to wonder what's happening in the studio audience because I am always finding their reaction to be slightly excessive.  I'm not sure that I loved him turning that pop/rock song all the way over to rock.  It's good in the sense that he made it his own.  He seems to always show a little aggression while on stage.  Personally I would like to see him loosen up and show his goofy side a little more.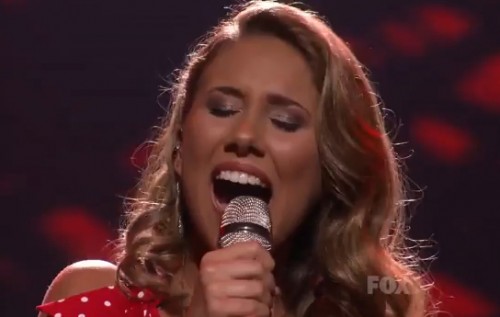 Let's switch gears over to what I really enjoyed.  Haley's performance may have been lacking in stage presence quality.  Visually I didn't find it appealing with her mark on the stage behind the judges table.  However vocally by far the best of the night.  She picked a really tough Adele song but did a great job.  I'm really pulling for her to make it through to at least top 3.  Personally I want her to win it.
I want to see Lauren get a little more confidence.  It's getting down to the tough part of the competition and I think her lack of confidence has played in her favor for awhile.  But people aren't going to sympathize with her much longer.  She's great and she needs to believe it.  The audience doesn't want to always feel like they are reassuring someone.  We need someone that knows they can be a star and be great.  I think if Lauren won she would probably be the most excited and appreciative.  So I'm pulling for the ladies.
So who is going home?
Stefano showed a different side last night but I think it might finally be the end of the road for him (no pun intended, really!).  Or Jacob, he may get some sympathy votes but I'm guessing not enough.  I do feel a little cold hearted to say that I wasn't feeling his performance last night.  A huge part of me does not want to down play his emotions but I feel like the past couple weeks he's been making excuses for his subpar performances.  I also really am not a fan of divas.  It's hard to tell if his emotion is sincere or for the sympathy votes.  So maybe I'm being crude, but I think I have a pretty honest reaction.  It's time for him to go.  If I had to guess a bottom three I would say Stefano, Jacob, and Scotty.
This entry was posted by Style Bust on April 21, 2011 at 7:47 am, and is filed under Trending Music. Follow any responses to this post through RSS 2.0.Both comments and pings are currently closed.