Bottled Grey Beauties
It's an epidemic. Aging beauties are taking any means necessary to stay youthful. Botox, tummy tucks, breast augmentations, you name it… women are shelling out the nickels and dimes to get it. Even young women are taking preemptive measures to ensure that their bodies are preserved to how they look while they are in their early twenties. But this is a bit extreme compared to the average American woman who will opt out for a box of cover-up hair dye and over the counter topical creams instead of going under the knife. But while women over thirty are fighting the clock, girls in their early to mid twenties are trying to rock the salt and pepper do.
No one can deny that the late Bea Arthur rocked the grey hair graciously during the duration of the Golden Girls but going grey and embracing it is very different than trying to achieve silver locks. Golden strands have been a beauty trademark for centuries but it started to get boring. Girls were becoming Blonde-orexics… trying their hardest to reach the blondest they can (often an almost white-blonde). But this got BORING. Red? Boring. Pink? Been there… done that. Blue and Purple? A little tacky. The frontier of hair color had been explored to its limits! … or so we all thought.
Grey was an untouched territory for young celebutaunts, socialites, and models. It was reserved for older men and women who were aging gracefully (or carelessly in some peoples opinion… not mine). How avant-garde and fresh! It has been described as "understated…classy…perfect". Fashionistas like Pixie Geldof have decided it is time to embrace the evitable and just dye it grey now! Sure, this look can work if you're a trailblazing eccentric celebrity who is trying to break the mold and explore new fashion grounds but what about the everyday woman? Can this look be pulled off by an ordinary young man or woman?
This weekend I had my first exposure to a young silver headed individual. I was at first perplexed (because I wasn't sure if it was grey or light purple) but I soon realized that I was looking at the first leak of this untouchable trend in the real world and I was then intrigued. Was I intrigued because this look was flattering and beautiful? No. I was shocked and a little horrified. Just like rainbow hair or any unnatural hair color I feel like it ages this person I saw but not in the way you would think. They looked young… hot topic young and I can say that I won't be trying out this trend anytime soon. I am a natural girl now after bleaching my hair and scalp to a state of permanent damage and I will wait for my locks to be seasoned by salt and pepper naturally when I am ripe and ready.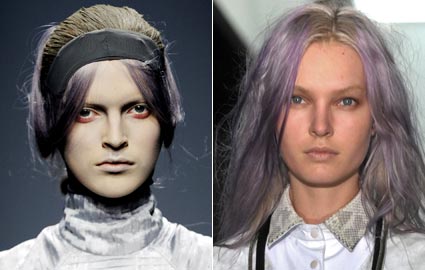 This entry was posted by Style Bust on June 28, 2010 at 9:42 pm, and is filed under Latest Beauty Products. Follow any responses to this post through RSS 2.0.Both comments and pings are currently closed.