Fashion Adventurist: Q&A interview with Kimo of Effie's Heart
With all of the mass produced clothing and accessories out there today it's hard to find quality, unique pieces that are wearable for everyday.  Ladies, no need to look any further…we've found a local indie designer worth knowing about!
Effie's Heart is a vintage inspired clothing and accessories treasure!  Beautifully detailed and designed pieces with a classic, but modern touch.  Talk about a breath of fresh air!
Kimo, the founder and designer of Effie's Heart has a lust for life (inherited from her Aunt Effie), and believes in true originality which is clearly showcased in all of her designs.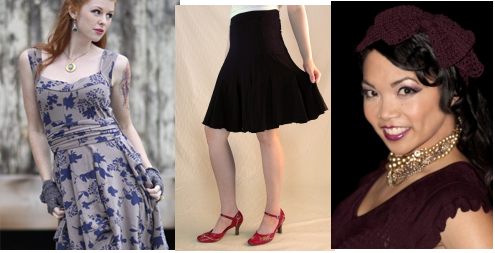 Dolce Vita dress, Seven Year skirt, Madalena headband
Style Bust had the opportunity to ask Kimo some questions about her inspirations and what it's like to be the brain behind Effie's Heart.
Style Bust: How did Effie's Heart get started?
I started the company 5 years ago with just a few t-shirts and totes.
SB: When did your love and passion for design start?
I have been sewing and creating clothing since I was a small child.  All the arts intrigue me, but I have a special affinity for clothing and accessories.
SB: Who is the Effie's Heart customer?
Effie's heart fits a broad range of customers.  Because the clothing is so classic and functional, granddaughters, daughters, mothers, and grandmothers have told me they fight over a certain size when it first gets to the boutique.
SB: Who are your fashion influences?  Where do you find inspiration for your designs?
I am influenced by everyone and everything around me.  To be a good designer you have to have your fashion radar on at all times.  You never now when the next perfect style line or killer color will brush past you.  I collect all the pieces and save them when it's time to design a new line.
SB: What Effie's Heart piece do you think everyone should own (any signature pieces)?
The seven year skirt and the riding tights are wardrobe layering essentials.  The dolce vita dress is perfect for every size and shape of woman.
SB: What are your favorite trends for the upcoming season (Spring 2011)?
Feminity is back!!!
SB: What is your favorite thing about what you're doing (creator of Effie's Heart)?
As an indie fashion designer I have to work 24/ 7.  I love all parts of my job.  From designing to shipping to selling to marketing and accounting and budgeting.  Being able to do different things everyday keeps life exciting. There is never a chance to get bored.
SB: How is Effie's Heart different from other vintage retailers?
The clothing has a hint of history in the design, but the clothing is new and very modern.  I design for today's busy woman.  My designs are easy to care for, very comfortable with a perfect fit.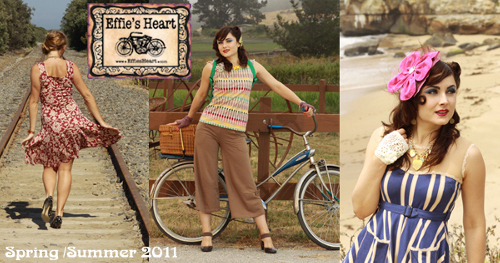 A huge thank you to Kimo and Effie's Heart for being a true fashion adventurist and creating such special pieces!
This entry was posted by Style Bust on January 3, 2011 at 9:00 am, and is filed under New Styles in Fashion. Follow any responses to this post through RSS 2.0.Both comments and pings are currently closed.