Grey Hair Feature in Sunday Times Style Magazine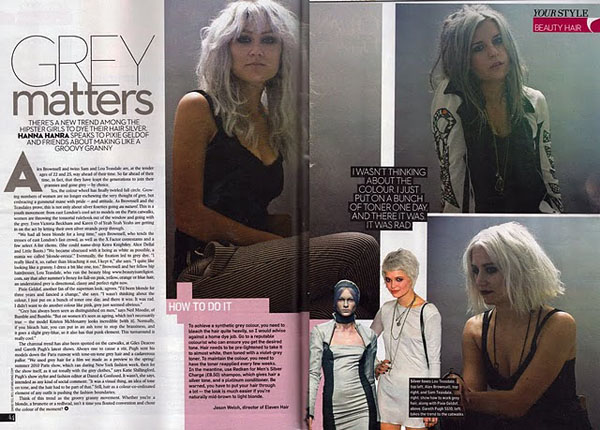 My boyfriend and I were watching American Idol last night and he made a comment about Lilly Scott's grey hair. He didn't understand why she's purposefully color it grey. He also thought I sounded snotty, and "above the trend" to know that it was a popular hair color, which still makes me a little mad, because I don't feel above the trend and definitely don't think of myself as snotty.
I was determined to find a story, or lots of photos of young hipsters with grey hair to show him, and was relieved to find this article in the Sunday Times Style Magazine (although I've actually never heard of this magazine before). This story outlines the grey hair youth movement from east London, to models on the Paris catwalks. The story says that an understated grey is directional, classy and perfect right now. Apparently Victoria Beckham and Karen O are getting in on the act by letting their own silver strands peep through.
This entry was posted by Style Bust on February 19, 2010 at 5:05 am, and is filed under Latest Beauty Products. Follow any responses to this post through RSS 2.0.Both comments and pings are currently closed.