Guest of a Wedding
Weddings are a time of happiness, dancing, eating, drinking and taking photos (which means looking your best)!  Of course, the bride and groom have much more to worry about when it comes to their attire than the guests…but when you're a guest, you also have to do some wardrobe planning.
When choosing a dress, make sure you know where the wedding will be held (in a church, on a beach, in a backyard) because it's important to dress accordingly.  Usually weddings in a church tend to be more elegant/formal than the backyard wedding.  And you also don't want to upstage the bride, so don't show up in an elaborate gown or a mini dress (like Ciara recently wore to Lala's wedding).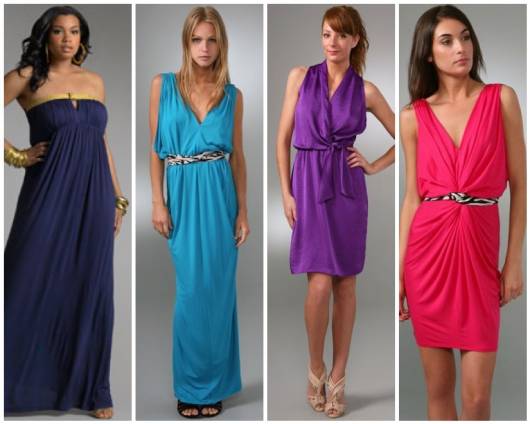 Ashley Stewart, T-Bags,  Elie Tahari, T-Bags
Solid colored dresses are practical for either an indoor or outdoor wedding (if at all possible, just try not to wear the same color as the bridesmaids).  By wearing a solid colored dress, you have tons of accessory and shoe options.  You can wear a patterned or colored shoe to give your dress a little extra edge.  And as far as accessories go, wear a long necklace or some earrings and you're set!  You can also add a light shawl (in my opinion cardigans tend to be too casual) in a neutral tone or even another shade of your dress to stay warm.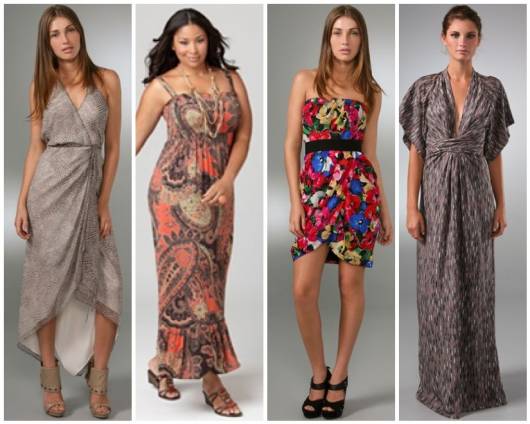 Haute Hippie, Avenue, Shoshanna, Issa
Printed dresses are great for outdoor weddings becuase they look more casual.  With the right accessories, such as gold bracelets and earrings, you'll be able to dress up a printed dress.  I chose to show a lot of maxi-length printed dresses, because I think they are perfect for a summer wedding…they're flowy, bohemian and above all…comfortable!
Most importantly, choose a dress that suits your overall style and wear a color that compliments your skin tone.  You always want to be comfortable and look your best at weddings!
This entry was posted by Style Bust on July 19, 2010 at 11:20 am, and is filed under New Styles in Fashion. Follow any responses to this post through RSS 2.0.Both comments and pings are currently closed.