Posts tagged
what to wear to a wedding
Warmer weather, longer days, and weekends of weddings – yes, it is Summer but it is also Wedding Season!
The easy part is done – we've sent back our RSVP's – now it's time to make travel plans, buy wedding gifts and most importantly, figure out what to wear to all of these weddings.
Ladies, we feel your pain – we know that attending multiple weddings in a short period of time can be exhausting (especially on the wallet).  But we here at StyleBust say that it's okay to find one killer dress and wear it to all of the Weddings that are creeping up on you – and save you a pretty penny while doing so!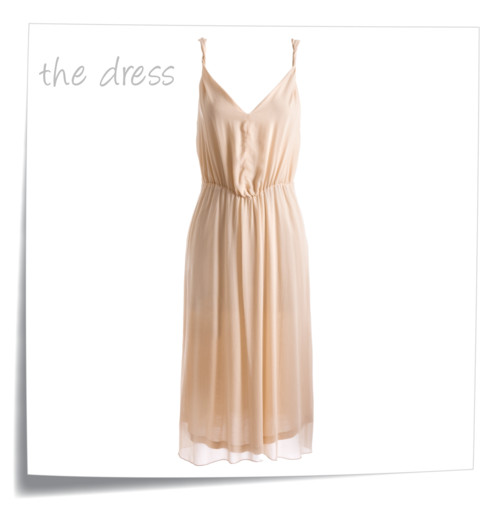 This dress is perfect for attending all sorts of weddings – from a formal wedding to a gathering on the beach.  The neutral tone pairs nicely with either black or brown – making it extremely versatile.  The weight of the fabric is perfect for a Summer Wedding – very romantic and elegant.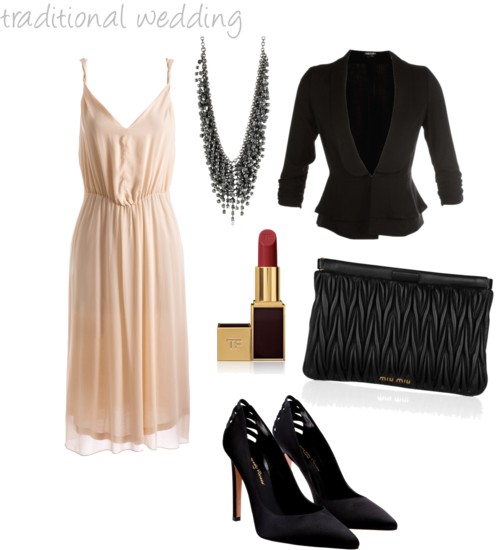 This is a great look for a wedding taking place in a church or hotel.  The look is clean and classic – black paired with this peach dress creates a sophisticated, but very modern look.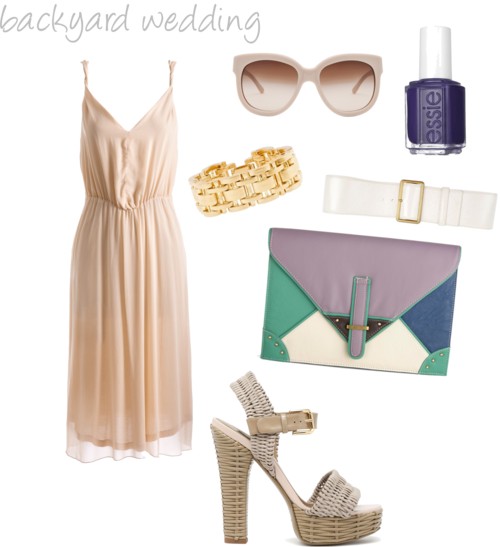 A backyard or beach side wedding are both great places to add some unexpected color and playfulness.  The woven sandals paired with colorful accessories creates a youthful and charming look.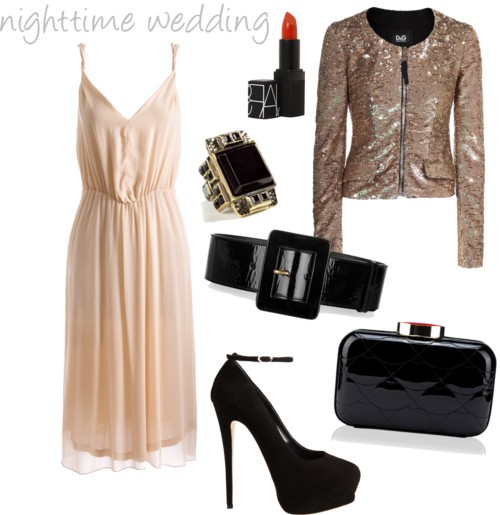 Invited to a nighttime wedding soiree?  This is the perfect place to bring out your cocktail attire – now is the time to pair the peach dress with sequins and patten leather for a chic, nighttime look.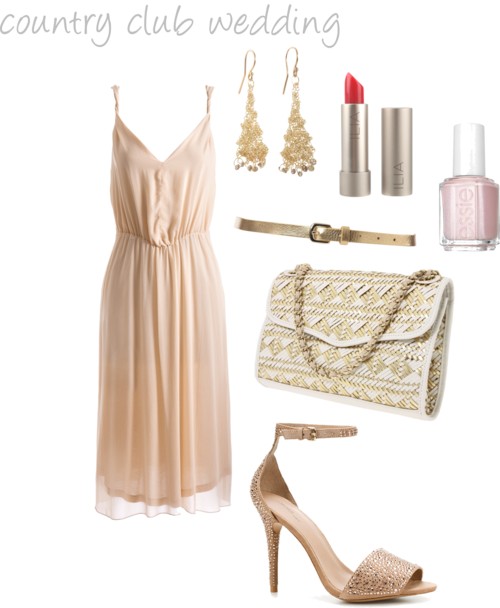 This is a perfect look for a formal wedding, held at a country club or resort.  Instead of adding pops of color, opt for accessories that sparkle – which will create an elegant, yet polished look.
*All looks created using Polyvore
Monique Lhuillier's Spring/Summer 2011 Collection is a beautiful visual celebration, one that I have come back to multiple times since becoming engaged. There are clear floral inspirations weaved throughout the collection as well as a refreshing use of bold and soft pastels colors. Lace, chiffon, sequins and intricate beadwork make the pieces pop with a rich, strong, sophisticated and glamorous look.
The deep v-neck dress below is similar to the silhouette of my wedding dress, my dress will be with ivory lace and not sequins.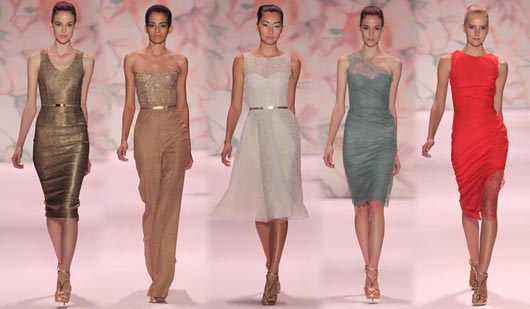 The gold dress with a top that looks like sprayed on glitter is spectacular.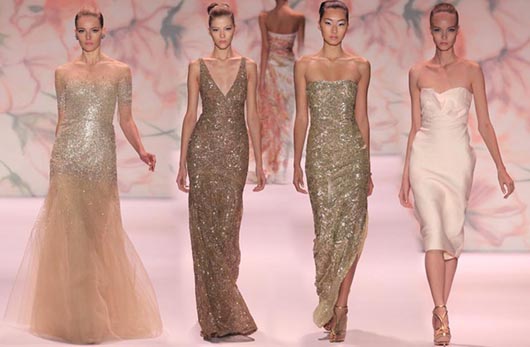 I love the striking poppy blue flower skirt + corset top combination below.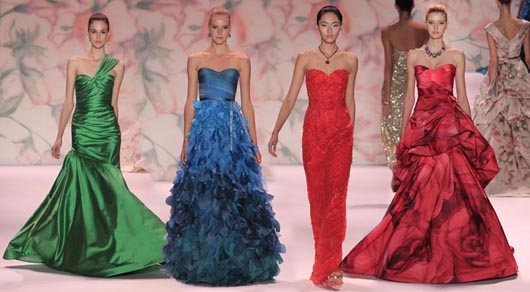 Weddings are a time of happiness, dancing, eating, drinking and taking photos (which means looking your best)!  Of course, the bride and groom have much more to worry about when it comes to their attire than the guests…but when you're a guest, you also have to do some wardrobe planning.
When choosing a dress, make sure you know where the wedding will be held (in a church, on a beach, in a backyard) because it's important to dress accordingly.  Usually weddings in a church tend to be more elegant/formal than the backyard wedding.  And you also don't want to upstage the bride, so don't show up in an elaborate gown or a mini dress (like Ciara recently wore to Lala's wedding).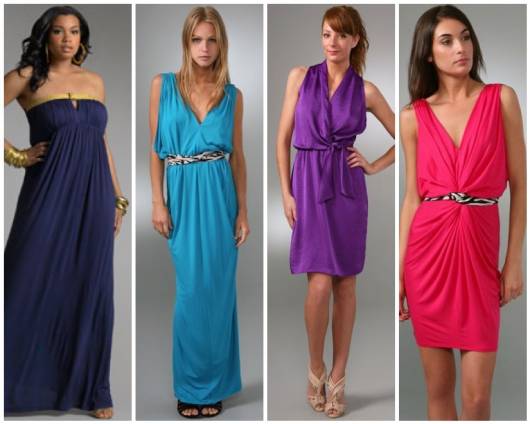 Ashley Stewart, T-Bags,  Elie Tahari, T-Bags
Solid colored dresses are practical for either an indoor or outdoor wedding (if at all possible, just try not to wear the same color as the bridesmaids).  By wearing a solid colored dress, you have tons of accessory and shoe options.  You can wear a patterned or colored shoe to give your dress a little extra edge.  And as far as accessories go, wear a long necklace or some earrings and you're set!  You can also add a light shawl (in my opinion cardigans tend to be too casual) in a neutral tone or even another shade of your dress to stay warm.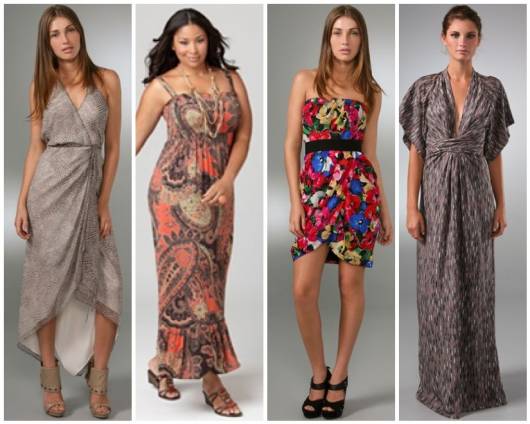 Haute Hippie, Avenue, Shoshanna, Issa
Printed dresses are great for outdoor weddings becuase they look more casual.  With the right accessories, such as gold bracelets and earrings, you'll be able to dress up a printed dress.  I chose to show a lot of maxi-length printed dresses, because I think they are perfect for a summer wedding…they're flowy, bohemian and above all…comfortable!
Most importantly, choose a dress that suits your overall style and wear a color that compliments your skin tone.  You always want to be comfortable and look your best at weddings!