Home sweet home
Recently I've become a little obsessed with home decorating and organization.  I share a one bedroom apartment with my boyfriend – who could care less how the apartment is decorated, as long as I never get rid of his chair (it's old and gold). Since the chair stays, I'm dealing with the living room last!  And hoping that the chair will fall apart soon.
For inspiration on decorating the rest of our space, I've been checking out websites like The Selby and The Coveteur, to help me decorate in a "boyfriend friendly" fashion.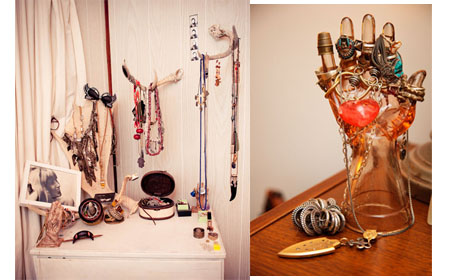 I have a lot of jewelry and most of it is kept in boxes or hanging in a closet.  I would love to display it in an interesting way (and hopefully wear a lot of it more often).  I love the how the jewelry is displayed in these photos – the antlers are great pieces to hang your necklaces from (and masculine).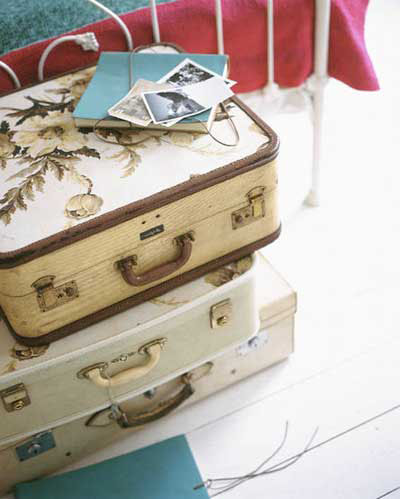 Old fashioned suitcases are a great way to store out-of-season clothing or bedding.  And by stacking them – you'll also create a unique nightstand!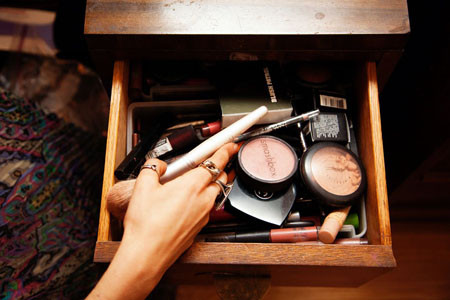 I love the idea of dedicating a desk drawer for your makeup.  Just another good way to "declutter" your space.

If you're like me and have quite a few sunglasses, but wear only a few – these are super easy ways to display and get some use out of those oldies but goodies!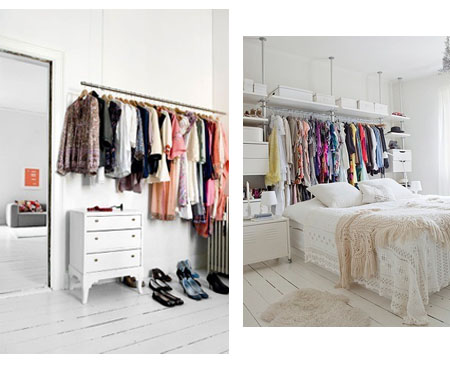 Fortunately, I have a closet in my room.  But I wanted to share a couple photos of these lovely exposed closets.   I've lived in apartments before where I didn't have a closet in my room – I wish I would've done something creative, instead of stuffing my clothes into drawers.
I'm starting out small – finding unique pieces and interesting artwork to set the tone of our apartment.  When I go to flea markets or home furnishing stores, I look for specific pieces (currently, those pieces are a wine rack and a mirrored tray).  That way I'm not overwhelmed and I buy less junk!
Photo credits: The Coveteur, Apartment Therapy, The Selby