Interview with Alp Sagnak of Atelier Minyon
Once, years ago when I was in Mexico, I saw a yellow gold paperweight in the shape of a skull, about the size of someone's fist, with diamonds for eyes and shiny as all get-up.  Who needs a gold and diamond encrusted skull paperweight?  Nobody.  Who desperately wants a gold and diamond encrusted skull paperweight?  Me.  My interest in the skull came as a total shock since I am not into the macabre, but for some reason I was captivated how an object that is generally considered grim was transformed into something attractive.  When I discovered that Stylebust was invited to a trunk show on February 18 at Gallery of Jewels on Fillmore Street to interview Alp Sagnak, the designer behind the line Atelier Minyon, I jumped at the opportunity because, as I discovered, Alp has a profound affinity for skulls.  Viewing his collection brought me back to that market in Mexico.  Although many pieces from Atelier Minyon appear to have a dark side, with Alp's craftmanship and passion for making beautiful objects, the pieces are somehow transformed into something quite charming.  Nothing is mass produced, so you can be sure that the item you are wearing will be a definite attention getter.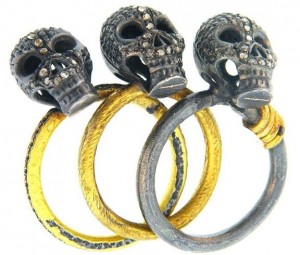 What about the jewelry design industry has changed the most in the last 5 years?  So when you're asking this question you have to know that the whole jewelry design industry is concentrated on bridal collections, especially in the United States.  Ninety-nine percent is completely out of bridal because that's the thing that everybody buys.  But we are the other jewelry designers that are not targeting that market.  It is a very niche market, a very small market, and everybody is so good, and in the past five years I think the designers were a little bit afraid to put money into the new collections and to express what they were feeling because they couldn't make money.  So, they had to change the metals they were working with, they had to change the stones they were working with.  It was a challenge, I think.  But in the past five years, whoever was still creative and still brave enough to introduce new things, i think now they are having those advantages.
How do you remain inspired during a creative block?  Let's say I went to Susanna Segal [manager of Gallery of Jewels] to sell my product and she said, "No, this is not for us."  Then you get so angry and you try to make something that would prove them wrong, so most of what you see from this trunk show is coming from this anger.  For the last three years, it has been like that for me.  I've always thought that there are a lot of great designers that you have to compete with, and when I see someone doing something better than me, it makes me angry.  So that is the answer to this question.  Anger – you always have to compete and it is such a fun process.
What is the least favorite part of your job?  The cash flow, I think.  If an artist, if you call me an artist, cannot find the money that needs to be used for the other collection, then you cannot produce.  Especially when you're working with gold or precious stones, those kind of things, they all need money to make new things.  For example, let's say I believed in this cable [points to a cell phone charger] that it would sell and I made this cable and it didn't sell – that's the least favorite part because first of all, you failed, and second, you could have used that money that you allocated for this cable to another cable, or the plug.
Describe your jewelry in one word.  Awesome.  No, no, I'm changing it.  Sexy.  That is, for some reason, my mission, really.  I love sexy women, and I think our jewelry makes them sexier.  Or, if someone else were to say that whenever I put any of your pieces on and I felt stronger, that would make me so happy.
The person I respect most is… a self-confident person because the self-confidence would allow others to see who really he or she is.  He or she doesn't have to play or try to be someone else.  Let's say I am a plumber.  If I am self-confident with being a plumber, first of all I know that I can do the job right, and if I'm a plumber I'm not trying to be the President of the United States, I am a real person.  There are a lot of people in New York that are trying to show themselves as more than who they are, that's why I think they are not confident in themselves, but a self-confident person doesn't have to act like someone else.
What is your biggest weakness?  Ego — I want everybody to love what I do.
Name one thing that your jewelry business does that you think no one else does.  I think we are so much faster than everybody else with introducing new collections, which might be wrong, speaking as a business person.  I think we are moving so fast and the reason is that we are new to the United States market.  We are trying to expand as fast as we can, but it needs time for a company to be known by a couple of different looks that they would say, "Oh, this is classic Atelier Minyon."  I think it takes time, and it needs depth.  That's why I think we are moving so fast.
I'm jealous of… sometimes other jewelry designers, if they do something better than we do, but the jewelry business is not my whole entire world.  I am jealous of live performers.  I envy when I see someone acting onstage, or singing onstage, because I would want to be them, if I had the chance.  I never took the time to concentrate on that, but I would love to be on stage.
Five years from now… I hope I'm still alive.  And I want everybody to know what we are doing.  I want to be the most successful brand in the jewelry industry.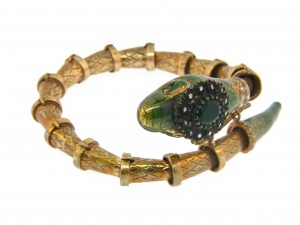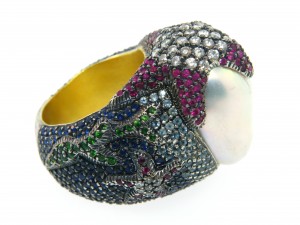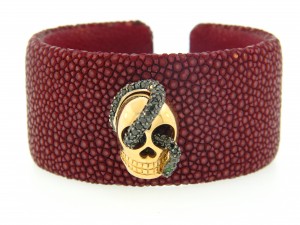 *image source: Atelier Minyon.