Karl Lagerfeld in Vice Magazine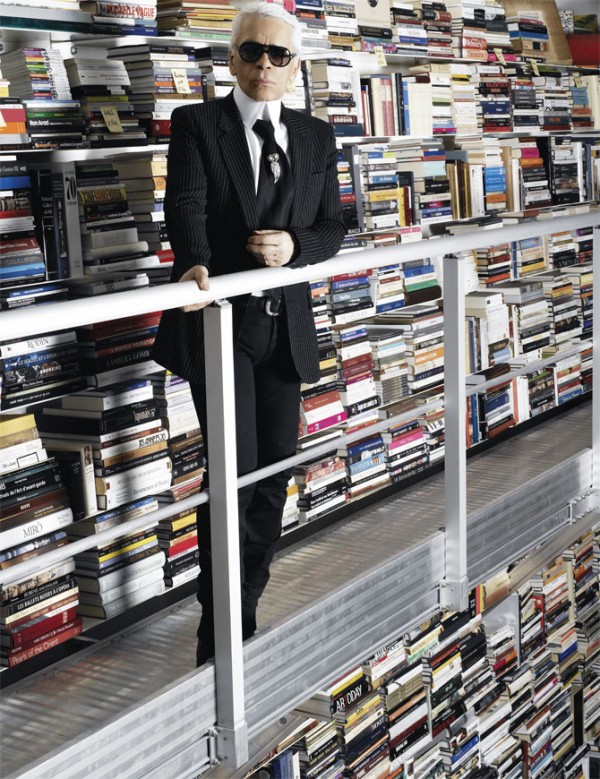 I love all things Karl Lagerfeld. I first fell in love with him while studying at FIDM. I used him as my inspiration for many school projects and wrote a few papers on him. Then, while studying at SFSU, in my business communications class, I gave a speech on Lagerfeld as my source of professional inspiration. This guy is involved in so many things beyond fashion, from hotel interior design to taking high end photography shots, to having 300+ iPod's, all with different music, scattered throughout the globe at his multiple homes.
It's no surprise that I was excited to hear Bruce LaBruce of Vice Magazine interviewed Lagerfeld, and it is featured over a seven page spread in the latest issue.
Lagerfeld on not removing his sunglasses for interviews:
They're my burka. I had an interview once with some German journalist, some horrible, ugly woman. It was in the early days after the communists, maybe a week after, and she wore a yellow sweater that was kind of see-through. She had huge tits and a huge black bra, and she said to me, "It's impolite; remove your glasses." I said, "Do I ask you to remove your bra?"
This entry was posted by Style Bust on March 21, 2010 at 4:46 pm, and is filed under New Styles in Fashion. Follow any responses to this post through RSS 2.0.Both comments and pings are currently closed.