Men Are Rocking Funny T-Shirts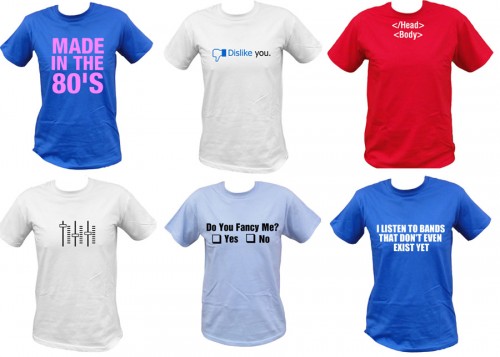 There are quite a few different variations on men's t-shirt designs; with prints, graphics, slogans, and your average plain tees. If the men out there like making statements with their fashion, then funny t-shirts are a wardrobe must-have. Funny, and pop culture graphic tees are sure to get the men in your life recognized.
T-shirts certainly have come a long way since their humble beginnings, when they used as underwear, never to be seen or noticed. Today men and women alike wear them as part of an outfit, to be seen and be noticed. This piece of clothing has been utilized by many as a form of self-promotion, especially t-shirts with slogans, logos and brand names. They have been used in popular culture, sports and even politics to get a message across. My point is, t-shirts have become a great tool for sending messages about oneself.
UK based Lush T Shirts prides itself on designing and creating some of the best funny t shirts around, with well-known, yet hilarious slogans that will get  noticed. Using a variety of colors, fonts and printing techniques they have some designs which really stand out. In both men's and women's styles there are hundreds to choose from, in categories such as geek, offensive and tv. Unisex hoodies are available too. Their latest bromance collection is amusing (especially if you watch hit shows like How I Met Your Mother). Shop online today!
This entry was posted by Style Bust on March 30, 2012 at 1:07 am, and is filed under New Styles in Fashion. Follow any responses to this post through RSS 2.0.Both comments and pings are currently closed.