Summer Socks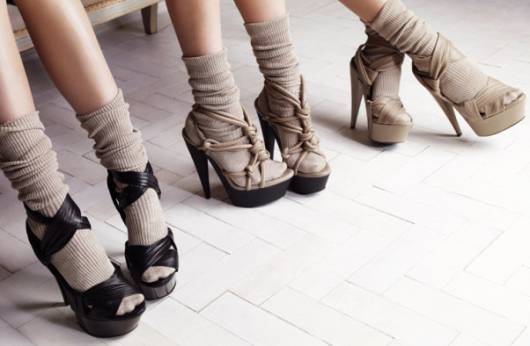 Summer socks!  I love this trend…it's chic, feminine and if worn properly, this look can be extremely modern.  We've seen this look on the runway at Christian Dior and Burberry, and we've also seen it on some of our favorite leading ladies.
Wearing socks with heels or wedges can be a little tricky though.  You need the right socks, the right shoes and the overall right "look."  I've seen women trying to pull-off this trend, but usually it's the socks that ruin the look.  You definitely need a thin sock (mesh, silk, or cashmere works best), in a neutral color, and be sure the sock hits a couple inches above the ankle.  Personally, I think a strappy, chunky heel looks best, especially wedges.  And as far as wardrobe goes, keep it simple…wear a basic top, wide leg denim, or a girlie sundress.
Here are a few of my favorite sock and heel looks for summer!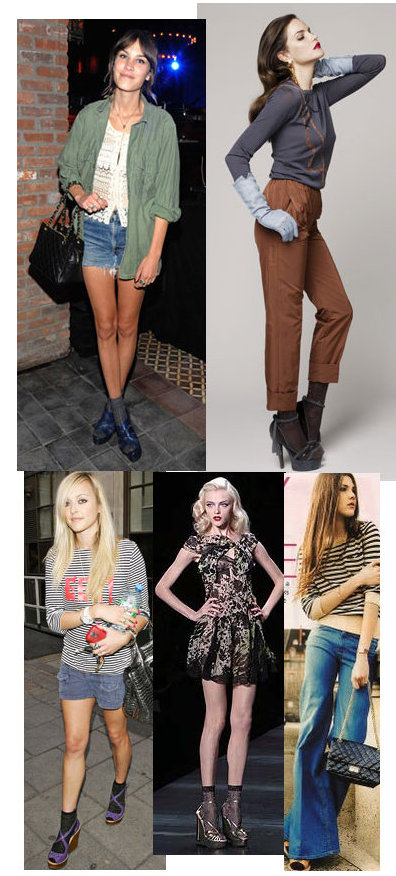 Since wearing the perfect sock is important this summer, check out Tabio, an online Japanese specialty sock store.  To put it simply, they have a large range of socks and tights…sheer, sparkly, ribbed thick and thin…you'll definitely be able to find the best pair of socks to wear with your heels this summer!
This entry was posted by Style Bust on July 24, 2010 at 7:54 pm, and is filed under New Styles in Fashion. Follow any responses to this post through RSS 2.0.Both comments and pings are currently closed.