Posts tagged
Jarrod Gorbel
Hello Style Bust readers!  It's been awhile since I've blogged, I went on a short sabbatical.  Now I'm back, refreshed and ready to share with you what's been going on in the music world.  I have some amazing things in the works, especially for all you hip-hop and r&b fans.  The Chicago music scene is about to blow up and I'm going to be able to give you first hand insight to all of it.  Anyway, I'll be able to give you more information next week as I make my return to Chicago.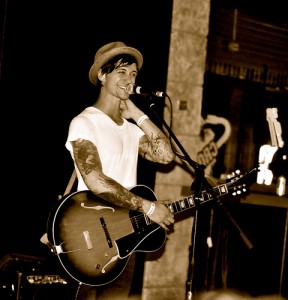 Recently I shared with you a youtube video of Jarrod Gorbel.  I was fortunate enough to get to see him live a couple times this past week.  Last weekend I went to House of Blues Chicago and on Wednesday I was at the Blue Moose in Iowa City.  Jarrod Gorbel is touring with Steel Train and Fun.  House of Blues was the perfect environment for Gorbel.  He performs with one other woman, who's an incredible violin player and has a beautiful voice.  They harmonize so well together.  It was truly one of the most beautiful performances I have ever seen or heard.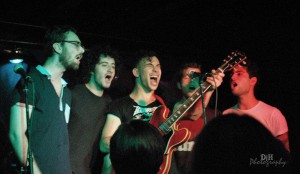 I have mentioned Steel Train on this blog a few times, always giving them praise.  On Saturday they were their usual selves, over the top, tons of energy, rocking out.  It's what I love about them.  The crowd seemed impressed by them as well.  Wednesday they did a great job but they were a lot mellower.  But it was fitting for the audience because in Iowa City the crowd was mostly filled with preppy, university students who overall don't know the first thing about a good punk-indie-rock band.   So taking it down a notch was a great way to introduce the crowd to their sound.  Steel Train is a fun band… however most people at both of these shows were there to see the band, fun.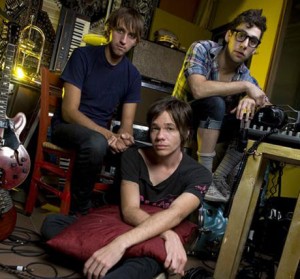 Personally, I thought the band fun, was anything but a source of enjoyment.  I found the lead singer to be completely obnoxious with his hair flips and dressed like Bon Jovi, bouncing around the stage.  fun. has a pretty unique sound and I can completely understand why people like them, but they do attract a much younger crowd, who in my opinion just haven't experienced great music yet… so they are impressed with just an average band.  The lead singer doesn't play an instrument, which doesn't bother me but ultimately that means that his voice is his best and main instrument.  If he's only going to sing then he should at least be on key, he just wasn't that good.
The best way to describe their music is a mix of Queen and the Rocket Summer.  I have enjoyed listening to their albums and they are uber creative.  I have spent much time contemplating why their live performance just didn't impress me.  I think that they just have so many elements and layers in their music that it doesn't translate as well live as it should.  I'm obsessed with their music video for Walking The Dog, and the song is played on the new Expedia commercial.  It's definitely a song that gets stuck in your head and I guarantee after hearing the first keys you will recognize it.  However, I left early the show early on Saturday because I was annoyed with them, and it's very rare when I leave a show early.  On Wednesday I was there for the entire set and their best song was a cover of "You Can't Always Get What You Want."  The lead singer has the perfect voice to cover Mick Jagger.  So, fun. gained some respect back with me when they pulled that out of their back pockets.
Anyway, I thought maybe when I saw them on Saturday I was just being a tough critic but on Wednesday they weren't any more enjoyable.  I wouldn't recommend seeing them live but you should check out their video for Walking The Dog, it's fun.
I think it's necessary to take the liberty to talk a little bit about opening bands on this blog. I'm sure it's blatantly obvious how much I appreciate what I call the 'little guys'. Which by my definition is a talented band with a ridiculous amount of passion and enthusiasm for just making music. Usually they have a small audience but one that is dedicated to the bands movement. These are the bands that I always appreciate. These are the bands that I recommend to my friends who always seem to wonder, "where'd you find these guys?" I am always so proud of my discoveries and very often after I share these gems with my friends, shortly after everyone is talking about them. If the music business today was anything like it was in the late 80's and 90's, I know that I would have started my career at a label and been the best A&R person, swimming in my millions of dollars. But as I've talked about before, the music biz really isn't anything like it used to be. Nevertheless it's kinda cool to be in the know with the undiscovered bands. Today I'm willing to tell everyone my secret on where I find a lot of the talent.
Let's think about show nights. You and your friends decide to do dinner, and get drinks. Before you know it's around the time that the doors are opening to the venue. You are of course having a good time catching up and hanging out with your buddies, and hey you've never even heard of the first band playing. Not too mention you find it obnoxious to have to listen to 3 bands that you might not like before you get to see the act that you came there for. I get it, I get this feeling plenty of times too, and I'm completely guilty of this during Lollapalooza. I don't like to take the chance of missing a band that I could potentially fall in love with. I would say that for the majority of tours, the headliner chooses their supporting acts. Now this isn't always the case, when I was at Live Nation there were often times that we had to gather supporting acts for particular shows. But even so, the opening acts are generally handpicked to cater to the particular audience. Chances are if you go into a show with an open mind you're going to discover a band that you truly like.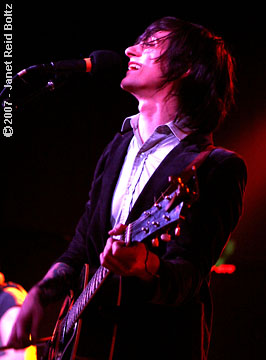 I'm dying to share with everyone my obsession this week. I have not seen him in concert, yet. However, he is now going to be on Hanson's third leg of their Shout It Out tour. Naturally this sparked my curiosity. Then I saw a tweet from TWLOHA saying he was going to perform at one of their events. For those of you unfamiliar with TWLOHA – it's a non-profit movement dedicated to presenting hope and finding help for people struggling with depression, addiction, self-injury and suicide. I will actually write my entire next blog about that movement. In my world, Hanson and TWLOHA, I don't know if I could find any better sources for music. Jarrod Gorbel is the lead vocalist for an indie rock band, The Honorary Title from… you guessed it, Brooklyn, NY. He released a solo EP in 2009 and now there's buzz that the band is no longer together, I know that Jarrod Gorbel has officially played his last show with the band.. I don't have that full story, but this video is so major I have to share it.