Posts tagged
steel train
You may have noticed my lack of posts these past few weeks.  It's certainly not for lack of good music.  In fact the past month I have been attached to my ipod, I'm extremely pleased with my collection lately!  Find me on Grooveshark (@MusicITZLife) because I'm about to make a new summer playlist for everyone to enjoy! I do however have a severe case of writers block, but I couldn't let it get in the way of sharing this news.  It's been one year since the release of Steel Train's self titled album and in celebration they are giving the album away this week for FREE!
I'm sure many of you are already aware that this is one of my favorite bands of all time!  Their tracks Bullet & Turnpike Ghost made my list of most memorable songs of 2010.  I have also been fortunate to see them live many times.  I love seeing them in concert, they are so energetic and fun.  I feel so connected to their music, they are truly lyrical geniuses.  This is one band that I just appreciate and am continually inspired by.
So when this news popped up on my newsfeed an hour ago I knew I just had to share it with you guys.  I'm really excited about this giveaway because it's the perfect opportunity for me to share some of my favorite music with you.  Honestly, it's free so there is absolutely no risk involved.  You don't have to worry about spending a dime and never listening to it.  If you decide their sound isn't your thing (which I can almost assure you that won't be the case, because they have material that will appeal to just about everyone) you can simply delete it off your computer.  But please, don't miss this opportunity to get an amazing album for free.  For my sanity… just download it!
You can get your free copy at steeltrain.net.
Hello Style Bust readers!  It's been awhile since I've blogged, I went on a short sabbatical.  Now I'm back, refreshed and ready to share with you what's been going on in the music world.  I have some amazing things in the works, especially for all you hip-hop and r&b fans.  The Chicago music scene is about to blow up and I'm going to be able to give you first hand insight to all of it.  Anyway, I'll be able to give you more information next week as I make my return to Chicago.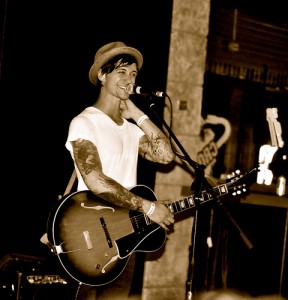 Recently I shared with you a youtube video of Jarrod Gorbel.  I was fortunate enough to get to see him live a couple times this past week.  Last weekend I went to House of Blues Chicago and on Wednesday I was at the Blue Moose in Iowa City.  Jarrod Gorbel is touring with Steel Train and Fun.  House of Blues was the perfect environment for Gorbel.  He performs with one other woman, who's an incredible violin player and has a beautiful voice.  They harmonize so well together.  It was truly one of the most beautiful performances I have ever seen or heard.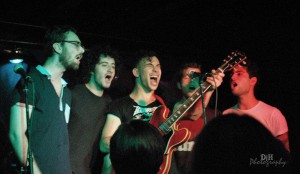 I have mentioned Steel Train on this blog a few times, always giving them praise.  On Saturday they were their usual selves, over the top, tons of energy, rocking out.  It's what I love about them.  The crowd seemed impressed by them as well.  Wednesday they did a great job but they were a lot mellower.  But it was fitting for the audience because in Iowa City the crowd was mostly filled with preppy, university students who overall don't know the first thing about a good punk-indie-rock band.   So taking it down a notch was a great way to introduce the crowd to their sound.  Steel Train is a fun band… however most people at both of these shows were there to see the band, fun.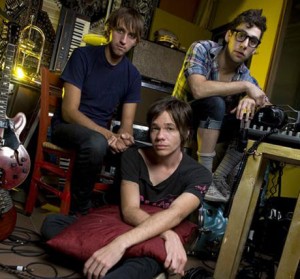 Personally, I thought the band fun, was anything but a source of enjoyment.  I found the lead singer to be completely obnoxious with his hair flips and dressed like Bon Jovi, bouncing around the stage.  fun. has a pretty unique sound and I can completely understand why people like them, but they do attract a much younger crowd, who in my opinion just haven't experienced great music yet… so they are impressed with just an average band.  The lead singer doesn't play an instrument, which doesn't bother me but ultimately that means that his voice is his best and main instrument.  If he's only going to sing then he should at least be on key, he just wasn't that good.
The best way to describe their music is a mix of Queen and the Rocket Summer.  I have enjoyed listening to their albums and they are uber creative.  I have spent much time contemplating why their live performance just didn't impress me.  I think that they just have so many elements and layers in their music that it doesn't translate as well live as it should.  I'm obsessed with their music video for Walking The Dog, and the song is played on the new Expedia commercial.  It's definitely a song that gets stuck in your head and I guarantee after hearing the first keys you will recognize it.  However, I left early the show early on Saturday because I was annoyed with them, and it's very rare when I leave a show early.  On Wednesday I was there for the entire set and their best song was a cover of "You Can't Always Get What You Want."  The lead singer has the perfect voice to cover Mick Jagger.  So, fun. gained some respect back with me when they pulled that out of their back pockets.
Anyway, I thought maybe when I saw them on Saturday I was just being a tough critic but on Wednesday they weren't any more enjoyable.  I wouldn't recommend seeing them live but you should check out their video for Walking The Dog, it's fun.