Women's Jackets for Winter 2011
Women have a lot of options when it comes to outerwear for Winter 2011. Some decide to go with options like Volcom from DogFunk while others choose to go with styles like Steve Madden. There are many updates to basic styles including the blazer, military jacket, trench coat and double-breasted coat. These updated basics, and a handful of new(er) jacket styles are adorned with modern touches like: belts, bows, fur, lace, metals and other materials specific to the season. Coats of all lengths can be found on the runways and on the streets for Fall and Winter 2011. You'll see that the majority of jackets are mid-length; however if you are a fan of cropped, or long jackets, this winter is the season to invest in one. I recommend going for a m-length jacket (one that falls mid-thigh). As far as color palette goes, you can find jackets in deep reds, oranges, dark greens, blues and every shade and tone of neutral colors.
For inspiration, I've put together some of the best styles available this winter. If you're ready to make a purchase – check out the assortment of women's winter coats from JD Williams online.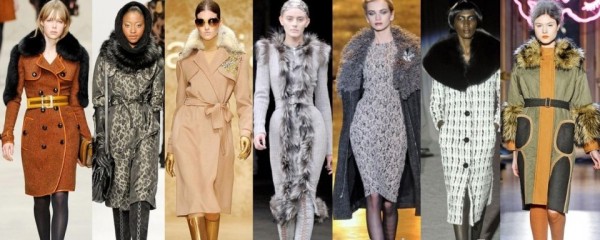 Swing Coats:
Swing coats (pictured above) can be recognized by the way it "tents" or "bells out" at the bottom. The style is very feminine and romantic.  Swing jackets come is a variety of lengths this season – note the longer the jacket, the more it swings away from the body as you move.

Double-Breasted Jackets:
Double-Breasted Jackets (pictured above) give wearers that desired "hourglass" figure. The classic cut of a coat expressively emphasizes clean lines collar double-breasted, that visually lengthens the neck and makes a woman attractive.

Oval Shaped Jackets:
Oval Shaped jackets (pictured above), is exactly that, and oval-shaped silhouette that has the most "room" in the midsection. The oval shape jacket usually has large pockets, collars and 3/4 length sleeves. The original shape of an oval coat came to us from the '60s and permanently entrenched in the hardcore fashionistas wardrobes. I love this style for the season. The jackets looks great with skinny pants and fitted skirts.
This entry was posted by Style Bust on September 26, 2011 at 2:31 am, and is filed under New Styles in Fashion. Follow any responses to this post through RSS 2.0.Both comments and pings are currently closed.