Advanced Makeup Brushes for your collection
In the final installment of the Makeup Brushes series, I'll tell you about the most popular advanced brushes. These are only some of the brushes out there, as I was doing my research I kept finding new ones, but I choose to focus on the more popular ones. So here you are:
Bronzer Brush
A brush that helps diffuse and blend your bronzer. Similar to the Powder Brush with a rounder head to provide a smooth and even application of bronzer, this brush can be found in natural or Taklon fibers. To use, apply the bronzer directly on the brush, tapping off any excess, begin on the forehead, down to the nose and cheekbones. The goal with this brush is to leave the skin with a sun-kissed hint. The
Bronzer Brush
below is from the
Sephora
Collection.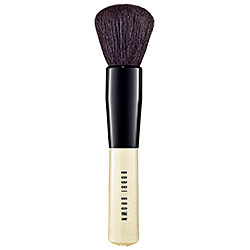 Kabuki Brush
There are several types of
Kabuki Brushes
, this one from
Sephora
has no handle to make it easy to hold in the palm of your hand. This brush is used to apply mineral makeup and when used to buff the makeup in a circular motion, it will help blend the makeup and leave an airbrushed finish.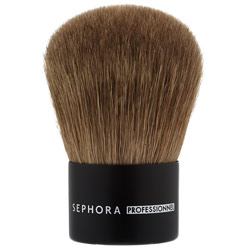 Stippling Brush
The
Stippling Brush
blends face products —wet or dry— into the skin for a flawless finish. Synthetic fibers in this Sephora brand brush, extend past the goat hairs to pick up two layers of product, which translates into a satiny appearance. The compact bristle packing gives ultimate control, too. The two levels of bristles let you layer product beautifully—and determine how sheer or heavy you want your coverage to be. The synthetic taklon hairs allow you to use it with wet or creamy products, like compact foundation. The application of the product will be by stippling or dabbing, in a way this is similar to stenciling or scrap-booking.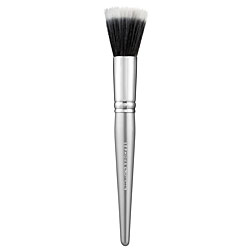 Fan Brush
This brush dusts, wipes, and re-distributes powders along your features. This
Fan Brush
from the
Sephora
brand is a mover more than a blender or spreader, this brush effectively "fans" away product, making it a must-have for clean up and removing eye-makeup fallout. The raccoon bristles are a bit stiffer than other brushes, so it moves and clears products easily along—or away from—the face.
Crease Brush
The Crease Brush has a round and tapered shape, perfect for getting right in the crease while softly feathering color out. The tapered bristles put you in complete control with every application. The
Crease Brush
from 
Urban Decay
is not too stiff or too soft, but just right to help you achieve professional results.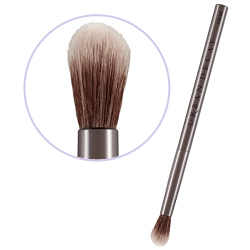 Double-Ended Smokey Eye Brush
A high-quality, two-in-one tool that makes achieving a smoldering-eye look a snap. Sephora Brand
Double-Ended Smokey Eye Brush
is equipped with a slanted eyeliner brush and a smudge dome, which promises to create a downright stunning stare. Line the length of your upper and lower lashes with the slant end for a seductive start. Use the smudge end to draw darker shadow to the exterior of the eye or to outline the eye with a thick, bold line.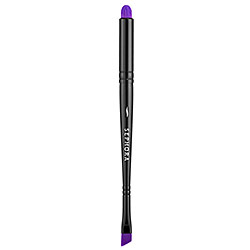 Kat Eye Brush Set
A five-piece makeup brush set, designed by
Kat Von D
especially for Sephora. The black-handled brushes are decorated with silver stenciled roses—inspired by Kat's favorite tattoo—adding to the creative attitude. This is a one-stop eye brush set, which gives you a great start in your brush collection.
The set includes:
So there you are, if you are one of those talented people that can do miracles with makeup, then you owe it to all of us to collect and master these brushes. Trust me, people like me will be more than happy to let you apply makeup on us.
This entry was posted by Style Bust on November 24, 2010 at 9:30 pm, and is filed under Latest Beauty Products. Follow any responses to this post through RSS 2.0.Both comments and pings are currently closed.