Posts tagged
makeup brushes
In the final installment of the Makeup Brushes series, I'll tell you about the most popular advanced brushes. These are only some of the brushes out there, as I was doing my research I kept finding new ones, but I choose to focus on the more popular ones. So here you are:
Bronzer Brush
A brush that helps diffuse and blend your bronzer. Similar to the Powder Brush with a rounder head to provide a smooth and even application of bronzer, this brush can be found in natural or Taklon fibers. To use, apply the bronzer directly on the brush, tapping off any excess, begin on the forehead, down to the nose and cheekbones. The goal with this brush is to leave the skin with a sun-kissed hint. The
Bronzer Brush
below is from the
Sephora
Collection.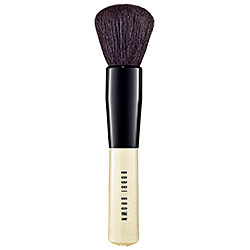 Kabuki Brush
There are several types of
Kabuki Brushes
, this one from
Sephora
has no handle to make it easy to hold in the palm of your hand. This brush is used to apply mineral makeup and when used to buff the makeup in a circular motion, it will help blend the makeup and leave an airbrushed finish.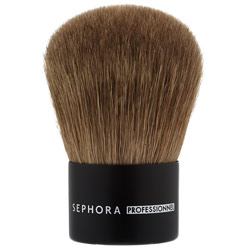 Stippling Brush
The
Stippling Brush
blends face products —wet or dry— into the skin for a flawless finish. Synthetic fibers in this Sephora brand brush, extend past the goat hairs to pick up two layers of product, which translates into a satiny appearance. The compact bristle packing gives ultimate control, too. The two levels of bristles let you layer product beautifully—and determine how sheer or heavy you want your coverage to be. The synthetic taklon hairs allow you to use it with wet or creamy products, like compact foundation. The application of the product will be by stippling or dabbing, in a way this is similar to stenciling or scrap-booking.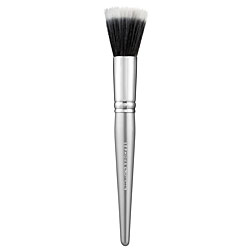 Fan Brush
This brush dusts, wipes, and re-distributes powders along your features. This
Fan Brush
from the
Sephora
brand is a mover more than a blender or spreader, this brush effectively "fans" away product, making it a must-have for clean up and removing eye-makeup fallout. The raccoon bristles are a bit stiffer than other brushes, so it moves and clears products easily along—or away from—the face.
Crease Brush
The Crease Brush has a round and tapered shape, perfect for getting right in the crease while softly feathering color out. The tapered bristles put you in complete control with every application. The
Crease Brush
from 
Urban Decay
is not too stiff or too soft, but just right to help you achieve professional results.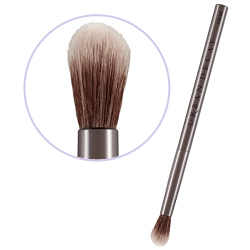 Double-Ended Smokey Eye Brush
A high-quality, two-in-one tool that makes achieving a smoldering-eye look a snap. Sephora Brand
Double-Ended Smokey Eye Brush
is equipped with a slanted eyeliner brush and a smudge dome, which promises to create a downright stunning stare. Line the length of your upper and lower lashes with the slant end for a seductive start. Use the smudge end to draw darker shadow to the exterior of the eye or to outline the eye with a thick, bold line.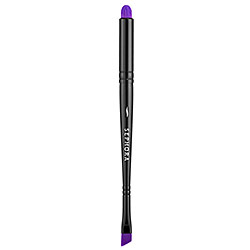 Kat Eye Brush Set
A five-piece makeup brush set, designed by
Kat Von D
especially for Sephora. The black-handled brushes are decorated with silver stenciled roses—inspired by Kat's favorite tattoo—adding to the creative attitude. This is a one-stop eye brush set, which gives you a great start in your brush collection.
The set includes:
So there you are, if you are one of those talented people that can do miracles with makeup, then you owe it to all of us to collect and master these brushes. Trust me, people like me will be more than happy to let you apply makeup on us.
In my previous post Makeup Brushes: Which Fiber is Best, I explained the different types of fibers in the market. You can choose from Natural, Synthetic or Taklon fibers. Now that we have that covered I want to suggest which brushes should be the essentials for your makeup collection. My goal is to give you all-in-one, so for each brush I explain why they are used, which fiber is best and how to use it. The pictures below are from mostly from Origins, which offers a collection of cruelty-free brushes. So, let's start:
Concealer Brush
This is a small brush with broad and flat bristles. Synthetic is the best type of bristle for this brush since they don't absorb too much product and are ideal for blending liquid and cream makeup. Dab a few spots in the areas with imperfections, for example under the eyes or directly on blemishes, and keep on dabbing until the concealer is blended on your skin.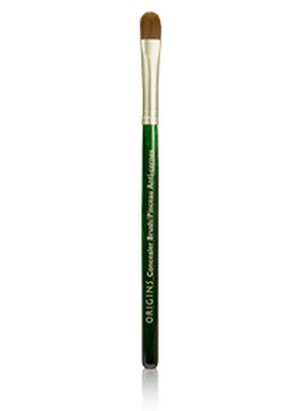 Foundation Brush
This brush is to be used for liquid or cream foundation. Similar to the Concealer Brush, but bigger with flat and long bristles. Synthetic bristles are also better for this type of brush. To use it, dot your face with liquid foundation and use the brush to spread it in even outward and upward motions being careful to apply some foundation below your jawline to make it look more natural.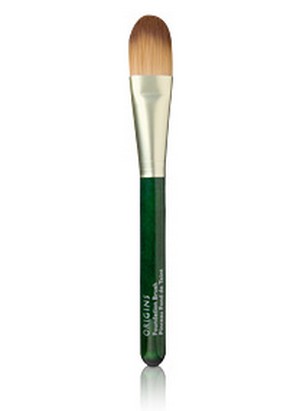 Blush Brush or Blusher
This brush is to be used to apply powder blush on your cheeks. The bristles are packed very close together and should be preferably Natural or Taklon. The rounded shape allows a better distribution of the product on your cheeks. The goal with the blush is to give a natural flushed color to the face. This can be accomplished by smiling and starting from the apple of the cheeks upwards to the hairline, apply the product with a soft motion to avoid excess.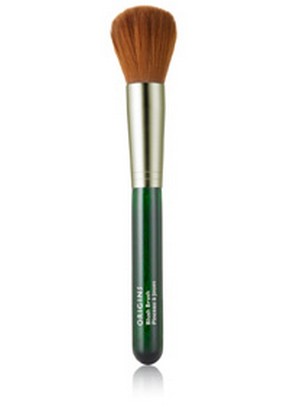 Powder Brush
This is the big and fluffy brush used to apply the final loose powder that will set your makeup. It can also be used to apply shimmer, mineral powder or bronzer. The Powder Brush is similar to the Blusher, but bigger with fluffy Natural or Taklon bristles. The powder is to be placed directly on the brush and apply it using small circular motions all over the face for a better coverage.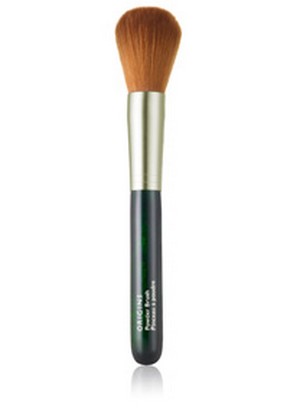 For eyes and lips we have a few basic brushes. If you're like me, all you do is apply one eyeshadow color at a time on special occasions. If you're like my sister, then you like to blend, smudge, contour and create unique looks. I will cover those brushes in the Advanced Makeup Brushes post.
Eyeshadow Brush
Used to apply powder eyeshadow, this should be flat and wide preferably from Natural or Taklon fibers. There are too many ways to apply eyeshadows depending on your preference and comfort level. Whether its applying only on the lower lid and crease or the whole lid, the eyeshadow brush will help you get a great look.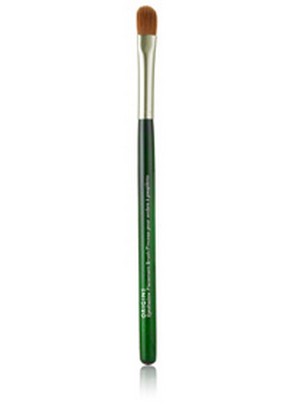 Eyeliner Brush
Used to apply or blend cream eyeliners. This is a thin and fine brush, preferably made from synthetic fibers. There is no wrong or right way in using this brush, it all depends on how natural or dramatic you want your makeup to look. Some cream eyeliners come in a stick, in this case the brush can help you soften the lines after you apply it.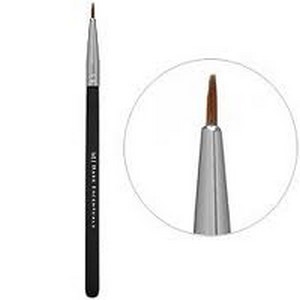 Eyebrow Brush
This is a small flat brush with a slight angle, also should be made from synthetic fibers. It gives definition and shape to the eyebrows. Apply the eyebrow pencil directly on the areas that need some color with a very soft motion in order to avoid streaks and blend it with the brush. The effect will be eyes that pop even more.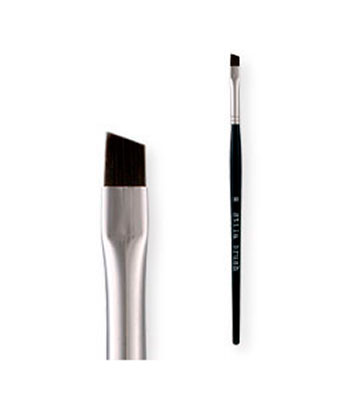 Eyelash Brush and Comb
This is the double sided tool with a stiff brush on one side and a small comb on the other. This one is used to help the application of the mascara on your eyelashes. You will first use the brush in order to clean up your eyelashes and prepare them for the mascara application. Once you applied the mascara, use the comb side to separate and lengthen before the product dries and becomes stiff.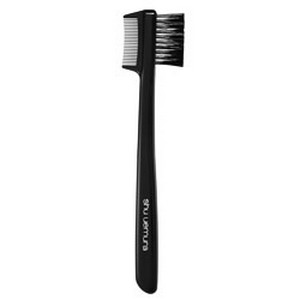 Lip Brush
This is a fine, soft and tapered brush usually found as retractable and because it is used with cream based product, it should be synthetic. They help to blend in the lip liner with the lipstick and just give a better way to fill in the creases and outline the lips.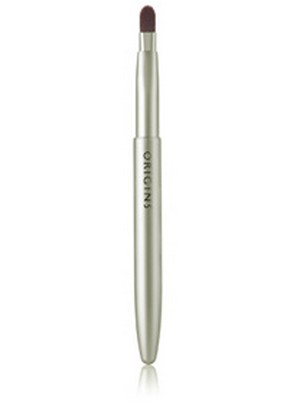 So there you have it. This guide will help you select the makeup brushes for your basic application needs. You will be amazed at how much better your face will look once you apply your makeup with the right tools.
Thanks to my posts on Style Bust, I've been learning more and more about quality cosmetics and have been slowly substituting my old drug store brands with better ones like Nars, Smashbox, L'ancome and others. Of course, I do have some favorite brands like Avon and Almay that will continue to be included in my makeup case. And as my makeup case evolves, so do my makeup brushes.
Once upon a time, I either used whichever brush came with the makeup or had some cheap ones lying in the bottom of my case. A couple of years ago, I gave my sister a set of Sable Hair brushes for her birthday. My sister became a makeup application expert ever since she spent her nights trying out different techniques as a teen. She is the go-to makeup girl in my family for parties and special events, and she enjoys doing it.
When she saw the set of brushes, she was speechless and even though we were in the middle of having cake, she could not resist it and started applying makeup on my face in order to try them out; of course, I didn't complain.
The point of my long winded introduction is to emphasize the importance of having the right makeup brush for your needs. As I've been researching for this article, I find there is too much information to add in one post. I decided to divide it in three parts:
A summary of the types of fibers available
Basic makeup brushes and how to use them
Advanced makeup brushes and how to use them
And now, let's talk about makeup brush fibers.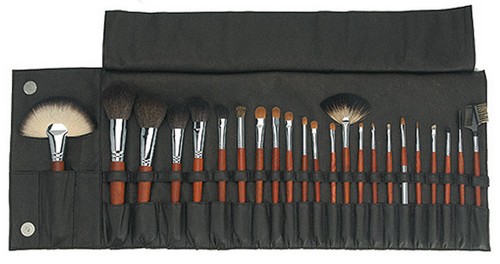 Makeup brush fibers can be either natural made from animal hair or synthetic. Both of them have a place in makeup collections, depending on what type of cosmetic is being applied.
Goat Hair is the most common fiber used for makeup brushes. They are good at holding large amounts of powder and are a good choice for blush, bronzer and face powder since the makeup won't get trapped in the brush and you'll get an even application.
Sable Hair is soft and fine and makeup brushes made of this hair typically have pointy tips. The pointy shape and softness of sable hair makes it an ideal choice for eyeshadow and eyeliners.
Pony Hair is strong and durable. It tends to have a cylindrical shape where there is a consistent thickness from root to tip. Pony hair is a versatile fiber and is good for powder, blush and eyeshadow makeup brushes.
Camel Hair is a generic term used to described makeup brushes that are made with a mix of squirrel, goat or pony hair.
Squirrel Hair is the softest natural hair type and also the most expensive brushes. Similar to sable hair, the brushes are wide in the middle and have a pointed tip, which makes the ideal as blending brushes and for use on eye creases.
Synthetic makeup brushes are made of nylon, which is less absorbent than natural hair fibers. Because they are less absorbent, synthetic brushes are typically used for applying liquid-based products. Synthetic brushes typically do not last as long as natural fiber brushes.
A mix of natural and synthetic fibers is typically referred to as duo fiber brushes. This mix of fibers increases the durability, stiffness and liquid handling ability of the makeup brush.
I understand that after making it a point to buy cruelty-free cosmetics, the option of using animal hair in order to apply them is not appealing. Thankfully there is a synthetic fiber called Taklon which is designed to have anti-bacterial qualities, as well as softness, versatility and durability. Companies like Branded J, Origins, Sevi Cosmetics and many others offer these brushes.
If you are purchasing the brushes online, I've noticed that natural hair brushes don't specify which hair it is. Regardless of which type of brush you decide on, I suggest to go to the store and feel them against your hand. There is nothing better than to feel that gentle touch on your skin, it'll make Monday mornings a little bit nicer.