American Idol Top 9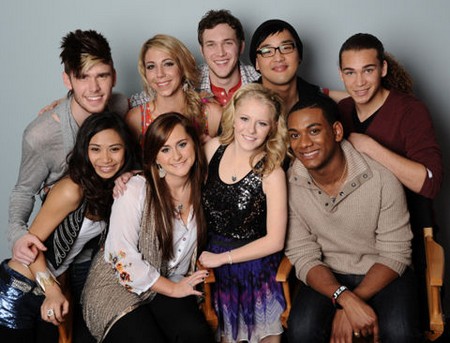 This week the contestants chose songs from their Idols.  I loved seeing Stevie Nicks as the mentor, and getting to hear her sing in the rehearsals just melted my little heart.  Anyway, back to the competition, I think it's always fascinating to see which artists the contestants take on.  What they decide to do this week gives us a chance to see what inspires their musical style and the direction that they might take after Idol.  And so it begins with…
Colton Dixon – A decent rendition of Lifehouse's "Everything."  It didn't blow me away or anything crazy.  I'm familiar with Lifehouse, but I'm assuming the general AI audience doesn't know this song, as I think I've only heard it a couple times.  What I find most interesting is the buzz going around saying that Idol has encouraged Colton to tone down his religion and yet he still makes it very clear that this is his favorite worship song.  I can certainly respect that and think its amazing that he is so open about his faith. Not sure how that translates to a general audience, so we'll see.  With the Tim Tebow-esque ending of the song with him down on both knees, I wanted to hate it but, I felt something real.  Colton is the first AI has seen with the Christian-rock music background that I can remember, which is totally cool and could definitely play into his favor.
Skylar Laine – No surprise here that her Idol is Miranda Lambert and she took on "Gun Powder & Lead."  I didn't think the opening was very strong, I thought it was pitchy.  I thought she was drowned out by the background singers and band during the chorus.  She does have a lot of energy and I'm sure the live crowd felt that performance way more than we could at home.  She did nothing to make this song her own and I was not thrilled by this performance.  But she is a great performer and fun to watch.  I'm hoping she makes it through to another week.
Heejun Han – Zzzzz … He did Donny Hathaway's "A Song for You" and this may have been his best vocal performance of the season, but this was a total snoozefest for me.
Hollie Cavanagh – I was surprised that she chose a country artist as her Idol.  Her cover of Carrie Underwood's "Jesus Take The Wheel" was underwhelming and unusually pitchy for Hollie.  They finally dressed her a little better so she has that going for her.  The snow was slightly ridiculous, I get that the idea behind the song is the girl driving on an icy road, but I could definitely do without the snow.  I live in the midwest, it's the end of March, I'm over the snow, come on.
DeAndre Brackensick – I was looking forward to this because I think he had a lot of potential with Eric Benet.  I had to go back and listen to the original "Sometimes I Cry" track because I don't remember Eric Benet ever overwhelming me with his falsetto.  I don't need a falsetto throughout a whole entire song.  And after awhile it starts to lose it's value for me.  When I hear it I want to feel like I'm hearing something special.  DeAndre has got to be the most frustrating artist for me to watch in this competition. It's like I hear these crazy beautiful notes come from him & sometimes they are truly unbelievable.  I just think this kid hasn't found his niche.  I think he went a step in the right direction this week but he's still lost, and sadly I don't think he's going to find himself before the competition ends.
Jessica Sanchez – She belts out Beyonce's "Sweet Dreams".  She talks about Beyonce's alter ego and divulges the information that she has her own; B.B. Chez? Ooook girl, whatever you say.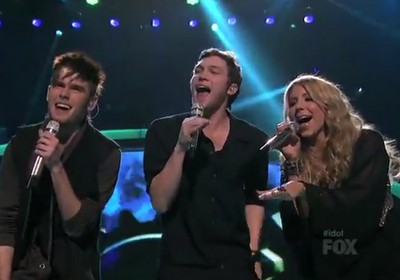 Phillip Phillips – Cannot even begin to say how ridiculously happy I am that he did not go through with a DMB song because that was all the predictions for him this week.  Jonny Lang is one of my favorite artists of all time so I was super stoked to see Phillip take this on.  The arrangement of the song left something to be desired.  I have a hard time objectively critiquing Phillip because I am completely enamored with him.  When he takes the stage, I feel him.  His voice & style was perfect for this song but the arrangement warped this into more of a pop song.  The original has the coolest piano runs & fills and that was lacking in this performance.  So I was turned off by the way the track was arranged for Idol.  I also want to see him do more with his guitar, if I don't see any exciting guitar licks that show he can play, whats the point in him having it?  I don't know at the end of the day there is nothing this kid could do to disappoint me.  I just adore and love him.
Joshua Ledet – He took on the giant, Mariah Carey and sang "Without You."  I wouldn't go as far as saying it was flawless like the judges did.  If anybody saw Kelly Clarkson from Season 1 belt this out, they wouldn't be too impressed with Joshua's performance. But maybe that's just my personal opinion.  When I floated around the web today to find the video to his performance I saw nothing but incredible feedback, that people were moved to tears.  So good for him, maybe he's just not my cup of tea.  I couldn't find his live performance on Youtube, but I have attached a studio version, which I am still on the fence about, I don't know… you can tell me what you think about him.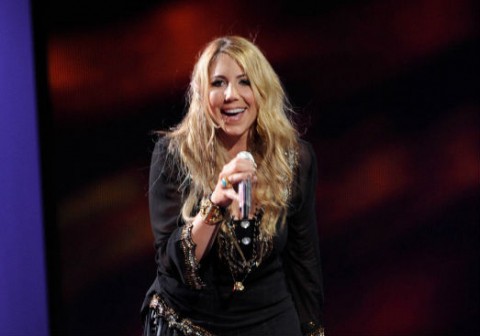 Elise Testone – My girl Haley Reinhart was the first girl to bring Zeppelin to the Idol stage.  Elise performed "Whole Lotta Love" and this was completely unexpected from her, I didn't see it coming.  I just feel like this girl is not that likable on stage.  If I put on her track and don't watch the actual performance, I totally dig it.  I can't deny that she was bringing it and she did a great job with the song.  I'm not convinced it was her idea to pull the Zepp card, she said she performs it with her band, but she didn't do anything with the performance to make me believe Zeppelin is her Idol.  But either way she had a performance that was captivating, rocking and should keep her around for another week.
I really was into the group performances this week.  I think Hollie excelled with the Madonna material. It would have been so much cooler this week if she did a Madonna song as her Idol choice, that would have thrown everyone off.  It would have been edgy & it would have quickly changed her from boring old Pia Toscano… er, I mean Hollie to a potential contender.  But that's just a random thought I felt like throwing out.
The must see performances this week are, Elise Testone & Phillip Phillips.  Nothing else, I don't know why the judges gave five standing ovations.  The bottom 3 is a bit hard.  I'm going to make the strong assumption that Heejun Han is in the bottom three and out of the competition this week.  Joining him in the bottom three should be DeAndre Brackensick & Skylar Laine.
This entry was posted by Style Bust on March 29, 2012 at 9:26 am, and is filed under Trending Music. Follow any responses to this post through RSS 2.0.Both comments and pings are currently closed.