Posts tagged
Joshua Ledet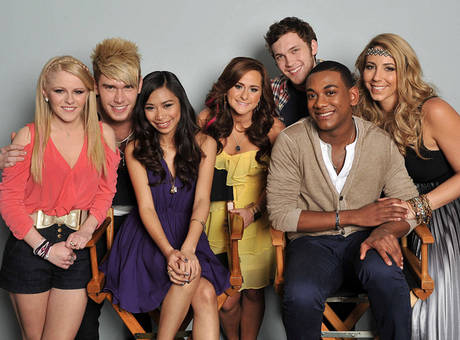 The top 7 took on songs from 2010 and on.  The mentor is Akon.  I guess it was enough that he has released some songs in this decade to make him relevant to be on American Idol.  But come on this guy doesn't even have an official website, not to mention none of his music is even comparable to any of the artist on idol.  I had my reservations about him as the mentor, it wasn't as bad as what I had anticipated but I guarantee many people watching thought to themselves, who the heck is Akon?
Skylar Laine – Skylar opened the show with Kellie Pickler's 'Don't Know How Much I Love You'.  I thought this was boring and predictable.  Not worthy of kick starting the show.  She will probably stick around though because who else will the huge AI country fan base vote for?  She's all that's left for them.  She's certainly good at what she does, but I don't know if that's enough for me.
Colton Dixon – 'Love The Way You Lie' was made popular by Eminem and Rihanna.  He performed Skylar Grey's original version.  My wonderful AI companion that suffers through the show with me week after week is really tired of Colton and what he calls his "vapor voice."  I think when Colton actually tries to sing it sounds even worse.  I cannot seem to figure out what people see in him.  I thought his performance was aesthetically pleasing.  But at the end of the day, what is making this kid stand out?  I'm not sure.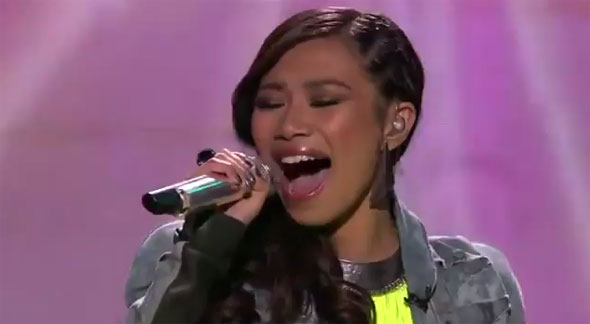 Jessica Sanchez – This was one of my favorite performances of the night.  I've had the amazing opportunity to see Jazmine Sullivan live and she is incredible.  I must say 'Stuttering' is no small feat and Jessica did a phenomenal job with it.  I almost preferred Jessica's version.  She told a story and there was so much beauty & grace in this performance.  I got a little lost in it.  It's hard to believe that Jessica is only 16 years old and singing like that.
Joshua Ledet – Here we go again, this week I'm going to complain about Joshua and how he is a runner up to someone else that performed the same song.  This time however I'm going to compare him to the actual artist, which maybe isn't fair but we just saw Bruno Mars slay 'Runaway Baby' at the Grammy's a few weeks ago and absolutely nothing can compare to that performance.  Bruno is so big right now and to cover him it needs to be something extremely special & fresh.  Bruno Mars is hands down one of the best performers of this era, his stage presence is out of this world… Joshua doesn't have that yet, he didn't even touch Bruno as far as I'm concerned.
Hollie Cavanagh – Oh Hollie, you were much less than 'Perfect' covering Pink.  Why can't someone help you?  There are so many mentors and people behind the scenes on this show, can't they give you a shove in the right direction?  Everything from the way she dresses to her song choices are just wrong.  It's so frustrating because I know she has the biggest voice in the competition but she is completely unmarketable right now.  There is no way she's escaping the bottom 3 this week and I won't be surprised if she is sent packing.
Phillip Phillips – Ok so Maroon 5 is so big right now & Adam Levine is entirely relevant, I thought there was no way this could go wrong.  This could have been epic but does anyone know the song 'Give A Little More'?  A weird part of me would have rather seen him do "Moves Like Jagger."  Anyway back to his performance, what Phillip did with the arrangement was actually very compelling and good, but I'm assuming most people have never heard the original so it's not something that's going to impress the general audience.  I'm not going to disagree with any of the judges critiques.  My only problem is with all this comparison to Colton, why is it that no one has mentioned that every week Colton is sounding the same as well?  We will see if the judges comments influence the votes for Phillip.  It actually won't be such a bad thing if Phillip falls into the bottom three this week, I think he needs a little jolt, something to kick him into gear.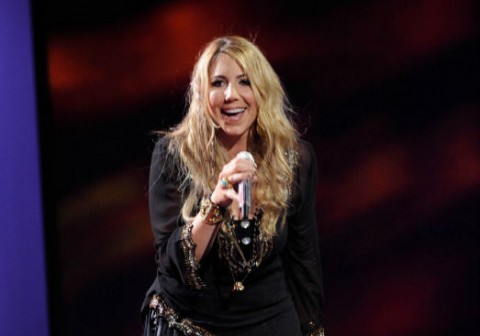 Elise Testone – I'm going to have a love/hate relationship with Elise just about every week I think.  I hate that she did this song.  I'm biased and love Haley, so I had my mind set before the song started that this would not be ok for me. However, she fell into this song perfectly and looked very comfortable on stage.  Maybe this is the direction she's trying to go and I'm ok with that.  But this performance was not a huge moment for me.  Last year Haley performed it before it was even released, and was virtually heard by no one before she brought it to the Idol stage.  Haley did so good that when Gaga released it, I never acknowledged it as even a Gaga song.  Haley's voice always fit better in my opinion.  I'm not going to completely disregard Elise's performance.  At this stage of the game it was smart and will probably push her through to another week.
Must see performances this week are Jessica and Elise.  I'm struggling with my bottom three prediction because what I feel should be the bottom three is quite different than how I think the votes are actually going to fall.  But the weakest performers this week were Hollie, Skylar, & Colton.  On another note, how cool was it to hear a Gotye song on Idol?  If you ever get the opportunity, this is a show you have to see live.  He has a few dates in California over the next two weeks so check out the dates and try to get to one if you can!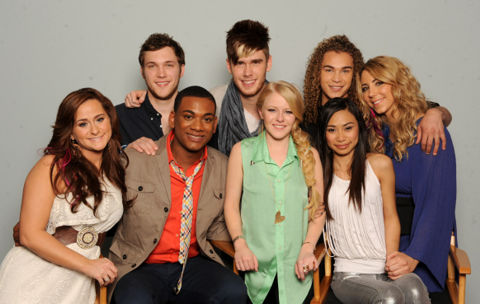 Many of the contestants took their performances to another level this week with songs from the 80's.  The mentor was Gwen Stefani and did she look phenomenal, or what? My dear lord.  Her and her bassist, and Tony Kanal were an awesome addition to the show. They had some great ideas when it came to the arrangement and they were just super cool.  Here's the breakdown on the performances this week:
DeAndre Brackensick – Yes, yes, yes.  First song by him that I actually enjoyed from beginning to end.   He covered Debarge's 'I Like It.'  A little raspy and low in sections and then he pulled out the falsetto in all the right places.  The performance should have been tolerable even for people that generally don't like him.
Elise Testone – I really wanted to hear her version of 'Hallelujah.'  I think it would have been sick.  We are so used to that song sounding angelic & soft but she could have made it into an awesome rock song with her style.  Instead she did Foreigner's 'I Want to Know What Love I'" & I think it was slow from the start and hard to get into.  The only thing remotely rememberable about the performance was the little run at the end, but even that is not comparable to what the other contestants accomplished this week.  Elise is always going to be fighting an uphill battle to get votes.  She has got to bring it every week to make it through.  I'm thinking this one just wasn't enough.
Phillip Phillips – 'That's All' by Genesis has such a cool vibe to it.  I thought the brother in law on guitar was a nice touch.  I have some concerns that he is doing the same thing week after week.  It's not a bad thing, I like him and I won't get sick of him ever.  He's one of the only contestants that has a clear cut direction, and knows who he is as an artist.  But his style is most likely not the best fit for American Idol and his time is more limited than what I want to even think about.  I highly doubt he will be leaving the show this week but I have a hunch that he will be encouraged to reach out of his element on next weeks performance to garner support from the masses.  Now, if he will listen, who knows?  He's hell bent on staying true to himself, which is great but what would be even better if the show and him could find some happy medium.
Joshua Ledet performed Simply Red's, 'If You Don't Know Me By Now' and sadly all I can think about is this has already been done before.  He does so many traditional songs and unfortunately because of all the music competition shows there are certain songs I don't need or want to hear anymore.  This happened to be one of them.  Stefano Langone just did this last season on American Idol.  Which even though Joshua's performance completely out-shined and exceeded anything Stefano did last season, I'm distracted by the past.  It's such a petty thing to complain about but my point is… it's been done.  I can't sit here and deny his talent but I do not get excited by him.  There is something missing for me.  The power in his voice is all there but I want more 'wow' moments from him like his 'When A Man Loves A Woman' performance.
Jessica Sanchez – This girl and her alter ego talk about puts me over the edge.  But she has such a big voice and performs so well.  So, if she insists on accrediting her stage presence to her alter ego, I will just have to deal with it.  She did the uptempo 'I Wanna Know' by Whitney Houston.  Personally I appreciated the change of pace from last week.  Definitely not her strongest performance but the constant praise from the judges should put her through to next week.  It's tough for the girls because viewers tend to vote for the guys but I'm really hoping the girls get to stick around this season because the ones that are left are pretty darn good.
Hollie Cavanagh – I wished for something like this performance, a little more movement, energy, some excitement.  She performed 'Flashdance (What A Feeling)' by Irene Cara.  I have a hard time criticizing her because she is putting in the effort.  I guess it just seemed so forced.  I hope she just gets some sympathy votes because the girl is trying.  If she is the one voted out I have a feeling the judges would use their save on her.  She has potential, definitely the biggest voice in the competition and deserves to hang around.
Colton Dixon – 'Time After Time' by Cyndi Lauper seems like an odd pairing but it worked.  The harmonies between him and Gwen during rehearsal were to die for, I wanted more of that.  Truly the minute they announced what he was performing, I knew it was going to be in the direction of Quietdrive.  Their cover is definitely worth checking out here.  It used to be one of my favorites.  I also thought it was cool that he credited the band for being his inspiration on the song.  Very cool, I dug the arrangement and it's one of my favorite performances from Colton.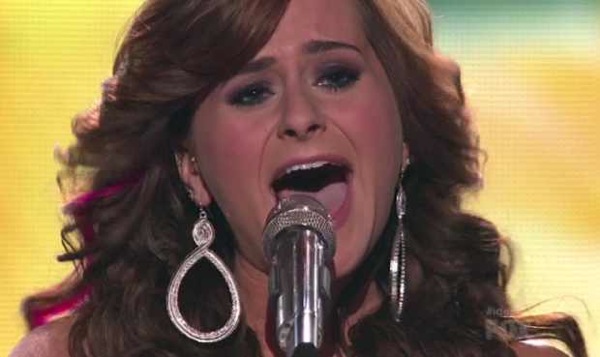 Skylar Laine decided it's power ballad time and performed 'Wind Beneath My Wings' by Bette Midler.  I think this was perfect timing for a ballad.  I think her high energy was getting just a tiny bit overwhelming the past couple weeks so slowing it down was smart, really great song choice.  I thought it was captivating beginning to end.  It showed her vocal range, it was excellent.
The highlights this week have got to be the duets.  I enjoyed each and every one of them, I think they showcased the contestants talent, not to mention they were entertaining.  The contestants seem much more relaxed, which doesn't make a lot of sense to me because the viewers at home at this point are judging their every move.  Stand out solo performances  I would say; Joshua (even though I really didn't dig it) and Skylar.  My prediction of the bottom three is Hollie, Elise, & DeAndre.  I think Phillip is a possibility for bottom three this week, but I'm having a hard time uttering the words (but it's bound to happen sometime).  If you're going to watch anything from 80's week just check out the duets, they are pretty darn rocking.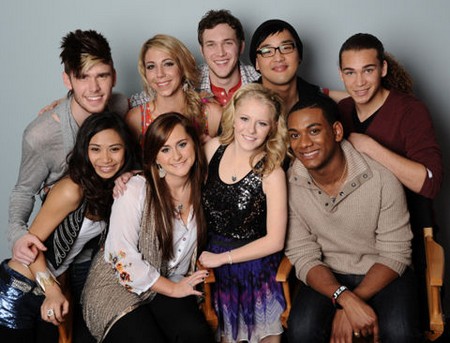 This week the contestants chose songs from their Idols.  I loved seeing Stevie Nicks as the mentor, and getting to hear her sing in the rehearsals just melted my little heart.  Anyway, back to the competition, I think it's always fascinating to see which artists the contestants take on.  What they decide to do this week gives us a chance to see what inspires their musical style and the direction that they might take after Idol.  And so it begins with…
Colton Dixon – A decent rendition of Lifehouse's "Everything."  It didn't blow me away or anything crazy.  I'm familiar with Lifehouse, but I'm assuming the general AI audience doesn't know this song, as I think I've only heard it a couple times.  What I find most interesting is the buzz going around saying that Idol has encouraged Colton to tone down his religion and yet he still makes it very clear that this is his favorite worship song.  I can certainly respect that and think its amazing that he is so open about his faith. Not sure how that translates to a general audience, so we'll see.  With the Tim Tebow-esque ending of the song with him down on both knees, I wanted to hate it but, I felt something real.  Colton is the first AI has seen with the Christian-rock music background that I can remember, which is totally cool and could definitely play into his favor.
Skylar Laine – No surprise here that her Idol is Miranda Lambert and she took on "Gun Powder & Lead."  I didn't think the opening was very strong, I thought it was pitchy.  I thought she was drowned out by the background singers and band during the chorus.  She does have a lot of energy and I'm sure the live crowd felt that performance way more than we could at home.  She did nothing to make this song her own and I was not thrilled by this performance.  But she is a great performer and fun to watch.  I'm hoping she makes it through to another week.
Heejun Han – Zzzzz … He did Donny Hathaway's "A Song for You" and this may have been his best vocal performance of the season, but this was a total snoozefest for me.
Hollie Cavanagh – I was surprised that she chose a country artist as her Idol.  Her cover of Carrie Underwood's "Jesus Take The Wheel" was underwhelming and unusually pitchy for Hollie.  They finally dressed her a little better so she has that going for her.  The snow was slightly ridiculous, I get that the idea behind the song is the girl driving on an icy road, but I could definitely do without the snow.  I live in the midwest, it's the end of March, I'm over the snow, come on.
DeAndre Brackensick – I was looking forward to this because I think he had a lot of potential with Eric Benet.  I had to go back and listen to the original "Sometimes I Cry" track because I don't remember Eric Benet ever overwhelming me with his falsetto.  I don't need a falsetto throughout a whole entire song.  And after awhile it starts to lose it's value for me.  When I hear it I want to feel like I'm hearing something special.  DeAndre has got to be the most frustrating artist for me to watch in this competition. It's like I hear these crazy beautiful notes come from him & sometimes they are truly unbelievable.  I just think this kid hasn't found his niche.  I think he went a step in the right direction this week but he's still lost, and sadly I don't think he's going to find himself before the competition ends.
Jessica Sanchez – She belts out Beyonce's "Sweet Dreams".  She talks about Beyonce's alter ego and divulges the information that she has her own; B.B. Chez? Ooook girl, whatever you say.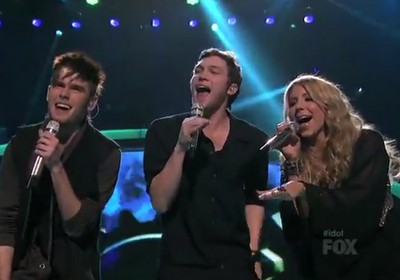 Phillip Phillips – Cannot even begin to say how ridiculously happy I am that he did not go through with a DMB song because that was all the predictions for him this week.  Jonny Lang is one of my favorite artists of all time so I was super stoked to see Phillip take this on.  The arrangement of the song left something to be desired.  I have a hard time objectively critiquing Phillip because I am completely enamored with him.  When he takes the stage, I feel him.  His voice & style was perfect for this song but the arrangement warped this into more of a pop song.  The original has the coolest piano runs & fills and that was lacking in this performance.  So I was turned off by the way the track was arranged for Idol.  I also want to see him do more with his guitar, if I don't see any exciting guitar licks that show he can play, whats the point in him having it?  I don't know at the end of the day there is nothing this kid could do to disappoint me.  I just adore and love him.
Joshua Ledet – He took on the giant, Mariah Carey and sang "Without You."  I wouldn't go as far as saying it was flawless like the judges did.  If anybody saw Kelly Clarkson from Season 1 belt this out, they wouldn't be too impressed with Joshua's performance. But maybe that's just my personal opinion.  When I floated around the web today to find the video to his performance I saw nothing but incredible feedback, that people were moved to tears.  So good for him, maybe he's just not my cup of tea.  I couldn't find his live performance on Youtube, but I have attached a studio version, which I am still on the fence about, I don't know… you can tell me what you think about him.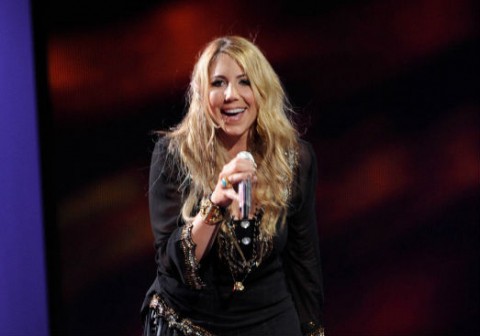 Elise Testone – My girl Haley Reinhart was the first girl to bring Zeppelin to the Idol stage.  Elise performed "Whole Lotta Love" and this was completely unexpected from her, I didn't see it coming.  I just feel like this girl is not that likable on stage.  If I put on her track and don't watch the actual performance, I totally dig it.  I can't deny that she was bringing it and she did a great job with the song.  I'm not convinced it was her idea to pull the Zepp card, she said she performs it with her band, but she didn't do anything with the performance to make me believe Zeppelin is her Idol.  But either way she had a performance that was captivating, rocking and should keep her around for another week.
I really was into the group performances this week.  I think Hollie excelled with the Madonna material. It would have been so much cooler this week if she did a Madonna song as her Idol choice, that would have thrown everyone off.  It would have been edgy & it would have quickly changed her from boring old Pia Toscano… er, I mean Hollie to a potential contender.  But that's just a random thought I felt like throwing out.
The must see performances this week are, Elise Testone & Phillip Phillips.  Nothing else, I don't know why the judges gave five standing ovations.  The bottom 3 is a bit hard.  I'm going to make the strong assumption that Heejun Han is in the bottom three and out of the competition this week.  Joining him in the bottom three should be DeAndre Brackensick & Skylar Laine.