Anne Hathaway Doesn't Want Con Man Ex's Jewelry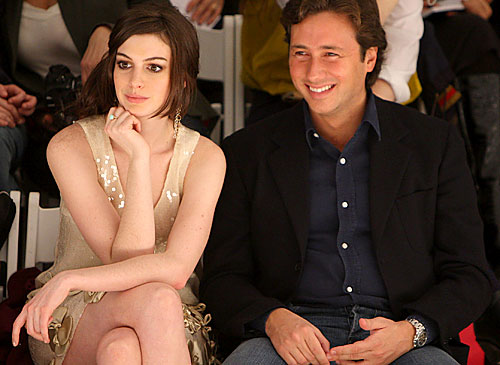 Anne Hathaway may have starred in The Devil Wears Prada, but she is hardly a material girl. In fact, Anne is kissing goodbye a treasure trove of jewels given to her by her con-man ex (pictured above)
Back in August 2008, Hathaway handed over about a dozen pieces of jewelry, just after her Italian-born former flame, Raffaello Follieri, was accused of cheating investors out of $13 million. Follieri was sentenced to 4 1/2 years in prison that October.
Anne had until February 2010 to file a petition claiming ownership of the jewels, which include two Rolex watches, a pair of silver-colored earrings with "blue and clear stones," a silver-colored chain with a cross pendant, two gold-colored rings, a five-strand pearl necklace, and a Louis Vuitton box.
Hathaway may have closed the door on Follieri's legal issues, but her new love interest, actor Adam Shulman (pictured below), has introduced Hathaway to a whole new world of legal trouble. He was recently accused of theft after removing a mural from a Manhattan construction site on Saturday May 15th. Shulman apparently thought it was free for the taking, said H&H Builders president Ken Hart, but returned the artwork after realizing his mistake.