Posts tagged
watch
Unless you live under a rock, you'rre probably aware of the accessories trend of layering oversized watches and bracelets (as pictured below). The look has been persistent on street style blogs, runways and fashion magazine alike. Women are stacking their wrists with mismatched materials, finishes, colors, band widths, etc. The look can be overdone VERY quickly, so ladies be cautious about the other accessories (ie. rings, necklaces and earrings) you wear with the stacked wrist look.
At the center of the stacked wrist is, of course the watch. The latest trend in watches for women has a definite masculine vibe. The most popular watches have big watch faces with simple masculine bands in metal, leather, or plastic. There are also large faced watches adorned with stones to create a more feminine feel.  A newer material hitting the watch trend is ceramic. Ladies Swatch watches and Fossil watches now come in ceramic finishes. For a more causal look, opt for a plastic watch. Plastic watches are inexpensive and come in a variety of colors so you can coordinate them with your summer attire.
No matter what style of watch you choose wear your watch with a nice stack of bangles and bracelets for an extra chic look – here are a couple of my favorite looks.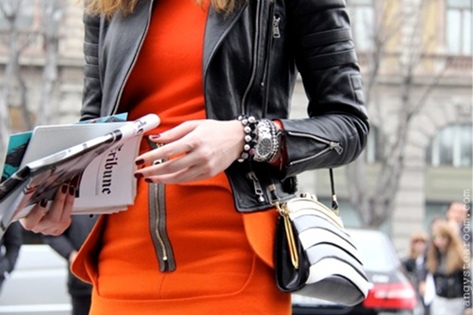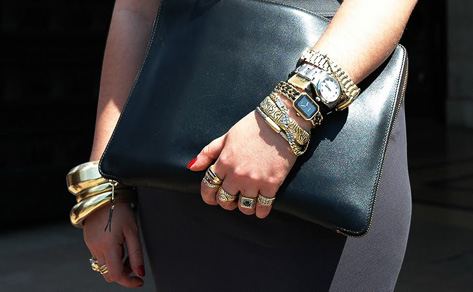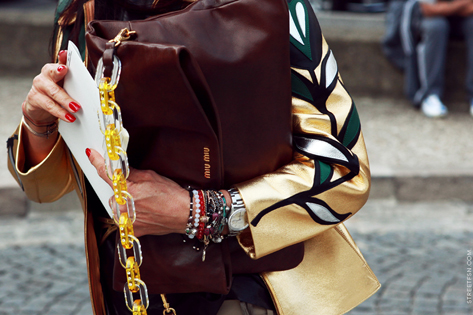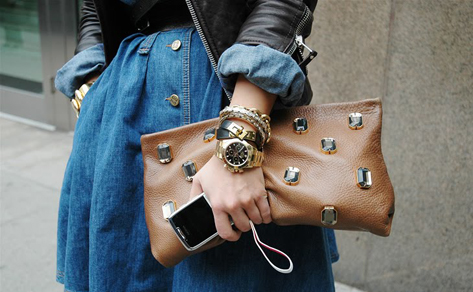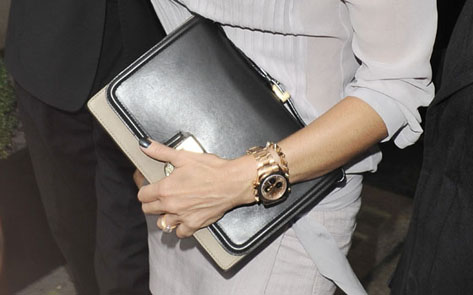 Images of the wrist candy are courtesy of The Heartbreak, The Purse Forum and Fashion Takes Flight.
Pulling out your iPhone to tell someone the time is getting a little old now. Sorry, but you're no longer the only person who owns an iPhone. Now let's get you a watch that suits you. Have you considered a Nixon watch? Well you should.
The Nixon brand conjures up images of Skaters, Surfers and Snowboarders. The brand has been around for over ten years and offers practical accessories like bags, wallets, headphones, and watches for both men and women. But you don't have to be part of these subcultures to appreciate their well-designed and durable products.
You can sort through their watch pages or use the Nixon watch selector that uses gender, display, band material and color to find a suitable watch that fits your lifestyle. Nixon watches start at about $60.00 and range up to $2,600 with their Ceramic 51-30 watch. Work or play there's probably a cleverly named watch that suits your taste.
If you are all work and need something that's more than just regular everyday flair Nixon has created the 42-20 Chrono for both men and women. This style is offered in 8 different colors for men and 12 different colors for women, two of those models include Swarovski crystals if you want to turn fancy up a notch. Rose Gold and Antique Gold are two of my favorites but it also looks exceptionally classy in the Tortoise design.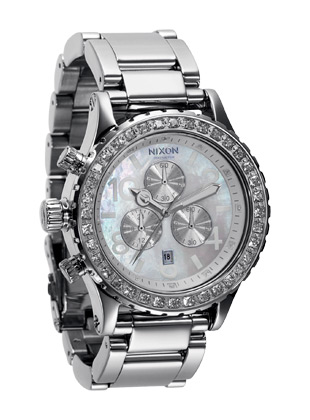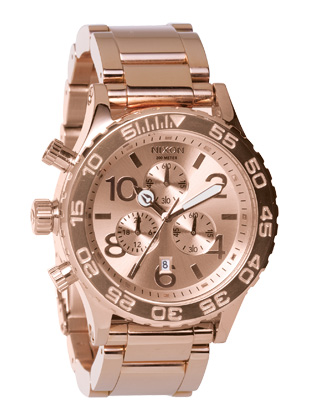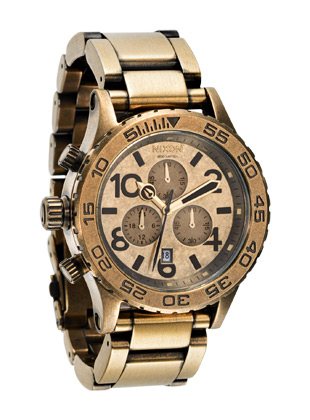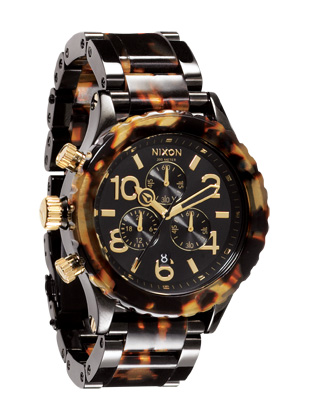 If you are a little less work and more play, the same model is taken further with the 42-20 Tide. This multi-functional version allows you to set both low and high tide so you know when to start wrapping up your end of the day duties and letting your friends now they can find you down by the beach.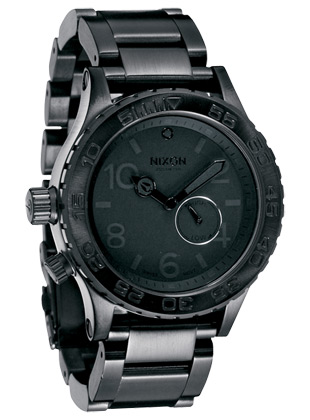 The Rubber Re-run is one of Nixon's newer models that offers the basics if you are going on a run, heading to the gym or get the urge to go skinny dipping but want to keep track of time to show you're somewhat responsible. Here it is shown in all white but also comes in Coral, Rhodo and Sky Blue if you're looking for something not so basic and more vibrant.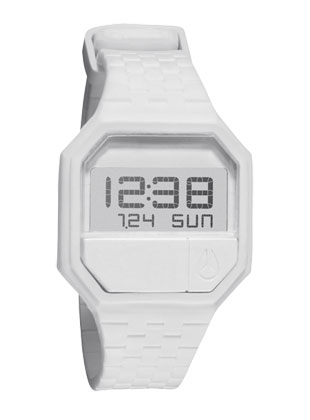 Some of the Nixon designs demand attention. The original format of these watches are taken apart and broken down to all face, all band, or no band at all. The Murf is all face and looks like a throw back to an old record player or radio dial from the early 70's. The men's Rotolog brings in natural elements through wood inlays that are contrasted against stainless steel and run throughout the whole watchband. The Highball, another new design is an extra large modern version of a man's pocket watch. Its watches like these that are not for everyone and take some confidence to wear.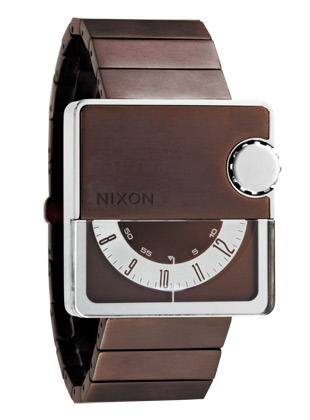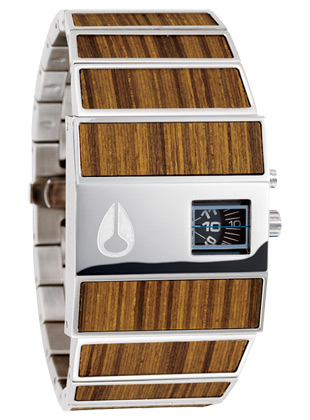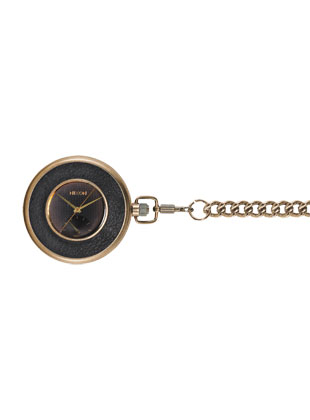 Nixon's mission statement, also know as their "Vitals" page reads, "We make the little shit better. The stuff you have that isn't noticed first, but can't be ignored. We pay attention to it. We argue about it. We work day and night to make the little shit as good as it can be, so when you wear it, you feel like you've got a leg up on the rest of the world."
And they're right regardless of what you do or how you do it, the functionality of their products goes a long way. The essentials Nixon offers get noticed and become part of your everyday life, jet setting trip or what others call your hobby but you consider a way of life. So if you need a time telling device that has more character than your iPhone you at least now know where to start.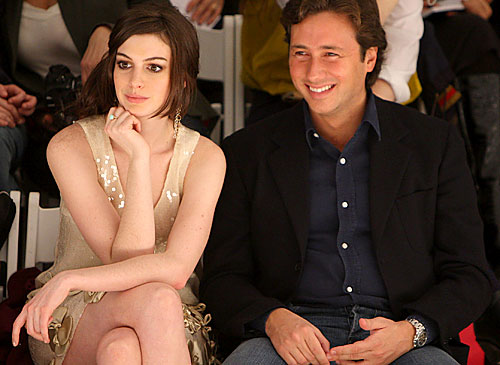 Anne Hathaway may have starred in The Devil Wears Prada, but she is hardly a material girl. In fact, Anne is kissing goodbye a treasure trove of jewels given to her by her con-man ex (pictured above)
Back in August 2008, Hathaway handed over about a dozen pieces of jewelry, just after her Italian-born former flame, Raffaello Follieri, was accused of cheating investors out of $13 million. Follieri was sentenced to 4 1/2 years in prison that October.
Anne had until February 2010 to file a petition claiming ownership of the jewels, which include two Rolex watches, a pair of silver-colored earrings with "blue and clear stones," a silver-colored chain with a cross pendant, two gold-colored rings, a five-strand pearl necklace, and a Louis Vuitton box.
Hathaway may have closed the door on Follieri's legal issues, but her new love interest, actor Adam Shulman (pictured below), has introduced Hathaway to a whole new world of legal trouble. He was recently accused of theft after removing a mural from a Manhattan construction site on Saturday May 15th. Shulman apparently thought it was free for the taking, said H&H Builders president Ken Hart, but returned the artwork after realizing his mistake.