Dress Like Sheldon Cooper
It's never too early to think about Halloween! Celebrate the enthusiastic obsessions that define geekiness this Halloween. Pull off the girl version of Sheldon Cooper, America's favorite super-geek character from CBS's Big Bang Theory.  Sheldon's look is geeky, clever, and cute enough to show you have a great eye for style, and are willing to push boundaries on makes a great outfit!
Interpreting the character of Sheldon will help you create the perfect costume. Here are some things you should keep in mind while compiling the costume:
He's a Caltech theoretical physicist
He's into science, math, and history
He lives with his colleague and best friend, Leonard Hofstadter
He loves routines, and playing by the rules
He's socially awkward
He's vocal about his beyond-genius intelligence level
He's also idiosyncratic and germaphobic
Here are some of Sheldon's classic looks.

While Sheldon doesn't care about fashion, he loves graphic t-shirts and plaid. He layers a lot! Luckily pattern mixing is trendy, so if you dress like Sheldon you will be on trend! Here is my recommendation on pieces that would work together to create to ultimate Sheldon look. Feel free to use the images above as inspiration for your own Sheldon costume!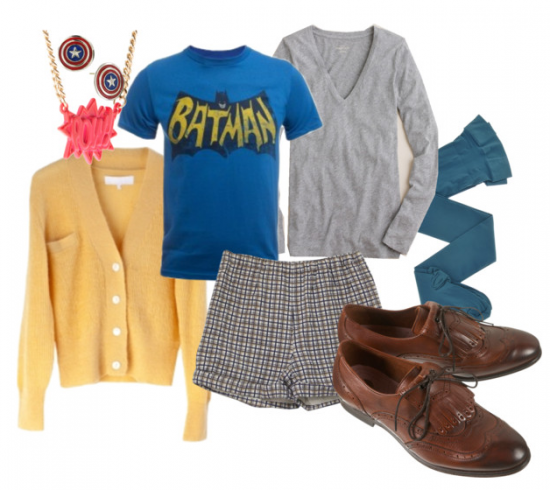 Captain America stud earring | POW Pendant Necklace | Rittenhouse cardigan | Batman Tee | Plaid Shorts | Long sleeve v-neck | Blue tights | Hudson shoes
This entry was posted by Style Bust on August 30, 2012 at 3:03 pm, and is filed under New Styles in Fashion. Follow any responses to this post through RSS 2.0.Both comments and pings are currently closed.