Interview with Indu Arora of RockChiq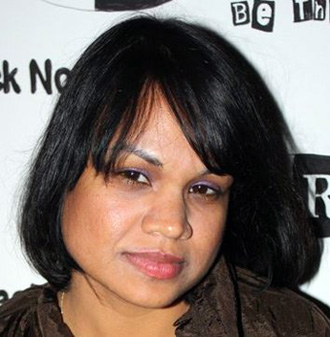 Indu Arora is an established designer in South Bay who makes very high quality, tailored women's clothing under the label RockChiq. I'm thrilled to have the opportunity to work with her during this year's Give Back Gala, which will be held on April 2nd at the J.W. Marriott in San Francisco.
I spent some time with Indu for an interview, enjoy!
Style Bust: How did you get into fashion design?
I was artistic and sketchy form young age, that's when my mother taught me how to sew. My elementary/middle school back in India had students from almost all parts of world. I remember a student named Uday from Africa, Arman from Iran, Urmi from London. At this school we had a global fashion scene in one place. My Passion for fashion developed at young age.
Style Bust: Where and what did you study in college?
I am self-taught in this discipline. Back in India; where I come from, I was majoring in medicine. I went through a career change into fashion when I came to USA.
Style Bust: Are you working on RockChiq full-time?
Yes I am working full-time for fashion although this line is financially supported by my parent company Indu Fashion Services Inc. A California corporation providing designing and production services to other start-ups.
Style Bust: How long have you been designing as an independent fashion designer?
I have designed for the past 3 years.
Style Bust: You are an established Bay Area designer, tell us about your journey.
I migrated to USA in 1998 after getting married. As I mentioned earlier, I was majoring in medicine back in India. That same year, the HBO show Sex and the City aired its first season, and I instantly fell in love with the fashion scene of the sitcom. It was so inspiring I made up my mind to chase my passion for fashion and take it to next level.
I started freelancing my designs to independent clients. One day a client on the East Coast called and asked me to handle their denim line. I accepted the project. By this time, I had made few connections back in India with manufacturers and such. That started my parent company Indu Fashion Services Inc. Today I have 8-10 steady clients whose entire line of clothing from sampling to production is handled by me.
That became the base of financing for my Ready to Wear line for women under the brand name RockChiq which launched in year 2008. I roll out two collections annually during the Summer and Fall. I am placing myself in Boutiques in and around Bay area since last year . The response has been good and I am getting buyers attention. I've recently been invited to take part in the FOCUS Apparel & Accessories Show as an emerging brand. This show goes hand in hand with LA Fashion Week.
Style Bust: Why should people come out and see your work at this show?
This collection is all about high end evening dresses and gowns.
Style Bust: What inspired this collection?
The inspiration for this collection is basically San Francisco fashion crowd. We see such crowds in many small and big fashion shows all around SF Bay area. High end social events and parties such as those hosted by Trendy Lime are good examples of my inspiration. In a timely fashion some of the very high-end parties and events. I always add to my clients list every time I have attended their parties.
Style Bust: Style Bust: Why should people come out and see your work at this show?
My designs are very tailored high-end look .I put my passion into it. If any one is looking for high end sophisticated, colorful eclectic evening dresses and gowns; this is the collection to see as you will find something for yourself.
Style Bust: Where can people find your clothing?
My collection sis visible online at www.rockchiq.com. On my ecommerce site: Pink Weave. They can buy it at four stores where I am retailing from RAGS CO-OP and LOFT in SF, Isabellas's boutique in Sunnyvale, Ayurvastram in Los Altos.
Check out Indu's interview on Joonbug Glam Damn It!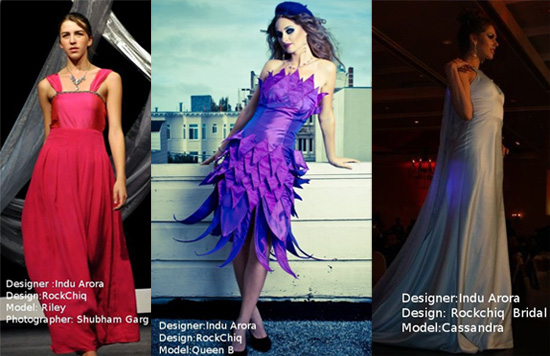 This entry was posted by Style Bust on March 7, 2011 at 6:52 am, and is filed under New Styles in Fashion. Follow any responses to this post through RSS 2.0.Both comments and pings are currently closed.