Posts tagged
moisturizers
I don't know about you, but I'm looking forward to a weekend of relaxing at home. I'll be giving my skin some R&R after many late nights, long car rides and flights over the past few weeks. Below is the beauty routine I tend to follow at home. If you want to become less of a DIY-er and more of an at-home-expert, I recommend you consider beauty therapy courses.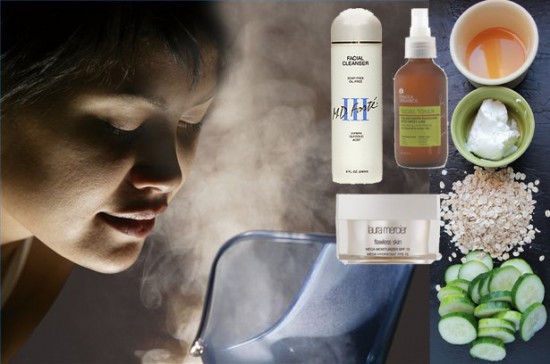 1. Always start with a clean slate. Wash your face with a gentle facial cleanser, not soap. I begin with a dry face. In a circular motion I rub the cleanser until it becomes a bit dry (about one minute). Then, I get my fingertips wet and continue rubbing in a circular motion for another minute. Next I rinse with warm water, using a wash cloth to make sure all the cleanser residue wipes off.
2. Facial steaming is great for skin, but it's so boring. Buck up, and do the stem though, you'll feel the difference! Add green tea, mint or rosemary to a pot of water on the stovetop. Once boiling, decrease the heat and bend over the pot for five minutes. Put a towel over your head to trap more heat int. Steaming is a great way to open pores and remove embedded dirt. It also hydrates skin. Added bonus, facial steaming is great for treating the common cold and bronchitis!
3. The best time to do a mask is after steaming. I usually go for a DIY calming mask, though there are tons of great options out there, how stuff works has a great article on 5 cheap, yet effective DIY masks. Ingredients needs for my calming mask:
1/4 cup plain yogurt

1/2 cup oats

2 tablespoon honey 

1 cucumber
Mix everything in the blender, then leave on your face for 15 minutes.
4. Next, tone your face. Toners are great for removing excess oil, makeup and excess reside. I use this after the mask to make sure the mask has been completely removed. Pick the right toner for your skin-type.
5. Finally, finish the facial off with moisturizer. No matter what skin type you have, you need moisturizer to help improve your skin texture. Choose a moisturizer that is right for your skin type.
We all want to maintain a youthful look, right?? Then the best way to prevent premature fine lines is to start moisturizing your skin no matter how young you are and maintain the routine of cleansing, toning and moisturizing on a daily basis. With the exception of those nights one comes back too tipsy to care or remember.
Recently I've tried several moisturizing samples and these two have greatly impressed me.
Sephora's Super Supreme Body Butter
Oh my goodness! The packaging mentions "lusty pleasure" and it is! The texture is very thick and silky and smooth, it gets absorbed by the skin almost immediately and leaves your body feeling and looking hydrated all day. It really is amazing!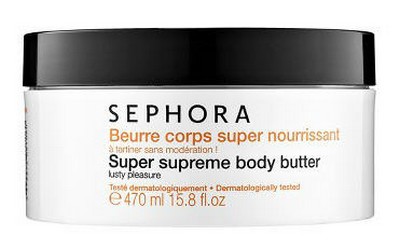 Dior's Skin Perfect Pore Refining Perfecting Moisturizer
I'll be honest, this is a product I'll probably not be buying because of the cost ($65 for 1.7 ounces), but it was so good to use the sample. It has a light clean smell, the consistency is silky and it left my face feeling so soft.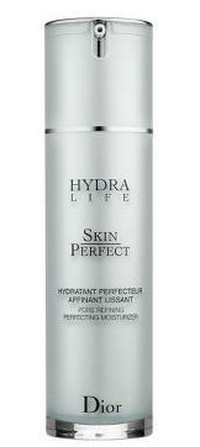 Of course, these moisturizers worked incredibly well on my skin, but every skin needs are different always ask for samples and try as many as you can before you select the one that makes your skin feel special!
One of the best preventive weapons we have against premature aging and fine lines is moisturize the skin, as well as protect it from the sun. For the last couple of weeks I've been using a great moisturizer that comes in a plain looking package, but there is nothing plain about the product. It's called Hope in a Jar by Philosophy with the motto
philosophy: where there is hope there can be faith, where there is faith, miracles can occur.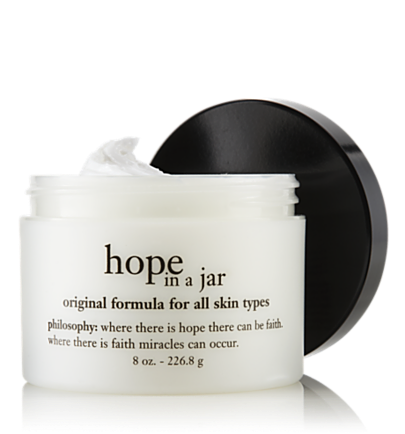 The moisturizer is very light weight that provides antioxidant protection, helps improve skin texture and tone, you barely feel it on your skin but at the same time the skin feels great. I am using the original formula for all skin types, but if you go to the Philosophy website, you can take skin care quiz which will suggest which products are best for you depending on your skin concerns.
And I really can't stress enough how important it is to moisturize with quality products, even if you spend less money on cosmetics. I'm closer to 40 than to 30 and I'm very proud on how my skin still looks youthful. I know I won't be confused with a 20 year old, but looking at the pictures from my late 20's and early 30's, I still look the same without the use of Botox or chemicals. Not that I'm against it, when the time comes, I'll be getting my injections for sure, but I can wait several years for that. But I digress.
Philosophy has created its own cult following with products such as Amazing Grace a perfurmed hot salt scrub, perfumed hand & body lotions, fragrances, shower gels and so much more. Makes pampering yourself an experience. Each product contains a different motto, like in the hot salt scrub which says:
philosophy: if you only had one day to live, how would you spend it? would you smile or frown? watch the sunrise or watch t.v.? take a walk or take a nap? say i love you or show you don't care? consider this…you aren't guaranteed tomorrow, so treasure this day as of it's not your last but the best day you will ever own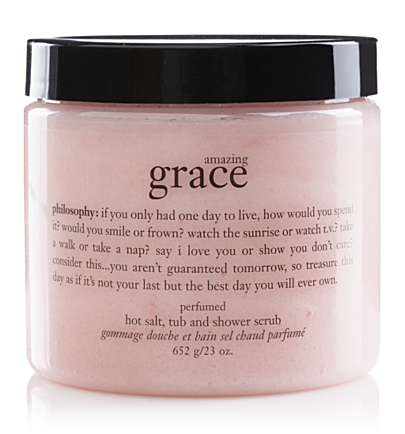 You can find Philosophy products at Sephora or directly at the Philosophy website. Hope in a Jar retails from $15.00 to $105.00 depending on size, a true investment in your skin.